Art Exhibit Features Works by Wolf-Boze, Kronewetter '62, Tegeler
Feb. 20, 2018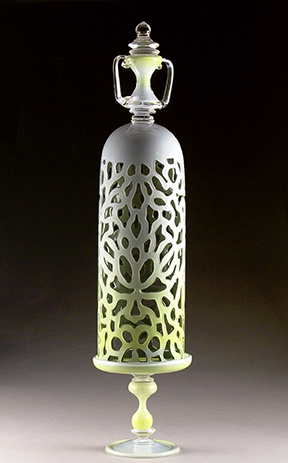 BLOOMINGTON, Ill. — Illinois Wesleyan University's Merwin and Wakely Galleries will feature the works of artists Aaron Wolf-Boze, Justin Kronewetter '62 and Helen Tegeler from Feb. 26 through March 22. Wolf-Boze and Kronewetter will discuss their work in a gallery talk on Monday, Feb. 26 at 11 a.m., which will be followed by a reception.
A joint exhibit by glass artists Wolf-Boze and Tegeler, transitions/transformations, will be displayed in the Merwin Gallery, and Kronewetter's exhibit of photographs, Seen While Looking, will be featured in the Wakeley Gallery.
A glass artist, Wolf-Boze takes great interest in surface and texture. He exercises patience and craftsmanship as he uses glass,-- a fragile and delicate material -- to create exquisite blown glass vessels that are then cut with ornate patterns. The work depicted in transitions/transformations showcases how he carves each piece of glass to leave a framework that is similar to a paper lantern or other ephemeral objects.
Having taught at institutions and studios throughout the U.S., Wolf-Boze currently works in Chicago as a studio engineer at Firehouse Art Studio, and as a lecturer at the School of the Art Institute. He received his bachelor of arts in crafts-glass from the University of Illinois and a master of fine arts in glass from Ohio State University. He has presented his work in many exhibitions, including his most-recent one in 2013 at the Ukrainian Institute of Modern Art in Chicago.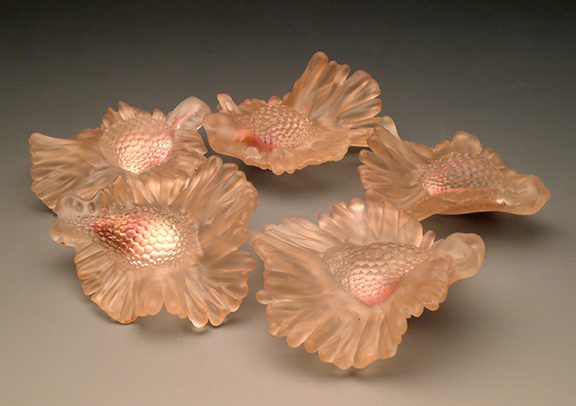 A glass artist based in New York, Tegeler has expanded to fibers and other materials in recent years to explore new visual and tactile qualities in her work. She is fascinated by nature in transition and seeks to examine moments of propagation, growth, adaptation and death. Her work in glass and fiber as shown in the exhibit transitions/transformations, combines her love of plants and human's desire to collect, classify, and ultimately, define life through their understanding of the world.
Tegeler earned her bachelor's degree in art with a concentration in glass and printmaking from Bowling Green State University and a master's degree in glass from Southern Illinois University. She has exhibited her work internationally and has taught at institutions across the U.S., including the University of Louisville where she was a visiting faculty member in 2013. In 2015, Tegeler was an artist in residence at the Corning Museum of Glass. She currently works for the museum and maintains her studio in Corning, New York.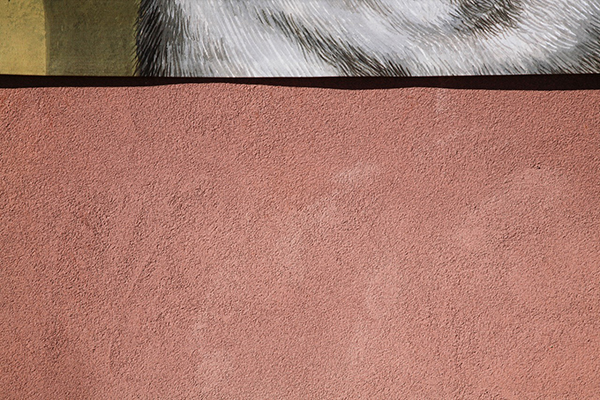 A painter and printmaker, Kronewetter focuses on bringing attention to things that are normally overlooked due to their presumed insignificance -- things that are typically "hidden in plain sight." His photographs showcase common things seen in an uncommon way, as he uses tightly cropped images to focus on one particular object instead of the chaotic everyday environment from which it is derived. In Seen While Looking, Kronewetter emphasizes the aesthetic value of art "as a work of art," rather than its ability to inform or instruct.
An Indiana native, Kronewetter earned his bachelor's degree in studio concentrating in painting and printmaking from Illinois Wesleyan in 1962 and later earned a master's degree in painting and printmaking from the Cranbrook Academy of Art in Michigan in 1966. Kronewetter worked as an instructor in art at multiple universities including Ohio Wesleyan University, where he served as director of the university's Ross Art Museum before retiring in 2016. He currently devotes much of his time to creating a new series of photographs while traveling from border-to-border throughout the states of the Rocky Mountain West.
Both exhibits will be on display from Feb. 26 through March 22 – except for March 10-18, when they will close for spring break – in the Joyce G. Eichhorn Ames School of Art Building (6 Ames Plaza West, Bloomington). Gallery hours are Monday through Friday, 12 p.m. - 4 p.m., Tuesday evenings 7 p.m. - 9 p.m., and Saturday and Sunday 1 p.m. - 4 p.m.
By Vi Kakares '20