Eckley Scholar Explores the Values Behind Creative Arts Journals
July 16, 2018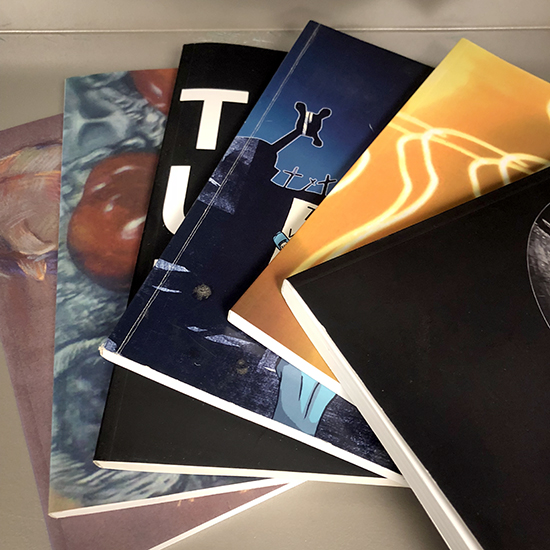 BLOOMINGTON, Ill. — Slam poetry. Formal poetry. Avant-garde poetry. There are many, very different kinds of poems being written today. English-Literature and German double major Abigail Kauerauf '19 is taking an analytical look at how undergraduate creative arts journals assess the poems that they publish to determine the kinds of poems they publish, and the poetic values that drive editorial decision-making.
As a 2018 recipient of the Illinois Wesleyan University Robert S. and Nell B. Eckley Scholars and Artists Program fellowship, Kauerauf is using a $4,000 stipend to conduct her summer-long research project, titled "Utilizing PDCM to Analyze How Comparable Liberal Arts Institutions Evaluate Poetry," under the guidance of Professor of English and University Writing Program Director Michael Theune.
"So far, I have greatly enjoyed my experience as an Eckley Scholar," said Kauerauf. "I have gained infinitely more knowledge about the values of Contemporary American Poetry today, and I am fascinated as to how these values are or are not reflected in student journals."
To detect any significant trend of self-representation, Kauerauf will examine student poetry included in creative arts journals from eight nearby undergraduate institutions similar to Illinois Wesleyan from the past three years. Much of Kauerauf's work involves categorizing the works according to structure, tone, genre and so on, to analyze overarching trends about the types of poetry that editors of these publications choose to include.
Kauerauf's work will implement Poetry Dynamic Criteria Mapping (PDCM), a methodology co-developed by Theune and Professor of English Bob Broad at Illinois State University, and outlined in their 2017 book We Need to Talk: A New Method for Evaluating Poetry .
"While much more work is yet to be done, already some interesting trends are beginning to reveal themselves," said Theune about Kauerauf's progress using PDCM. "This is exciting, promising, innovative work."
Kauerauf aims to present her work at a conference of creative writing study scholars, and to publish it in a scholarly journal. As a lead editor of Tributaries, Illinois Wesleyan's creative arts journal, Kauerauf also will put her findings into action by improving the journal's editorial processes, making evaluative criteria explicit to both the editorial board and students who may wish to submit work. She also hopes to share her research with editorial boards of all the creative arts journals studied so that they may, if they choose, make similar improvements.
"Theune and Broad propose that self-representations of poetic values are often inaccurate," said Kauerauf. "The data supporting this claim, however, is thus far limited, and more research, such as the research I would like to do, is needed to further test their belief. I hope to add to this research through my expanded study in such a relatively uncharted field."
Kauerauf is one of five Eckley Scholars conducting research this summer. Established by President Emeritus and Mrs. Robert S. Eckley, the recognition provides a stipend of $4,000 for each scholar to spend the summer on campus conducting scholarly research or artistic activity under the mentorship of a faculty member. The program is designed to develop and deepen a student's creative and research competencies.
By Rachel McCarthy '21