Campus Organizations – and Dogs – Help Relieve Final Exam Stress
Dec. 5, 2018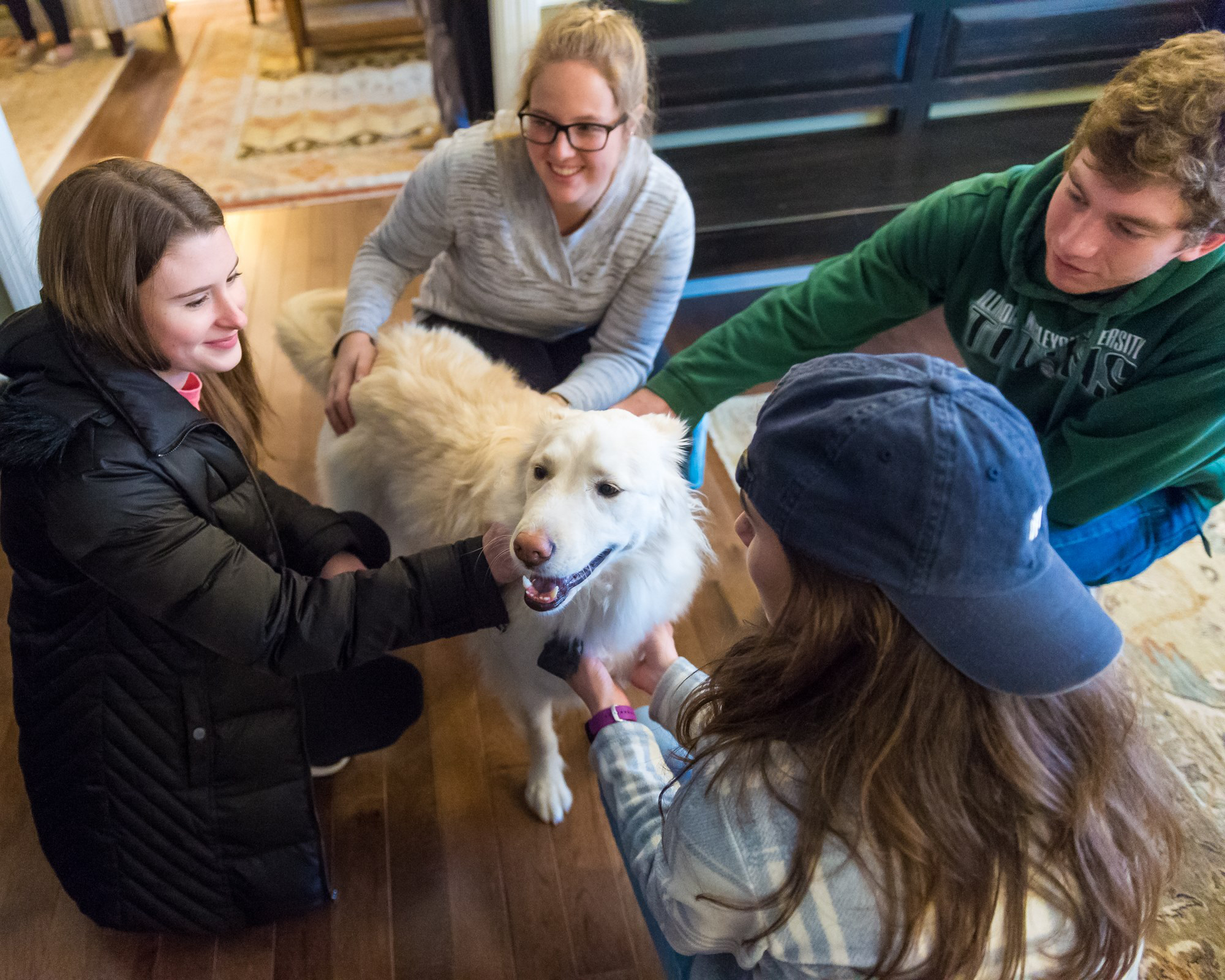 BLOOMINGTON, Ill. — The looming approach of final exam week doesn't have to include anxiety and sleepless nights. Several Illinois Wesleyan University organizations – with assistance from some friendly canines – are working to reduce stress across campus as students embark on final exams, which begin Tuesday, Dec. 11.
Some of the many final exam stress relief events include:
On Friday, Dec. 7, Illinois Wesleyan's chapter of the National Alliance on Mental Illness (NAMI) on Campus will be stationed in the Memorial Center's DugOut during lunchtime to distribute goodie bags filled with small stress-relief gifts and tips for finals week.
Students are encouraged to return to the DugOut at 8 p.m. that evening for De-stress in December, sponsored by the Campus Activities Board (CAB). Students can gear up for the holidays by grabbing a drink from the hot chocolate bar and participating in a cookie decorating contest while listening to festive music.
During Reading Day – the day before finals begin – on Monday, Dec. 10, IWU's Counseling and Consultation Services (CCS) invites students to take a break from studying and visit their Stress Free Zone in the Hansen Student Center from 10 a.m. to 2 p.m. CCS will hold fun giveaways, hand out resources for managing stress, and invite students to meet dogs from Wishbone Canine Rescue.
Later in the evening, President Eric Jensen and other administrators will show their support for students by serving breakfast food at the annual Late Night Breakfast in the Bertholf Commons from 10 p.m. to 11 p.m. The menu will include scrambled eggs, French toast, potatoes, bacon and sausage with a host of pastries and donuts. There will also be door prizes and giveaways. All students, whether on the meal plan or not, are invited to enjoy this late-night treat.
More free comfort food during finals week will be available at the PB&J Extravaganza on Tuesday, Dec. 11 and Wednesday, Dec. 12 from 11 p.m. to 2 a.m. each evening. Students can create their own sandwiches, grab some fresh fruit and enjoy warm beverages as members of the Student Affairs team offer support and well wishes. As part of the Come Home Safe campaign, students can also pick up a winter car safety packet with information about winterizing a vehicle and safe winter driving tips, along with a complimentary ice scraper.
As students enter the home stretch of finals week, Barks and Beverages Redux will be held on Wednesday, Dec. 12 from 12:30 p.m. - 2:30 p.m. at the President's House (1201 Park St.), where First Dog Calvin and his canine friend Vinnie will welcome students for hot beverages and a chance to unwind.
For more information on finals week programs, visit the Campus Events Calendar.
By Rachel McCarthy '21