Alum Shares Advice on Achieving Breakthrough Career Success
Feb. 2, 2018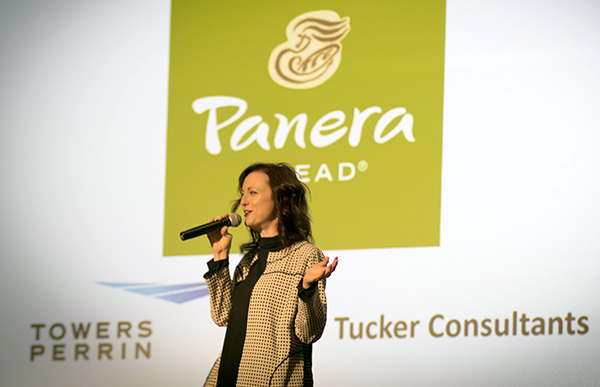 BLOOMINGTON, Ill.— Vice President of People Ops at Panera Bread and former triple major at Illinois Wesleyan University Jaynanne Calaway-Habeck '99, said the key to achieving success in the workplace can be found within a liberal arts education.
Habeck returned to her alma mater on Tuesday, Jan. 16 for the Hart Career Center Kickoff Event, to give students what she called "non-traditional advice" on how to achieve breakthrough career success.
A triple major in economics, finance and international relations, Habeck spent her junior year studying labor economics at Oxford University through the Illinois Wesleyan Pembroke Program. After changing her original plan to attend law school after graduation, Habeck earned a master's degree in human resources and industrial relations from the University of Illinois.
"When I think back to my liberal arts education at Illinois Wesleyan, my master's degree program that was interdisciplinary, and then going into consulting, those three things were all foundations that gave me a very broad perspective going into a business, which probably helped me now that I've been in one company, and one industry, for the past 15 years," Habeck said.
But Habeck never thought she would end up working in the restaurant industry.
"Planning is important, but also being open to the opportunities that come your way and keeping your eyes wide open to them is really important," Habeck said. "I don't think the restaurant industry would have even been on my radar, but it's fun, it's gritty, it's real – people have to eat."
Having held multiple positions in Panera including manager, director, and vice president of human resources, Habeck advised students that success in the workplace is not only achieved by showing people how much you know, but it is also about showing people how much you care.
"The number one mistake that new people make, is that they think they need to prove to us we made the right decision in hiring them," Habeck said. "The number one thing they can do is sit back and listen and learn, and get to know people, so that people see that they have the best intentions. That is what opens the door to have influence and real conversation."
It turns out that being real and forming real relationships with people was Habeck's most important piece of advice for students for achieving success in any field.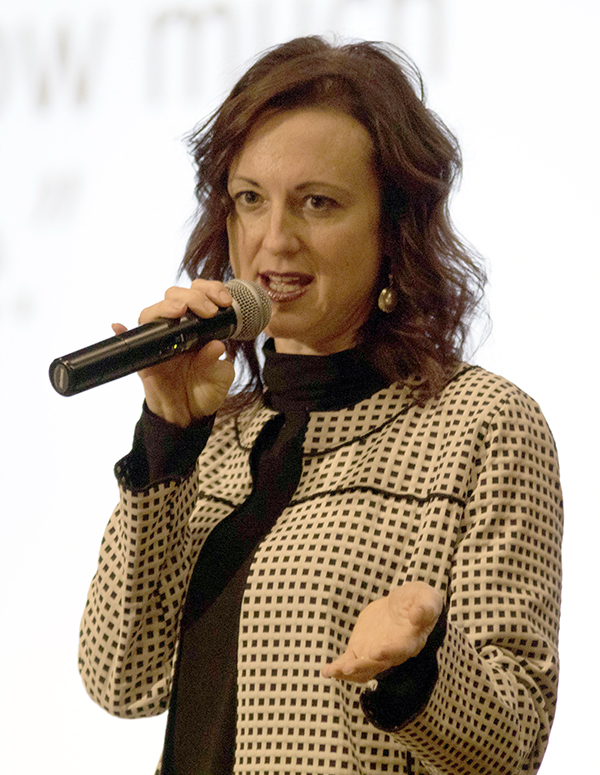 "No matter who you are, no matter what you're doing, be real. Be yourself. Let people see who you really are, and that will grease the wheels for everything else," Habeck said.
In addition to being genuine, Habeck encouraged students to take initiative and ask questions, because in order to add value to any business, they must first "understand the business of the business."
"No one cares about your career as much as you do," Habeck said. "Take initiative. Don't wait for someone else to develop you. Ask people. You will be thrilled. They are going to want to help you, just ask."
As someone who continues to take initiative to add value to Panera, Habeck said she has also found a way to maintain a healthy work-life balance amidst her busy schedule and 2,000 daily emails. She said it is very easy to let the urgent and unimportant take over on a daily basis, but knowing what is important "will help you weed through the noise of the urgent but unimportant." For Habeck, the "important" is her faith and family, what she said are the two guiding forces in her life.
"Always remember why you do what you do, because if you lose sight of that, you probably lost sight of yourself," Habeck said.
As a mother of two and an active member in her church community, Habeck has found that work-life balance. As an executive at Panera, she continues to challenge herself to find ways to add value to Panera, a quality Habeck says she owes to her liberal arts education.
"That liberal arts education, a strategic graduate program, and then going into consulting have helped me in the past 15 years to be able to constantly ask questions and challenge the steps going forward."
By Vi Kakares '20