Event Schedule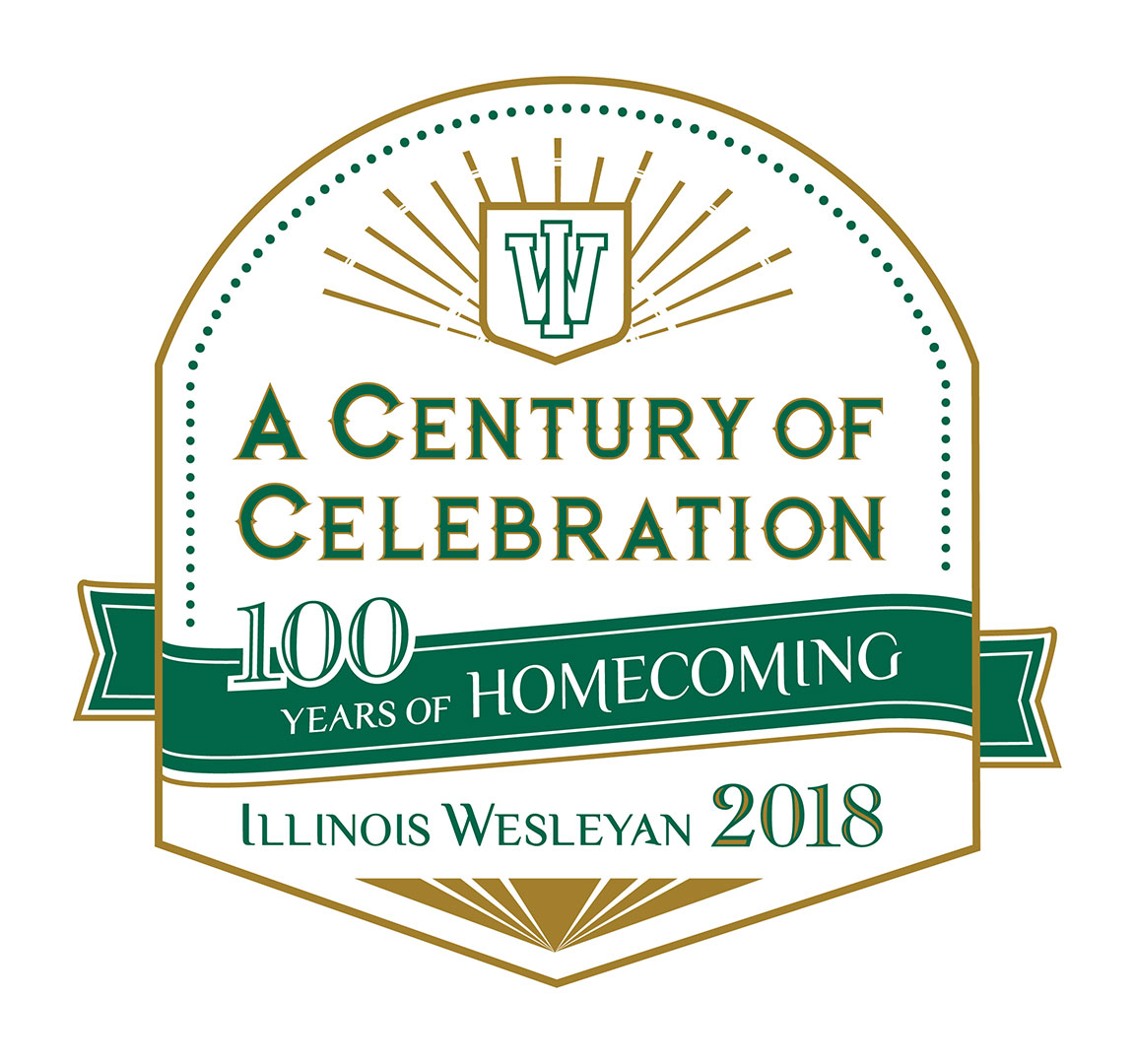 October 5-7, 2018
Homecoming Information Headquarters will be located in Hansen Student Center

Online Registration is closed - any new registrations can be made onsite at Homecoming Headquarters
#IWU_HC18 #IWU_CenturyOfCelebration

A printable version of the schedule is available here. If you wish to have a copy mailed to you, please contact the Office of Alumni Engagement.

We're partnering with Downtown Bloomington! Secure exclusive deals and discounts with your Titan Pass. Read more here.

IWU StoryCorps - We all have stories from our time at IWU that are fun to relive and share. IWU StoryCorps will allow you and 1-2 fellow IWU alum friends to share those stories. All stories will be recorded by IWU Ames Library staff and will be archived. To register, complete this sign up form.
Friday

Alumni Association Annual Meeting with the Alumni Association Board of Directors

The Alumni Association Board of Directors is the representative body of the IWU Alumni Association. IWU alumni are members of the Association and are invited to attend.
Memorial Center, Davidson Room

Homecoming Headquarters Information Desk and Reunion Welcome Reception

Let us know you're back on campus and find out more about homecoming events. Request a name tag, pick up your class reunion ribbon (for milestone classes), and receive a special gift if you are a member of the 50th or Golden Titan reunion classes. Milestone reunion classes are invited to meet and mingle at a welcome reception upstairs.
Hansen Student Center

Back to College Classes

All classes are at Beckman Auditorium in Ames Library.

University Chaplain Elyse Nelson Winger and Multifaith Ambassadors: Introducing

The Saint John's Bible

The Saint John's Bible is the first hand-written and hand-illuminated bible to be commissioned by a Benedictine community in more than five hundred years. A team of scribes and artists, led by world-renowned calligrapher, Donald Jackson, produced the Bible over the course of a decade in collaboration with scholars and theologians. It's a product of incredible creativity, innovation, and critical thinking. It also reflects common shared values across traditions such as justice and hospitality. For these reasons, Evelyn Chapel has been excited to participate in "A Year With The Saint John's Bible," which has allowed us to bring two volumes of the Heritage Edition to campus in 2018. At this session, come and see the Pentateuch Heritage Edition volume of the Bible and see why this Bible has been called "America's Book of Kells" (Newsweek, 3/5/2000).

Professor of History, Michael Weis -

America in Crisis, Tranquility on Campus?

Fifty years ago, the United States faced its gravest crisis since the Civil War. While war raged in Vietnam, the streets of America were also battlegrounds. Divisions between generations, races, genders, and classes ripped apart the social fabric of American society. We will examine some of the major issues and events that traumatized the nation in 1968 and their effect on the IWU campus.

Council for IWU Women Reception

Council for IWU Women members will gather to get reacquainted, hear updates on the 2019 Summit, and welcome new members.
Ames Terrace

President's Reception

All milestone reunion members and special guests are invited to visit with Eric and Elizabeth Jensen to kick-off Homecoming.
President's House, 1201 N. Park St.

Alumni Career Panel hosted by the Alumni Association and the Hart Career Center

Alumni working in the areas of medicine, health care advocacy and public health will discuss topics surrounding the changing climates in health careers. Panel includes Doug Aldeen '88, Jim Richter, M.D. '93, Alissa Miller, AGPCNP-BC '08, Ryan Siemers '98, Desiree Quizon-Colquitt '89, and Laura Randolph, M.D. '92.
Minor Myers jr. Welcome Center, Alumni Auditorium


English Department Homecoming Wine and Cheese Reception

English House, 1101 N. Main St.

Alumni Awards Ceremony: Best of Illinois Wesleyan

Join President Jensen and the Alumni Association Board of Directors as we honor our distinguished roster of 2018 Alumni Award Winners, the new Golden Titans from the class of 1968 and others. All are welcome! Cocktails and hors d'oeuvres will be served.
Memorial Center, Young Main Lounge

25th Reunion Kickoff

Members of the class of 1993 - join fellow classmates to kick off your 25th Reunion Weekend!
Tony's Tacos Downtown, 105 W. Front St.

IWU Volleyball Game and Alumni Reunion

Watch the IWU volleyball team at their 6:00pm match against Millikin and attend the alumni reunion immediately following.
Shirk Center, Niepagen Room

School of Music Concert

This year the Illinois Wesleyan Symphony Orchestra will be performing a Homecoming concert featuring music from popular cinematic masterpieces!
Second Presbyterian Church, 404 N. Prairie St., Bloomington

Titanium Pep Rally and 68th Annual Titan Games

Get ready for the return of the Titanium Pep Rally and the annual Titan Games featuring an expanded line-up this year. Featured crowd favorites include: the NPC Sorority Scramble, Acacia/TKE/Theta Chi Chariot Races, and the FIJI/Sigma Chi Rope Pull.
Tucci Stadium

School of Theatre Arts Production

Stop Kiss

Don't miss the School of Theatre Arts production Stop Kiss. 10/3-10/7. Show times are 7:30pm Wednesday, October 3rd - Saturday, October 6th, and 2:00pm on Sunday, October 7th.
McPherson Hall, Jerome Mirza Theatre


IWU Ghost Hunters

Join Central Illinois' paranormal investigators Eric Vogel and Lynzi Reece on a ghost hunt of two of IWU's historical academic buildings. The tour will cover the ground rules for a successful ghost hunt, and discuss the different equipment used during a hunt.
Tour starts in Nell Eckley Lounge, Memorial Center


Pride Alumni Community Social

Please join the Pride Alumni Community for their second annual Homecoming Social. Appetizers will be served, with a hosted beer and wine bar. Alumni, faculty, staff, and students are all welcome. This event is being co-hosted by PAC members Ed Pacchetti and Jim Richter.
Ames School of Art, Atrium

Class of 2008 10-year Reunion Kick-Off Party

Fat Jacks Bar, 511 N Main St, Bloomington

Class of 1998 20-year Reunion Kick-Off Party

Anju Above, 220 E Front St, Bloomington

Farrell Dillon, Magician/Master of Illusion

Farrell combines hilarious comedy and mind-melting magic in a modern style. He's known for his regular appearances on four seasons of the CW Network's Masters of Illusion. He has been nominated for Stage Magician of the Year by the Magic Castle in Hollywood. Farrell has also been seen on tour in some of the United States' largest performing arts venues and has toured in over 30 countries.
Hansen Student Center, Center Court
Saturday

Homecoming Headquarters Information Desk and Reunion Welcome Reception

Let us know you're back on campus and find out more about homecoming events. Request a name tag, pick up your class reunion ribbon (for milestone classes), and receive a special gift if you are a member of the 50th or Golden Titan reunion classes. Milestone reunion classes are invited to meet and mingle at a welcome reception upstairs.
Hansen Student Center

Back to College Classes

All classes are at Beckman Auditorium in Ames Library.

Distinguished Alumnus, Dr. Steve Doran '79 - Haiti

Dr. Doran is an oral surgeon in Bloomington, Illinois and a graduate of Illinois Wesleyan and SIU School of Dental Medicine, His activities in the Illinois State Dental Society (ISDS) include participation in the Gary S. Johnson '71 free extraction clinic twice per year and participation in four ISDS Mission of Mercy clinics. In 2011, he received the ISDS President's Award for outstanding contributions to the dental profession. Steve's passion is overseas mission work; he has made 12 oral surgery mission trips to Haiti and Honduras since 2011. In this class, Steve will give an overview of the history of Haiti and discuss the unique challenges and rewarding experiences of his work in the communities there.

Robert M. Montgomery Outstanding Young Alumnus, Debo Olaosebikan '06 -

Walking through Walls: What the Electron Taught Me About Success

Debo Olaosebikan will share his story of growing up in Nigeria, studying physics and mathematics at IWU and building technology companies in Silicon Valley. Through the lens of counterintuitive physics concepts and formative experiences at IWU, Debo will discuss the importance of running towards barriers and other broadly applicable lessons for making progress on things we care deeply about.

Bridget Wall '08 -

Stay in Circulation: The Impact of Medical Technology on Your Health

How can new advances in medical technology make a difference in your arterial health? This course will provide an overview of peripheral artery disease, current treatment challenges, and the newest medical devices to improve health. Dr. Bridget Wall '08, an Illinois Wesleyan and MIT graduate, serves at Medtronic as a clinical evidence expert and scientific communications specialist in the cardiac space. In this role, she provides product-related, evidence-based clinical/scientific information/training to sales, marketing, clinical, research and development, professional education, and health economics/reimbursement teams.

Pancake and Sausage Breakfast

Eckley Quadrangle

Titan Pep Band

As part of Family Fun on the Quad, listen to the ever popular Titan Pep Band, under the direction of Ed Risinger.
Eckley Quad, on the steps of State Farm Hall


Family Fun on the Eckley Quad

Join us under the Big Top! Fun for kids ages 2 to 102. Bring the family and enjoy face painting and glitter tattoo artists from Wild Style Design Company, balloon creations from Aaron's Party Balloons, demonstration and activity from School of Art, Chemistry Club, Physics Club, inflatables, pumpkin patch, popcorn, games, IWU Cheerleaders, Tommy Titan, prizes and more.
Eckley Quadrangle

Homecoming Museum

Explore artifacts from 168 years of IWU history at the Homecoming Museum. Browse through past editions of the Wesleyana and other memorabilia.
Nell Eckley Lounge

School of Music Alumni Reception & Continental Breakfast

Visit and reminisce with faculty, staff, and alumni.
Presser Hall, Smith Reception Room

The Annual School of Nursing Distinguished Alumna Award

Attend this Social and Awards Ceremony honoring this year's award winner, Susan Okuno-Jones '86. Immediately following the social, she will present her keynote address "Don't Forget Your WHY." Tours of the School of Nursing will also be available after the presentation.
Wilson Atrium, Center for Natural Sciences (CNS)

IWU: A Phoenix for the Duration Campus Historical Tour

Did you know that the first 10 acres for Illinois Wesleyan were all donated by a generous community leader named Franklin Kelsey Phoenix? Did you know that Old Main, IWU's largest building when it existed, was hit by a tornado, burned nearly to the ground, but still survived and had three different names during its time in the center of what's now the quad? Walk down memory lane and see all your favorite buildings still in existence, learn about IWU's incredible history, and be inspired by the duration of this special university on this walking tour led by Bobby Castillo '13 and Nancy Steele Brokaw '71.
Tour starts in Nell Eckley Lounge, Memorial Center


Collegiate Choir Alumni Choir Rehearsal

Rehearsal for 10:00am Sunday chapel service. Directed by Professor Scott Ferguson.
Evelyn Chapel

Greek Alumni Network Reunions

Return chapter houses to reunite with alumni and meet active members. Sigma Pi Alumni will meet in the Davidson Room, Memorial Center , Delta Sigma Theta Alumni will meet in the Cartwright Room, Memorial Center , and AOII Alumni will meet in the Henning Room, Memorial Center.

Alumni Volleyball Game

Watch a volleyball match between IWU Volleyball alumni and IWU's current JV team. For more information, please contact Kim Nelson-Brown at kbrown@iwu.edu.
Shirk Center

Alumni Swim Meet

Join fellow alumni and current students for this intersquad and alumni competition. All alums are welcome whether they competed at IWU or not. Warmup begins at 9:15am. For more information, please contact Teresa Fish at tfish@iwu.edu.
Shirk Center


Titan Tailgate including Local Food Trucks

Join alumni, family, and friends to celebrate before the Titans take on Carthage College. Click here for more information regarding tailgating policies.
Shirk Parking Lot

Milestone Reunion Tailgate, sponsored by the IWU Alumni Association

All milestone reunion members and special guests are invited to celebrate your Titan Spirit with friends and family. Registration includes food, beer, wine, and one ticket to the door. $15 registration before October 5th, $20 registration at the door.

Shirk Parking Lot, East Lot



Esports Arena Tour

The Illinois Wesleyan League of Legends team and Esports Club are hosting an open house to talk about the new Esports program and give a tour of the arena.
Hansen Student Center, Esports Arena

Educational Studies Homecoming Brunch

Stop by to meet the current teacher-scholars and catch up with your fellow Titans. Refreshments will be served.
Center for Liberal Arts (CLA) 3rd Floor Lobby

Citizen Scholar Lecture

The Action Research Center (ARC) will host a box lunch and lecture by Veronica Watson '14 for alumni and the Citizen Scholar First Year students in the Peace Garden Outdoor Classroom just east of the Welcome Center parking lot on McLean and University Streets.
Veronica is the Indiana Director of Patronicity. Patronicity is a civic crowdfunding & crowdgranting platform. They bring together local citizens and sponsors to support community initiatives. Veronica was engaged with ARC as a student at IWU then went on to serve as an AmeriCorps VISTA in New Orleans and Indianapolis.
Peace Garden Outdoor Classroom (Rain location: Welcome Center Auditorium)

Football Game, IWU vs. Carthage College

Alumni football players should assemble at the east end of the stadium at 12:45pm and form a tunnel to cheer the Titans onto the field. Join us at halftime for the co ronation of 2018 Homecoming King & Queen, to honor the alumni award winners and to recognize CCIW championship teams of 1977, 1992, and 2007.
Tucci Stadium

Ames School of Art Exhibits and Alumni Reception

Visit the exhibit and enjoy a special alumni reception in the Merwin and Wakeley galleries. In the Merwin Gallery, Dorothea Bilder '62 is showcasing paintings and prints through her exhibition Brazilian Experience. Dorothea Bilder will generously donate all sales from her exhibition to support programming in the School of Art. In the Wakeley gallery, Grace Sheese is showcasing ceramics.
Ames School of Art

Peace Garden Harvestfest

Join Professor Jim Simeone and environmental studies interns and students to learn more about the history of the Peace Garden. Cider from the nearby apple orchard and pizza from the Peace Garden bread oven will be served.
Peace Garden - Corner of University/Evans, one block east of the Minor Myers jr. Welcome Center

School of Theatre Arts (SoTA) - "The First Five Years"

The Class of 2014 is invited to come back and speak to the current SoTA majors about work experiences, life events, and tips for navigating the "real world" as they enter their fifth year after graduation. Open forum for the student body of SoTA; everyone is welcome.
McPherson Hall, Jerome Mirza Theatre

Sociology and Anthropology Reception

All sociology and anthropology alums are invited to reconnect with faculty and fellow alumni. Recently retired and retiring faculty members will be honored, including Jim Sikora, Teddy Amoloza, and Chris Prendergast.
Center for Liberal Arts, Second Floor Lounge

Minority Alumni Networking

The Office of Diversity and Inclusion will host The Minority Alumni Network (The Network) Reception - All current MALANA students and alumni of color are invited to attend this networking session.
Shirk Center, Niepagen Room

International Alumni and Student Reception

Join Director Stacey Shimizu and International Student & Scholar Advisor Robyn Walter as they welcome the newly formed International Alumni Network. Current students are invited for networking.
Memorial Center, Davidson Room

School of

Theatre Arts (SoTA) Wine & Cheese Reception

Faculty and staff of the School of Theatre Arts will host an evening of refreshments and memories.
E. Melba Johnson Kirkpatrick Laboratory Theatre

IWU Women's Soccer Game


Come cheer on the IWU Women's Soccer team at their 4:30pm match against North Park.

7th Annual Club Tommy: All Titan Homecoming Celebration

All IWU alumni, family, friends, faculty, staff and guests are welcome to enjoy a DJ, heavy hors d'oeuvres, beer and wine. "Club Tommy" is the perfect place to meet up with friends and classmates before heading out for the rest of your evening. Celebrating milestone reunions will be classes from 2008, 2013, and 2018. $20 registration fee
New location this year! Hansen Student Center

IWU Men's Soccer Game

Come support the IWU Men's Soccer team at their 7:00pm match against North Park.

"Golden Titan Club" Reunion Dinner - All Class Years Through 1967

6-6:30 p.m. Cocktails 6:30 p.m. Dinner

Join Golden Titan Club members for dinner and cocktails.
Redbird A and C, Marriott Hotel and Conference Center, 201 Broadway Ave., Normal

Class of 1968 – 50 Year Class Reunion Dinner

6-6:30 p.m. Cocktails 6:30 p.m. Dinner

Cap off your class reunion weekend by joining fellow class members for cocktails and a dinner buffet.
Redbird B and C, Marriott Hotel and Conference Center, 201 Broadway Ave., Normal

Class of 1978 – 40 Year Class Reunion Celebration

5:30-8:30 p.m.

Reminisce with your fellow class members in a truly historical landmark, and enjoy heavy hors d'oeuvres and cocktails.
McLean County Museum of History/Old Courthouse, 200 N Main St, Bloomington - Governor Fifer Courtroom, located on the second floor

Class of 1988

–

30 Year Class Reunion Celebration

6:00-9:00 p.m.

Cap off your class reunion weekend by joining fellow class members for heavy hors d'oeuvres and a cash bar.
Satio Wine Bar, 306 N Center St #102, Bloomington

Class of 1993

– 25

Year Class Reunion Celebration

6:00-9:00 p.m.

Join fellow class members and enjoy heavy hors d'oeuvres, beer, and wine.
McLean County Arts Center, 601 N East St, Bloomington

Class of 1998

– 20

Year Class Reunion Celebration

7:00-9:00 p.m.

Cap off your class reunion weekend by joining fellow class members for appetizers and a cash bar in a fun arcade atmosphere.
8 Bit Arcade Bar, 236 E Front St, Bloomington
Sunday

All Campus Service & Collegiate Choir Reunion Performance

Evelyn Chapel

Pride Alumni Community (PAC) Brunch

Memorial Center, Joslin Atrium

Alumni Softball Game

Softball Field

"Music of Joyous Celebration: A Music Faculty Showcase"


The School of Music invites you to this fundraising event for the purchase of a piano in Larry Campbell's name. The Showcase is a wonderful opportunity to see the talent of IWU faculty! Reception immediately following in the Smith Reception Room.
Westbrook Auditorium, Presser Hall
Event Registration
To register online, visit
titanpride.org
or call (888) IWU-ALUM (888-498-2586)