Our Staff
Our dedicated Conference Services office is happy to assist with all aspects of your conference, camp, meeting, or reception. Feel free to contact any of our staff members to start planning your Illinois Wesleyan experience!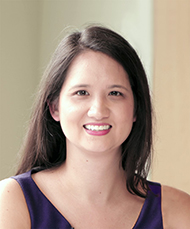 Michelle Wu, Director
Michelle serves the Illinois Wesleyan community by providing event coordination and conference services for summer camps, conferences, weddings, receptions, and meetings on IWU's campus. One of Michelle's primary functions is to market and represent IWU to external constituents, both locally, nationally, and internationally. She also serves on the Board of Directors for the Association of Collegiate Conference Directors, International (ACCED-I) and begins her term as President in March 2023.

Originally from Connecticut, Michelle received her B.A. in American Studies from Emory University and her M.Ed in Higher Education Administration from Vanderbilt University. She holds designation as a certified Collegiate Conference and Events Professional (CCEP) from ACCED-I. She moved to Bloomington to oversee the formation and implementation of the Conference Services office at Illinois Wesleyan during the summer of 2015.

Michelle can be reached at mwu@iwu.edu or 309.556.3591.
Gabriela Sanchez, Event Coordinator
Gabriela Sanchez is the Event Coordinator, supporting marketing strategies and logistics for weddings, special events, and summer camps and conferences.
Gabriela worked for 7 years in the Communications and Public Relations Office of a Venezuelan state college. She also has experience in business management and advertising. She has two Bachelor's degrees, one in mass communication and another in advertising and public relations. Gabriela has a Master's in marketing management and recently completed a digital marketing course. All her studies were achieved in her country of origin, Venezuela, so she is a native Spanish speaker as well.
Gabriela has been working with Conference Services since August 2021 and can be reached at gsanchez@iwu.edu, or by phone at (309) 556-3035.