Illinois Wesleyan University History
Illinois Wesleyan University was founded in 1850 by a diverse group of 30 civic and religious leaders who came together to establish "an Institution of learning of Collegiate grade." When a sponsor was needed, the founders gained support from the United Methodist Church, which is how "Wesleyan" was added to the original name, "Illinois University." The University's relationship with the church has evolved over the years. While maintaining its Methodist affiliation, true to its founding roots Illinois Wesleyan continues to be a diverse and inclusive community, independent in its governance.
Early Years
The founders of Illinois Wesleyan were lawyers, doctors, teachers, tradesmen, mechanics, farmers and ministers — as diverse in their cultural and educational backgrounds as in their interests and occupations, but united in their commitment to furthering the cause of higher education.
In 1851, an admissions circular declared that the patrons of Illinois Wesleyan had established "an Institution of Learning which shall shed brightness on all the land around and send down floods of light and blessedness upon generations yet to come."
The University operated under the leadership of early professors and trustees, with Clinton W. Sears in 1855 becoming the first of 18 presidents in the University's 160-year history.
Illinois Wesleyan's tradition of engaging its students inside and outside the classroom dates back to its earliest days when explorer-geologist John Wesley Powell, a one-armed Civil War veteran and a founder of the National Geographic Society, joined the faculty in 1865. A pioneer of using field work in teaching science, Powell in 1867 took Illinois Wesleyan students to Colorado's mountains — one of the first expeditions of its kind in U.S. higher education.
The Board of Trustees took formal action to invite black students to enroll at Illinois Wesleyan in 1867 and women in 1870. The first female graduate, Hannah I. Shur, received her diploma in 1872. Gus A. Hill was the first African-American graduate, earning a law degree in 1880.
The University's first international students, Y. Osawa and K. Tanaka, arrived from Japan in 1889.
Programs of Study
The liberal arts and sciences have been at the foundation of Illinois Wesleyan's curriculum since its inception, and the fine arts were taught from its earliest years in the 19th century.
The College of Liberal Arts was formally organized in 1906, and the College of Fine Arts – combining schools of art, music, and theatre arts – was established in 1948.
Illinois Wesleyan offered nursing study in conjunction with the Brokaw School of Nursing beginning in 1923, and in 1959 established the IWU School of Nursing with a four-year baccalaureate program.
IWU operated a School of Law from 1873-1928.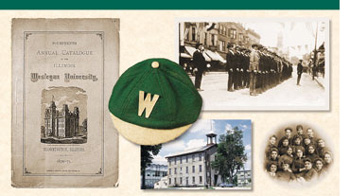 Bricks and Mortar
The central portion of the present campus was acquired in 1854. The University's first building – Old North Hall – was erected in 1856 and served for 110 years before it was removed in 1966 to make way for Sheean Library.
Hedding Hall – also known as "Old Main" – was built in 1870 and destroyed by fire in 1943, spurring post-World War II campus development.
While the oldest building on campus – Stevenson Hall – dates to 1910, 17 of Illinois Wesleyan's large buildings have been constructed since World War II.
A number of campus buildings honor past presidents and notable figures. Among them: McPherson Hall, home to the School of Theatre Arts, honors Henry W. McPherson, the University's 10th president; Shaw Hall honors William E. Shaw, the 12th president; the main administration building was named after 13th president Merrill J. Holmes; the Bertholf Dining Commons honors 14th president Lloyd M. Bertholf; Munsell, Adams and Kemp residence halls take their names from our 2nd, 4th, and 8th presidents; the Eckley Quadrangle honors 15th president Robert S. Eckley; and the Minor Myers, jr. Welcome Center honors the University's 17th president, who died while serving Illinois Wesleyan.
Recent additions to campus include the Shirk Center, an athletic and recreational complex, opened in the fall of 1994; the Center for Natural Science Learning and Research, opened in the fall of 1995; and the Harriett Fuller Rust House suite residence hall and the refurbished Center for Liberal Arts, both completed in 1996.
The five-story Ames Library opened in 2002, along with the Hansen Student Center, which was originally built in 1922 as the Memorial Gymnasium and was renovated into a center for student life.
The Minor Myers, jr. Welcome Center was opened in 2008. Awarded silver certification as a Leadership in Energy and Environmental Design (LEED) Green Building, it was the first newly constructed building in Bloomington to be certified by the U.S. Green Building Council.