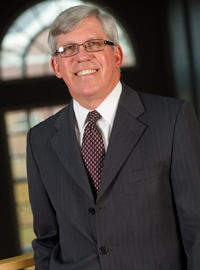 The Pantagraph Annual Report
March 16, 2013
Progress On Many Fronts For Illinois Wesleyan
I am pleased to report that 2012 was a very good year for Illinois Wesleyan. We made progress in a number of important areas, saw our students engage and succeed both inside and outside of the classroom, and we're looking forward to continued success as the academic year concludes in 2013.
In the area of academics, there were many accomplishments and noteworthy events. Here are a few from what is a very long list.
A significant gift received from former President Robert S. Eckley and his wife, Nell, established the Eckley Scholars and Artists Summer Undergraduate Research Program. The program funded summer stipends for five students to work with faculty mentors on scientific, scholarly and artistic projects. The Eckley Scholars and Artists summer program has attracted the attention of other alumni and friends and will be expanded in the future.
Our faculty received a major grant from the Mellon Foundation for a new initiative, which we have named Re-Centering the Humanities. As part of this program we will use interdisciplinary seminars engaging faculty from the sciences, ethics, politics, sociology and environmental studies to tackle problems facing our local community.
With such burgeoning new business fields as bioinformatics and medical informatics, we have introduced a new academic minor in informatics enabling students to enroll in courses that will prepare them to compete for jobs in these exciting new areas.
With the growing importance of preparing our students for a global society and marketplace, we have entered into an agreement with China's Beijing Union University to conduct faculty exchanges and collaborate on scholarly research.
Rebecca Skloot, author of The Immortal Life of Henrietta Lacks, was the featured speaker for the President's Convocation and provided the perfect inauguration for a yearlong set of activities devoted to human rights and social justice.
Anyone who has been on campus recently also knows that several important capital projects have been completed or are at an advanced stage of completion. A special point of pride is that gifts from alumni and friends have covered the cost of all of these building projects:
Last May we completed a beautiful rotunda entryway and addition to the Joyce Eichhorn Ames School of Art, thanks to a major gift from Chuck class of '50 and Jay Ames class of '49.
Hanging in the rotunda of the Ames School of Art is a spectacular glass and steel sculpture, by noted Arizona artist Lyle London, which was made possible by local alumna Flo Armstrong, class of '43.
The Shirk Athletic Complex began a series of refurbishments and upgrades, including a new indoor track surface, thanks to an endowment established by the Shirk Family Foundation.
Last spring we broke ground for our new main classroom building, which we recently announced has been named State Farm Hall in recognition for our deep and enduring relationship with State Farm Insurance. The construction, managed expertly by local contractor Johnston Construction, is on schedule for classes to begin this fall.
Finally, we began construction on two apartment-style housing structures on Empire St. between McLean St. and Fell Ave., which we are calling The Gates at Wesleyan. These two buildings will accommodate 96 students in 24 four-bedroom apartments.
Our athletic teams had a wonderful year, highlighted when both the men's and women's basketball teams reached the NCAA Division III Final Four tournament on the same weekend. The Titan women took home their first-ever national championship and the men's team ended up tied for fourth, in the 61-team NCAA Division III national tournament.
Our students have a long tradition of being active in the community and to facilitate those interactions we established the Student Volunteer and Resource Center. This center matches student passions and talents with local needs. It also facilitates campus opportunities for local and national service that particularly align with the University's commitment to diversity, social justice and environmental sustainability. As part of this commitment our Action Research Center brings students together with local not-for-profit organizations to work on projects and the Hart Career Center connects local businesses and not-for-profits with student interns. To learn more about these activities or to find students interested in helping your group or organization go to www.iwu.edu/volunteers/