Martin Luther King Jr. Day Teach-In 2011
Megan Burke, Department of Sociology and Anthropology, talked about ways to meaningfully Engage Diversity.
---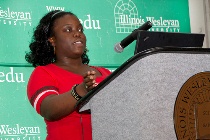 Mia Roberson, a first-year student and member of the Diversity Project, talked about engaging others.
---
Katie Rose Bosnan, a sophomore, discusses the challenges of meeting new diverse people.
---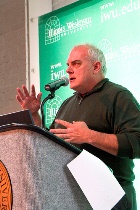 Dick Folse, Illinois Shakespeare Festival, spoke to the audience during the second panel about Education and Social Justice.
---
Middle school students Lucy and Hannah talk about the positive effects community programs have on them. They are both choosing to go to college.
---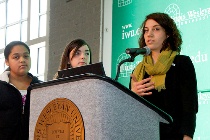 Renee, a mentor to Lucy and Hannah, left, spoke about the Blank Canvas project members.
---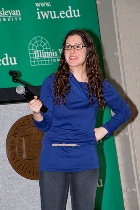 The third panel, Theatre of the Oppressed, was lead by Dani Snyder-Young from the School of Theatre Arts. She had students examine the relationship between themselves and authorities.
---
Dani Snyder-Young with two IWU students.