Martin Luther King Jr. Day Teach-In 2010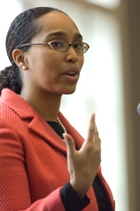 Professor Kira Banks from the Department of Psychology introduced speakers on the first panel, discussing Racism and Social Justice.
---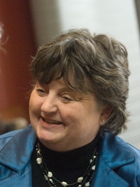 Loretta Thirtyacre is Manager of Diversity and Inclusion at COUNTRY Financial. In that role she reports directly to executive leadership to oversee all corporate and field activity as it relates to diversity. Along with that, she leads a cross-functional Task Force that serves to implement projects and programs to support the effort. Prior to coming to COUNTRY, Loretta led a similar initiative for State Farm Insurance where she was the Director of Workforce of the Future. She has advanced degrees from Illinois State University and serves on the Council for Great City Schools in Washington D.C., is a published author in the Journal of Psychological Type, and is currently president-elect for the McLean County Multicultural Leadership Program.
---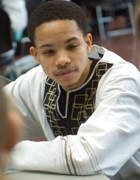 Kenneth Woodard is a senior political science major. He is from Chicago, Illinois, but Bloomington-Normal will continue to be his permanent address after he has graduated. He worked as a summer intern for the McLean County Urban League in 2008, an organization that is dedicated to economic empowerment in order to elevate the standard of living in historically underserved urban communities. He also worked in the summer of 2009 as an intern at the Unity Community Center, a multicultural after-school learning center that provides programming for youth of families with limited resources.
---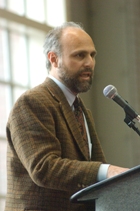 Professor Jim Simeone from the Department of Political Science introduced the speakers on the second panel, Immigration and Social Justice.
---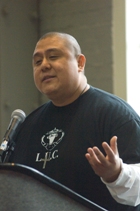 Sonny Garcia is the son of migrant workers; his mother was working in California during the great grape boycott that Caesar Chavez organized. He grew up hearing stories about the birth of the Chicano movement of the 1960s and early 1970s. He was born and raised in Bloomington-Normal and has always felt the need to stand up for those who cannot stand up for themselves.
In 2006 he organized the largest Latino demonstration for immigrant rights in the history of McLean County, where 1000 people hit the streets of downtown Bloomington, protesting the Sensenbrenner Bill: HR 4437. Since then he has been fighting for social and economic justice on a variety of issues ranging from Latino/immigrant rights, gay rights, the anti-war movement, and holding big banks accountable for the current financial crisis.
He is currently on staff at Illinois Peoples Action (IPA), formerly the Central Illinois Organizing Project (CIOP), as their state-wide Latino organizer. He has helped the Latino community create an organization called Latinos United for Change (LUC). LUC is currently involved in a nationwide campaign for comprehensive immigration reform.
---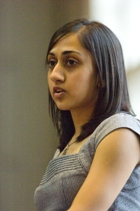 Monica Shah is a senior at Illinois Wesleyan University with majors in International Studies and Hispanic Studies. Spending semesters in Washington D.C. and in Salamanca, Spain, she is fortunate to have had many hands-on experiences learning about international relations and children's issues, while practicing the Spanish language. This past summer, she had an opportunity to intern with the National Children's Center at the U.S. Committee for Refugees and Immigrants. She conducted telephonic intakes in Spanish with children from Latin America. Unaccompanied, these children were caught crossing the U.S. border "illegally," and were in the process of deportation hearings. She used the information obtained by each child to create a legal memo that was sent to pro bono lawyers who could represent them.
Shortly after she began the position, Monica became appalled by the children's accounts of gang violence, parental neglect or abuse, and their dangerous journeys to the U.S. Because of this unforgettable internship experience, she is passionate about spreading awareness and helping these vulnerable children.
---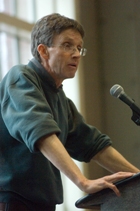 Professor William Munro from the Department of Political Science introduced speakers on the third panel, Globalization and Social Justice.
---
Professor Olukayode (Ky) Ajayi has a varied international background. He has lived in West Africa, Europe and North America and this experience has influenced the subject matter he loves to teach. He has taught African Politics, Global Issues, Politics of the Middle East, Introduction to International Relations, and Quantitative Reasoning at Illinois State University. Here at IWU he teaches Globalization and Development, Politics of the Middle East, and Introduction to International Politics.
---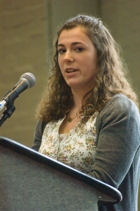 Jessica Meyer is a junior at Illinois Wesleyan University with an International Studies (Development) major and Political Science minor. Her interest in development is specifically human rights and social justice. Her freshman year she helped start the Amnesty International chapter at IWU and has been the president for two and a half years. That organization educates and advocates on different human rights issues around the world, including a current campaign against Russell Athletic.
She has also started a peace organization called the Renegades for Peace and won the IWU Peace Fellowship and American Friends Service Committee Organize the Hope Fellowship. She is also very active in the Bloomington-Normal Citizens for Peace Justice. Her passion is educating as many people as possible about human rights abuses and what they can do to help. She plans on studying abroad in the fall in Johannesburg, South Africa, with the International Human Rights Exchange at Bard College.