The Argus Earns Illinois College Press Association Recognition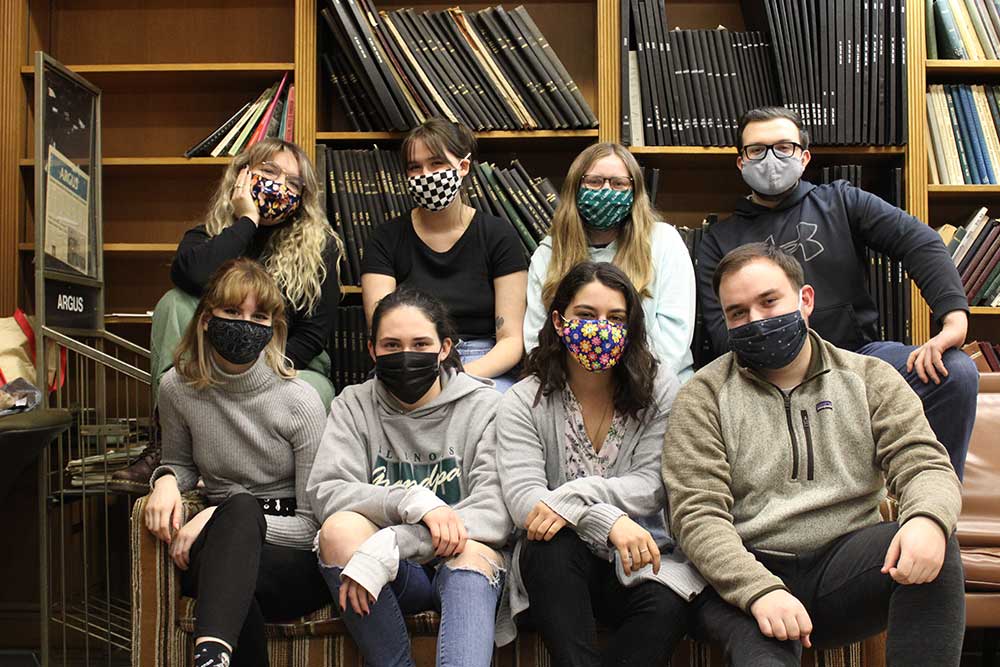 March 4, 2021
BLOOMINGTON, Ill. — Illinois Wesleyan's student-run newspaper, The Argus, earned 12 awards from the Illinois College Press Association's (ICPA) 2020 awards for college journalists, the paper's most wins in nearly two decades.
The Argus achieved this recognition under the leadership of editor-in-chief Samira Kassem '21, news editor Olivia Jacobs '21 and managing editor Katie Fata '22.
Forrest Colwell Endowed Chair and Professor of English James Plath, who serves as faculty advisor for the newspaper, said, "This is the largest number of awards that The Argus has won since 2003, and when something like that happens it isn't just the individuals that have won. It indicates a commitment by the whole staff to getting it right."
The Argus' awards included:
first place in Sports Game Story, Andrew Zienty '21

second place in Sports Game Story, Jon Recchia '20

second place in Sports Page Design, Hannah Horn '20

second place in Critical Review (Other), Gabrielle Ghaderi '21

second place in Podcast, Tera Wilson '20 and Recchia

third place in Opinion Page, Emma Cottrell '21

third place in Feature Photo, David O'Neil '21

third place in Column Excluding Sports, Sarah Buchmann '22

third place in Sports Photo, Matthew Wagner '21

honorable mention in Headline Writing, Samira Kassem '21

honorable mention in Photo Essay, Kassem and O'Neil

honorable mention in General News Photo, Katie Fata '22.
Additionally, Plath was elected to a second term as "At Large Small School Representative" for the ICPA.
"(Winning these awards is) definitely a sign that we're heading in the right direction," Jacobs noted. "It also makes me proud that this was a major result from leadership over the past two years –– from Hannah Horn and I –– to Samira and Katie. I think we've all definitely helped get The Argus to where it needs to be, and I hope this means even better things for the future writers and editors to come."
The Illinois College Press Association serves member schools across the state and honors the work of student journalists whose newspapers are members of the ICPA. Entries to the annual ICPA Contest are judged by professional journalists.
Under normal circumstances, the Illinois College Press Association hosts an award luncheon in Chicago and invites Illinois college newspaper staff to the event. However, the COVID-19 pandemic required the awards to be announced in February via a virtual presentation.
One of the oldest student-run publications in the country, The Argus also had to make its share of changes to adapt to reporting and publishing amid the COVID-19 pandemic. For the first time in the paper's nearly 130-year history, it transitioned from printing physical copies to publishing exclusively online at iwuargus.com. Regardless of the format, The Argus continues to play an important role on campus.
"This has been my first semester as editor-in chief of the paper, and it has been a huge challenge," said Kassem. "With COVID in full force and finances running very low, we have had to come up with some creative solutions. I think we are at a turning point here as we move the paper forward into a virtual world, and I am so proud of everyone on my staff for their commitment to keeping the paper running."
Plath added, "I'm proud of how this staff made the transition to all-online journalism, and they continue to impress me from week to week. We all know how tough it is to function 'normally' in a pandemic, and The Argus is something that the staff produces on top of everything else that they do. It takes a tremendous amount of time, energy, dedication, and –– because of my critiques –– endurance. I'm proud of them."
The Argus is always seeking writers, photographers and artists, as well as alumni or community business owners who are interested in advertising on the paper's website or weekly radio show. Anyone interested can contact the editor-in-chief at skassem@iwu.edu.
By Megan Baker '21