Seniors Honored for Outstanding Leadership
April 23, 2020
BLOOMINGTON, Ill. –– Five Illinois Wesleyan University senior leaders have been recognized as recipients of the 2020 Senior Leadership Awards, announced virtually Thursday afternoon by Vice President of Student Affairs and Dean of Students Karla Carney-Hall.
"It is my greatest pleasure to work with student leaders from all aspects of campus life," Carney-Hall said. "It is my sincere honor to celebrate outstanding senior leaders."
More than 50 seniors were nominated for recognition in five categories: Intellectual Leadership, Cultural Leadership, Leadership as a University Employee, Service to the Community, and Leadership for Campus Life. Senior Leadership Award-winners include Sydney Shanks, Tayyibah Ahmed, Kalen Gray, Hannah Horn and Kayley Rettberg.
Intellectual Leadership –– Sydney Shanks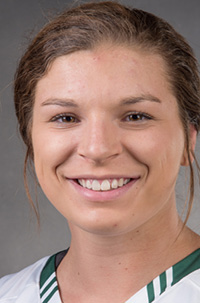 Sydney Shanks excels in the classroom, in her research, and on the basketball court. She was inducted into the Sigma Theta Tau International Honor Society of Nursing, which is the second-largest nursing organization in the world. She also embraced additional clinical responsibilities during an academic internship to hone her leadership and clinical skills. Not only has Shanks excelled in clinical work, but she has also contributed to honors research work which involves the content validity testing for a survey of healthcare workers related to cultural competency, specifically the perception of Muslim nurses. When she wasn't in the classroom, Shanks was excelling on the court as captain of the 2019-20 CCIW Tournament-champion Titan women's basketball team. A two-time First Team All-CCIW selection, Shanks has also earned a spot on the Academic All-Conference Team for the past three years.
A nominator wrote, "Sydney is an exemplary IWU student who has excelled in all leadership areas for which the award addresses."
Cultural Leadership –– Tayyibah Ahmed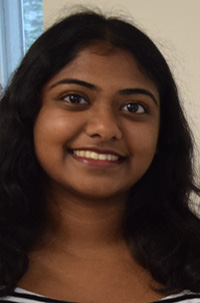 Tayyibah Ahmed has been actively engaged with IWU Interfaith, Alternative Spring Break, the Spiritual Life Leadership Committee, and the Council on Religious Life. With her well-honed leadership skills from the Summer Enrichment Program, she provides powerful, creative and inspiring leadership for the Muslim Student Association as their president, the Multifaith Ambassador team, and many campus programs including Interfaith Summits, Light the Night, and Harvesting Help. Ahmed is respected among peers for her community building, positive perspective and support for others.
A nominator wrote, "Taaba builds community and offers her perspectives and support to others. She is beloved by her peers for these qualities and is a trusted and trustworthy leader."
Leadership as a University Employee –– Kalen Gray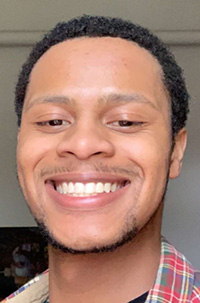 Kalen Gray has worked tirelessly for the Office of Diversity and Inclusion (ODI) for four years as both a mentor and marketer. Gray mentors new students through his work with Pre-Orientation, and he promotes engagement with ODI, diversity, and inclusion by marketing events to the entire student body. Gray co-writes a blog for students of color, and as an extension of his passion for ODI work, he founded the Men of Color student organization on campus.
A nominator wrote, "Kalen's maturity along with his willingness to speak up against unfairness has made him an exceptional leader since the day he stepped foot on this campus thus gaining the respect of his peers, faculty, and staff across the University."
Service to the Community –– Hannah Horn
Hannah Horn serves multiple communities, both on and off campus. She volunteers consistently in the Peace Garden and through her internship with the Downtown Bloomington Farmers' Market.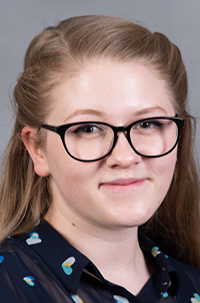 She also serves the campus community through the Campus Activities Board, the Argus , and Residence Life. Horn builds residential communities by connecting personally with people on her floor and in her building. She builds Titan community through CAB social programming that enhances engagement by mentoring and developing future leaders for CAB. And, Horn serves students as an advocate through the Senate, the Ames Advisory Committee, and more.
A nominator wrote, "Hannah takes campus life to another level because not only is she heavily involved on campus, she also makes everything around her run smoother and simultaneously raises the quality of work of everything she is involved in."
Leadership for Campus Life –– Kayley Rettberg
Demonstrating both breadth and depth, Kayley Rettberg has been involved with student advocacy groups like Student Senate (as chief of staff) and the Senior Committee (as president); political experiences like College Democrats (vice president), Pi Sigma Alpha (president) and political campaigns
(internships); service commitments through Prairie State Legal Services and Alternative Spring Break; inclusion activities by serving as the president of the Secular Student Alliance and as an active participant in ReligiosiTEA; and, she served as team captain of the Ethics Bowl. Additionally, Rettberg has already been recognized by membership in Mortar Board, Phi Beta Kappa, as an Eckley Scholar and as this year's Lincoln Laureate.
A nominator wrote, "Kayley's contributions to campus life are vast, and her election as Senior Class President and her selection as IWU's Lincoln Laureate for this year are testament to her academic achievement, service, and leadership."
Last year's Senior Leadership Award-winners included: Abby Kauerauf (Intellectual Leadership), Alani Sweezy (Cultural Leadership), Ben Nielsen (Service to the Community), Bob Ladd (Service to Campus Life), and Veronica Torres Luna (Service as University Employee).