Darnell '88 Earns Starkey Award
Aug. 19, 2019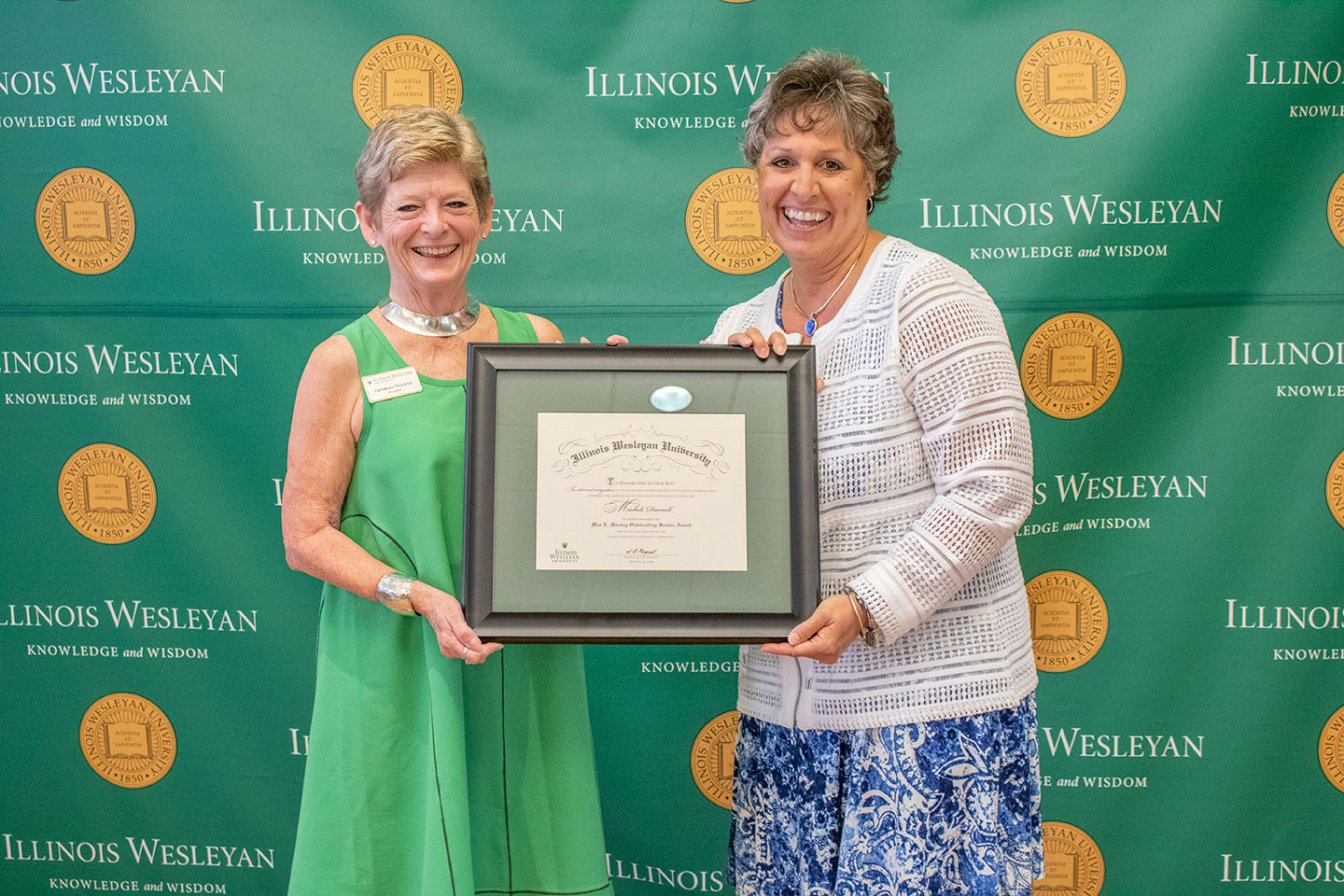 BLOOMINGTON, Ill. — Michele Murray Darnell '88 is the 2019 recipient of the Max L. Starkey Service Award at Illinois Wesleyan University. Interim President Georgia Nugent announced the award winner Aug. 19 at the annual Faculty-Staff Breakfast.
A 1988 graduate of Illinois Wesleyan, Darnell spent 30 years in Admissions working with students, parents and counselors to help them learn more about the University and the admissions/financial aid process.
"On many occasions I have listened to Michele talk to prospective students and their families," wrote a nominator. "You can hear the enthusiasm in her voice, she is so positive about IWU and the benefits that come along with an IWU education. Her experience as an IWU alum and a long-time employee are proof that IWU is a great place to be."
During the summer of 2018, Darnell moved into the newly created pre-health and biology career advisor position where she helps students secure meaningful job shadowing and internship opportunities as they prepare for a variety of graduate and professional schools.
"Guidance in very important life decisions is the key piece to her position as the pre-health and biology career advisor," noted a nominator. "Michele meets with students to advise and guide them through the pre-med path to medical school, pre-dental path to dental school, etc. Her longtime commitment to IWU provides her with connections to many IWU alumni. Daily, she sets up shadowing, mentoring and internship opportunities for our current students. She is an excellent representative of Illinois Wesleyan University."
The Starkey Award is given to a staff member whose loyalty, enthusiasm and outstanding contributions have provided an invaluable service to the Illinois Wesleyan community. Established in 2001, the award is named in honor of the late Max Starkey, a 1957 graduate of Illinois Wesleyan, who was the University's controller for more than 39 years until his retirement in 1996. The award is made possible through a gift of the Starkey family.
A committee comprised of members of the Starkey family and former Illinois Wesleyan staff and faculty selects the Starkey Award winner from nominations from the faculty and staff. This year's committee included: Sue Anderson, professor emerita; Leanne Cox, former registrar; Marc Featherly, former photographer; Art Killian, former groundsman; Pamela Muirhead, professor emerita; Roger Schnaitter, former associate provost for academic planning and standards and professor emeritus.