MLK Teach-In to Examine the Evolution of Housing Equity as a Civil Right
Jan. 4, 2018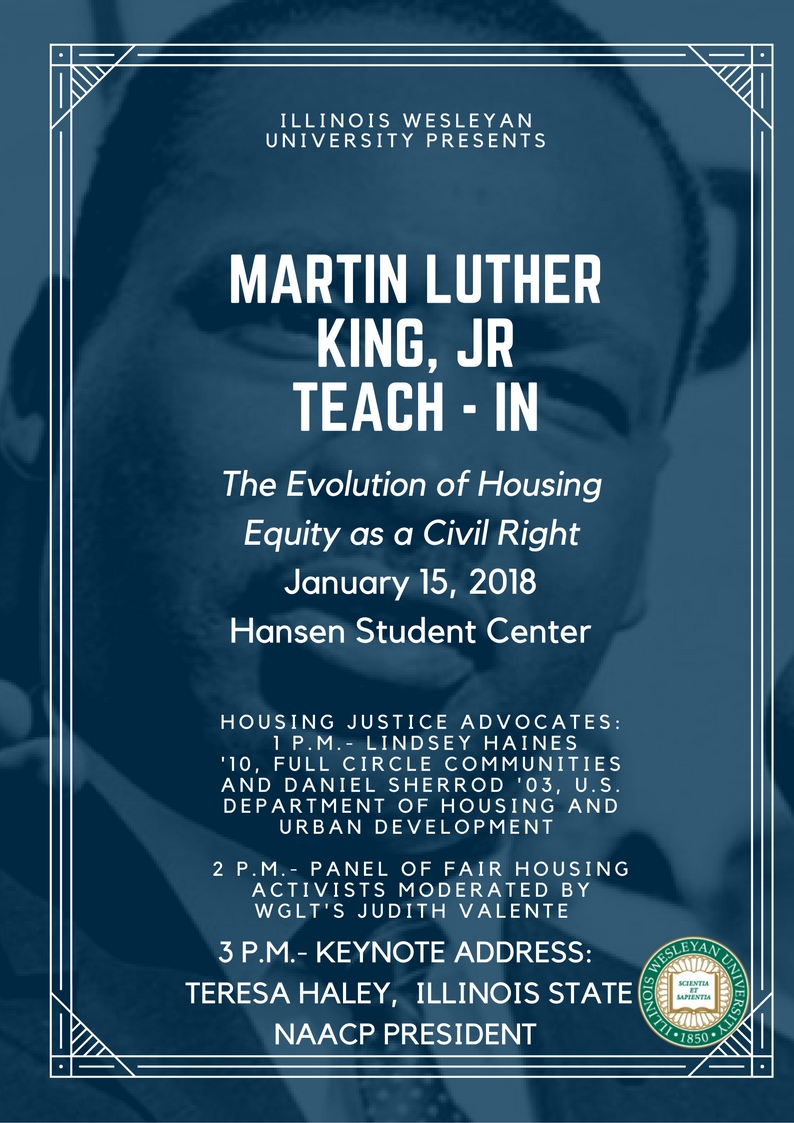 BLOOMINGTON, Ill.— The evolution of housing equity as a civil right is this year's theme for Illinois Wesleyan University's annual Dr. Martin Luther King, Jr. Teach-In on Monday, Jan. 15 from 1 p.m. to 4 p.m. in the Hansen Student Center. The Teach-In is free and open to the public.
The keynote address at 3 p.m. will be delivered by Illinois NAACP President Teresa Haley. Now in her third year as president, Haley will discuss the major initiatives that the NAACP of Illinois is currently working on and how the NAACP is responding to the current political and cultural climate. She will also speak about King's work with housing justice and how access to affordable, safe housing in areas of one's choice is an ongoing civil rights issue. Haley holds a bachelor's degree in communication and a master's in public administration, both from the University of Illinois Springfield.
The MLK Teach-In will begin at 1 p.m. with a Housing Justice Advocates discussion featuring Illinois Wesleyan alumni Lindsey Haines '10, vice president of real estate development at Full Circle Communities, and Daniel Sherrod '03, director of public housing with the U.S. Department of Housing and Urban Development (HUD).
Full Circle Communities is a non-profit organization that strives to expand access to quality affordable housing through preservation and development. As a student, Haines served on the West Bloomington Revitalization Project board and coordinated a housing summit which produced the Adopt a Block program which is still in use on the west side.
Prior to working at HUD, Sherrod was the CEO of The Sherrod Group, LLC, a contracting and construction company he founded. The Sherrod Group worked with public housing residents to provide them with job skills and opportunities for the future. Sherrod grew up in Cabrini Green, a Chicago neighborhood known for its gangs and violence. As a high school student, Sherrod became involved in the Cabrini Connections Tutor/Mentor program, where one of his tutors, an Illinois Wesleyan alumnus, encouraged him to apply to the University.
At 2 p.m., WGLT Radio's Judy Valente will host a panel of local and regional fair housing activists. Valente recently produced a four-part series, Landlord v. Tenant, which examined the ongoing issues related to fair housing and housing discrimination in the Bloomington-Normal area. Haley's keynote address will follow at 3 p.m.
King spoke at Illinois Wesleyan in 1961 and 1966 in his only visits to the Bloomington-Normal community.
By John Twork