Award-Winning Ceramist to Give Stellaccio Lecture
March 8, 2018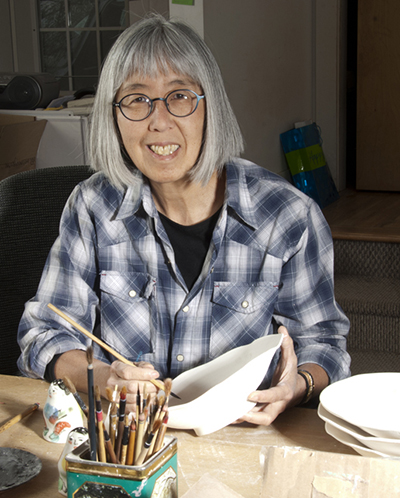 BLOOMINGTON, Ill. — Award-winning ceramist and mixed media artist Beth Lo will present a lecture Tuesday, March 20 at Illinois Wesleyan University as the Anthony E. Stellaccio Visiting Artist. Lo's lecture will begin at 6 p.m. in room 218 of the Joyce Eichhorn Ames School of Art Building (6 Ames Plaza West, Bloomington). The lecture is free and open to the public.
A professional bass player, children's book illustrator, and vocalist, Lo served as professor of art at the University of Montana for 30 years until retiring in 2016. She began teaching at the University of Montana after receiving her master of fine arts degree in ceramics from there in 1974, and was honored with the University of Montana Provost's Distinguished Lecturer Award in 2006 and 2010.
Born in Indiana to parents who had recently immigrated from China, much of Lo's work in ceramics and mixed media collage draws from themes of childhood, family, Asian culture and language. Cultural marginality and blending, tradition versus Westernization, and language and translation, are key elements in her work which has been exhibited throughout the U.S. and internationally, including the Main Exhibition of the Gyeonggi International Ceramics Biennale in Korea.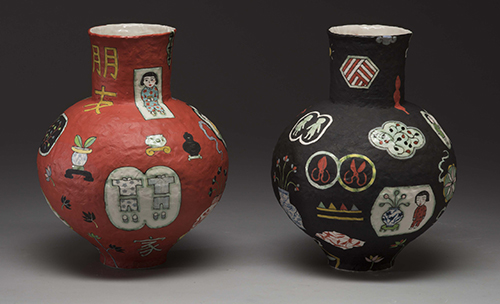 She has received numerous honors including the United States Artists Hoi Fellowship in 2009, a National Endowment for the Arts Visual Artist Fellowship Grant in 1994 and a Montana Arts Council Individual Artist Fellowship in 1989. Her figurative sculpture and pottery have been acquired by a variety of corporations, medical center and museums, including Microsoft Corporation, the University of Washington Medical Center and the Yellowstone Art Museum.
In addition to her artwork, Lo is an active bass player and vocalist for several musical ensembles including The Big Sky Mudflaps, Canta Brasil, Western Union and Salsa Loca. She has also collaborated with her sister, Ginnie Lo, on two children's picture books, Auntie Yang's Great Soybean Picnic (2012) and Mahjong All Day Long (2005), which won the 2005 Marion Vannett Ridgeway Award.
The Anthony E. Stellaccio Visiting Artists Fund was created by Cherie (Egbers) Stellaccio '66, a longtime vocal instructor at the Johns Hopkins University Peabody Conservatory, and her son, ceramic artist Anthony E. Stellaccio.
Vi Kakares '20