Alvis Wins Starkey Award
Aug. 24, 2018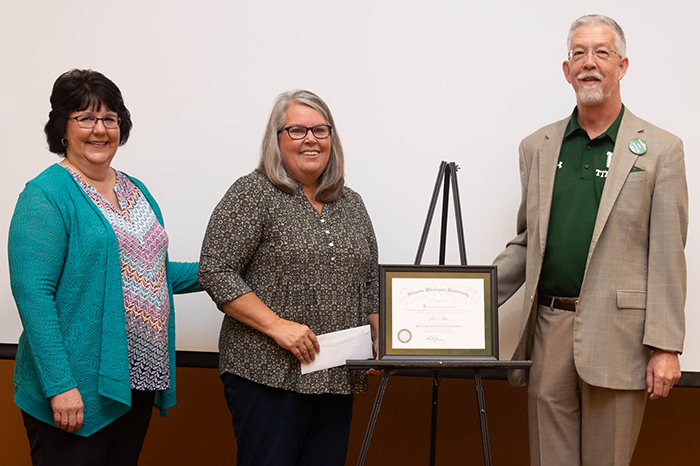 BLOOMINGTON, Ill. — Jan Alvis has been named the 2018 recipient of the Max L. Starkey Award at Illinois Wesleyan University. President Eric Jensen announced the award winner Aug. 24 at the annual Faculty-Staff Breakfast.
Since starting at IWU in 1986, Alvis has served as a valuable member of the University's admissions and enrollment team. As a senior database specialist in the Admissions Office, she coordinates the communication sequences, both electronic and traditional, throughout the student admissions recruitment process.
"She treats everyone, regardless of title or role, with her full attention and desire to assist in any way possible," said one nominator. "I considered her one of the most respected and trusted staff members of all of the folks with whom I have worked at the University."
"One of her greatest strengths is her creative problem-solving," the nominator continued. "No task, big or small, is ever done with just getting is done and crossed off of the to-do list. She completes her responsibilities always with an eye to how this will affect the future and how it will be looked upon historically as well.
"There is no one on campus more deserving of this recognition than Jan Alvis - it is long overdue."
The Starkey Award is given to a staff member whose loyalty, enthusiasm and outstanding contributions have provided an invaluable service to the Illinois Wesleyan community. Established in 2001, the award is named in honor of the late Max Starkey, a 1957 graduate of Illinois Wesleyan, who was the University's controller for more than 39 years until his retirement in 1996. The award is made possible through a gift of the Starkey family.
A committee comprised of members of the Starkey family and former Illinois Wesleyan staff and faculty selects the Starkey Award winner from nominations from the faculty and staff. This year's committee included: Leanne Cox, former Associate Registrar; Donna Hartweg, Caroline F. Rupert Chair of Nursing, Professor Emerita; Art Killian, former Groundsman, Physical Plant; Pamela Muirhead, former Associate Professor of English, Professor Emerita; Lynn Nichelson, former Assistant Dean of Enrollment Management; and Roger Schnaitter, former Associate Provost for Academic Planning and Standards, Professor Emeritus.
By Rachel McCarthy '21