Saving Damar
As a senior trauma surgeon and the chief of general surgery at University of Cincinnati Medical Center, Tim Pritts '91 is used to helping people going through "the worst day of their lives," as he says.
What's less common is when that "worst day" is being viewed live on television by millions of football fans across the country, and circumstances make you both responsible for a young player's fate and for delivering the news to the entire nation.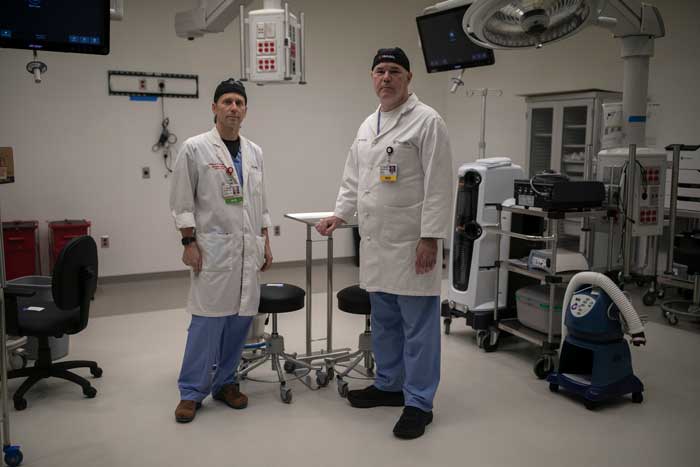 When 24-year-old Damar Hamlin, a safety for the Buffalo Bills, delivered a tackle to Cincinnati Bengals wide receiver Tee Higgins on January 3, 2023, medical experts believe the impact might have led to a freak onset of sudden cardiac arrest in Hamlin's heart, possibly by disrupting his heart's rhythm through blunt trauma. Moments after standing up after the play, he collapsed on the field.
Hamlin was effectively "dead" when he hit the ground, as Tim told The New York Times. The chances of surviving sudden cardiac arrest, distinct from a heart attack, vary depending on how quickly a patient can receive medical attention, but the odds are never better than a coin flip.
In his case, the first responders on site were able to restart Hamlin's heart, keeping him alive long enough to get him to the University of Cincinnati Medical Center where he entered the Emergency Department, and the trauma team got ready to help someone else get through the worst day of his life.
· · ·

As a high school student in Decatur, Illinois, IWU had long been a school in Tim's orbit. He first saw campus as a middle school track competitor visiting for a meet. As a high schooler, he came for the annual jazz festival, being an enthusiastic baritone saxophone player whose family got to know professor Tom Streeter as the creator of IWU's jazz program.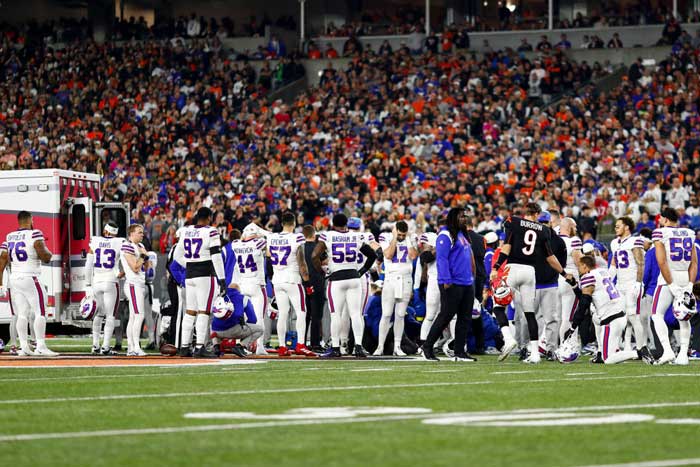 Although he was an enthusiastic and dedicated sax player, Tim was aware that he was not particularly talented and might have to become a doctor instead. Still, when it came time to decide where he would go to college, he wanted somewhere that he could study biology and play in the jazz band. Illinois Wesleyan was his obvious choice as one of the handful of places he could do so.
He also wanted a well-rounded education in a close-knit community.
"If you look at my transcript, I had almost as many history and philosophy classes as I did biology," Tim said. "I think I ended up one credit short of a philosophy minor."
He couldn't quite manage the capstone class to complete the minor, but he "had the exposure to history, the philosophy stuff, ethics, and I took a literature class with Dr. (James) Plath, one of the young faculty there at the time, working through Updike and some other novels. It was something that you don't get in a very hardcore science curriculum."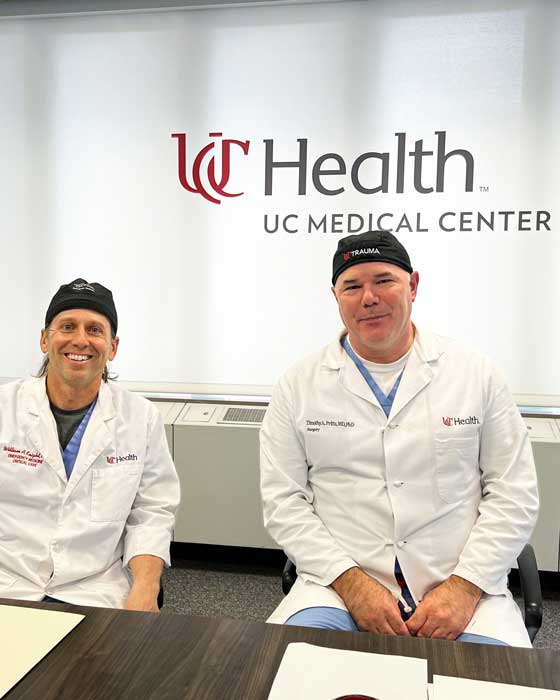 That's not to say that Tim's classes in the humanities did anything to take away from what would become his medical skills. The humanities gave him more opportunities to practice "working through problem solving, having to write about things as a team, and learning communication skills in a small college environment."
"I could not ask for a better education in biology or science. I just really couldn't," Tim continued. The professors at Illinois Wesleyan "teach you how to think and how to ask questions and approach questions. It goes beyond the science degree, and it goes deeply into all the other things that you get to experience at Wesleyan."
· · ·
Today Tim puts his education at Illinois Wesleyan and the Northwestern University School of Medicine to use at UC Health and the UC College of Medicine where he both heals and teaches, and where Hamlin's life was saved.
The National Football League works directly with trauma centers stationed near the stadiums where their teams play, ensuring that there is a team of emergency medical professionals on-site at every game. Although Tim wasn't among them, present at each Cincinnati Bengals home game are a team of seven doctors along with paramedics, respiratory therapists and an ambulance crew ready to immediately treat players who suffer traumatic injuries. For Hamlin, immediacy was paramount.
In the case of sudden cardiac arrest, blood flow immediately stops, and a crucial timer starts as oxygen-hungry brain cells begin to suffocate and die. In only minutes, irreversible brain damage sets in, and after minutes more, the patient dies.
"A few extra minutes or even a few extra seconds and it could have been a different outcome," Dr. William Knight IV, an emergency medicine and trauma specialist at the medical center, told The New York Times.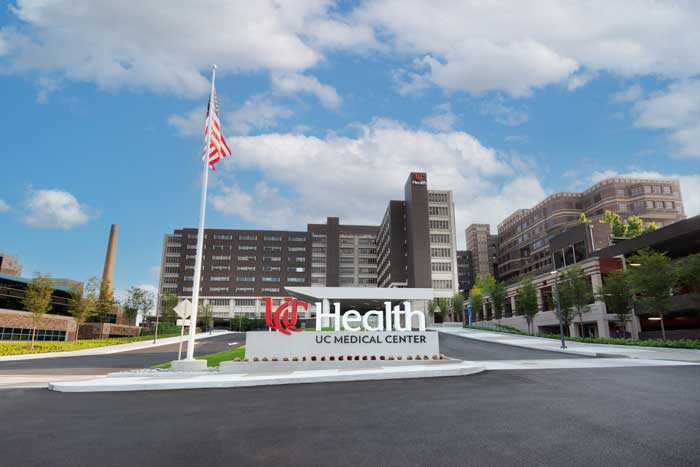 Hamlin was lucky to have the UC Medical Center medical team only seconds away. Using CPR and defibrillation, they were able to restart Hamlin's heart on the field, but that was only the beginning of his treatment.
"For about 2.4 million people, we represent the end of the ambulance ride," Tim said, referencing the total population in the hospital's service area, so the UC Medical Center was Hamlin's destination.
The details of Hamlin's treatment are confidential, but the Mayo Clinic describes post-cardiac arrest treatment as a series of procedures to determine the cause of the heart failure, the damage done to the body as a result, and treatments to address the underlying causes and help the patient make as much of a recovery as possible from the trauma suffered to the brain and body.
Thanks to his team's efforts, Tim had the opportunity to deliver the good news about Hamlin's prognosis, with news media across the country turning their cameras on him and the many medical professionals involved in Hamlin's Care.
"It appears his neurological condition and function is intact," Tim said in a press conference. "We are very proud to report that and very happy for him, and for his family and for the Buffalo Bills organization, that he is making improvement."
Immediately following his treatment, Hamlin was able to move his limbs, but was unable to speak. As described in the press conference, he was able to write a question by hand, asking who won the game. In fact, the game was canceled after he was taken off the field, but his caregivers provided an answer: He "won the game of life," which became a quote widely reported by the media.
"A frustration with the media is that I relayed that story in the press conference and the quote was attributed to me," Tim said. "But, if you listen to the press conference, I actually said it was one of my partners who said that."
Still, while recovery from cardiac arrest generally takes many months, thanks to his treatment, Hamlin was able to give a full-length, in-depth interview to Good Morning America just six weeks after the episode.
· · ·
In every other way, the story reflects the ongoing work and experiences of Tim and his colleagues, as well as caregivers everywhere.
"In the ICU right now there are 23 patients who are just as sick as Mr. Hamlin was," Tim said. "And we're gratified by every patient who gets better, with our goal for every single patient to get them as close to their previous life as we can possibly get them."
As Tim sees it, "It's the anticipated result of a very high-functioning system of a lot of people working hard doing their jobs," but it also demands a level of caring intimacy unlike any other profession.
"My partners all work hard. We all have a great skill set. But, at the end of the day, it's a great privilege to be able to care for people when they're literally having the worst day of their lives," Tim said. "The way I tell it to the families, when the patient moves up to the ICU after the initial injury, this is the hard way to make a lot of good friends really fast."
Hamlin and his family made at least 150 new friends among all of the UC Medical Center staff who played a part in caring for him — Team 3, or "Team Damar," as they called themselves.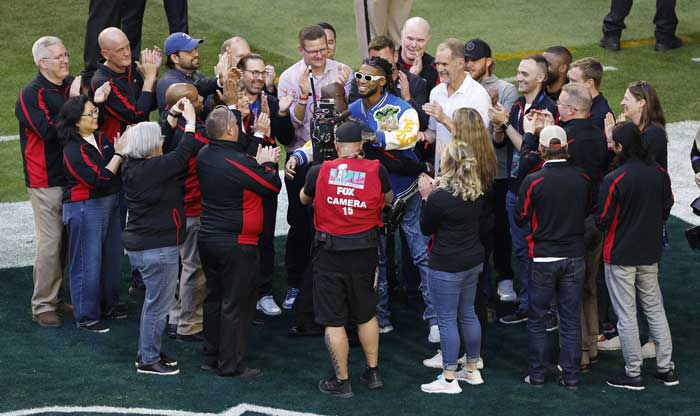 Tim was among the members of that team who were invited by the NFL to the Super Bowl on Feb. 12 where, remarkably, Damar was able to travel and watch the game himself and greet the first responders and surgeons who saved his life on the field, where the UC Medical Center staff was honored by the NFL.
"Backstage (of the NFL Honors event preceding the Super Bowl) we got some time to talk to him and catch up on things and catch up with the Bills folks," Tim said, reflecting the quality of Hamlin's recovery so soon after he was unable to speak and barely able to move. "It's gratifying to see our patients do well. This year just happened to be on a bigger stage."