Community Centered
Story by Matt Wing
Despite working in different arenas — medicine, higher education, and the intersection of performance and activism — Illinois Wesleyan's 2022 Alumni Award winners share the common bond of serving their communities.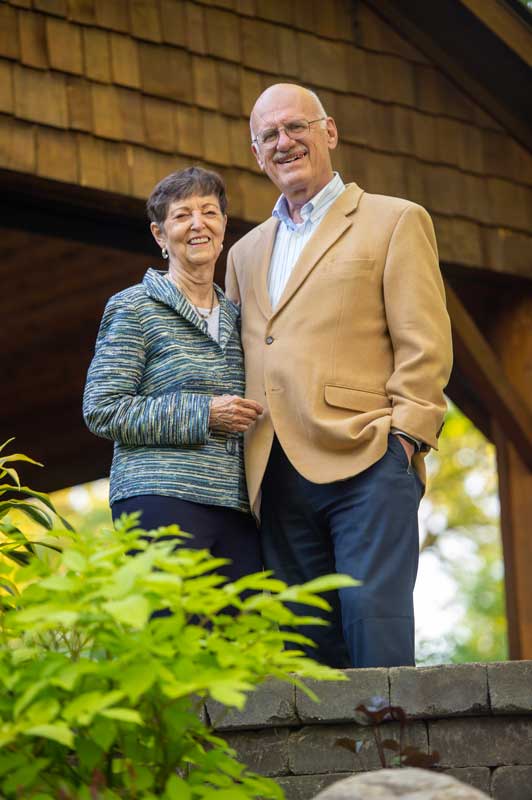 Many Illinois Wesleyan alumni claim to be "Titans for Life." Drs. Roger '64 and Carol (Thompson) Sheldon '65 can certainly lay claim to that title. Especially Roger.
He attended his first college course at IWU at the ripe old age of three weeks old.
"I went to my first class at Illinois Wesleyan with my dad, who had me in a baby carrier, very shortly after I was born," said Roger, whose parents both attended IWU. "I've been tied into Illinois Wesleyan my entire life."
The Sheldons met as IWU students when the alphabetical seating chart employed by former German professor William Bettger placed "Sheldon" and "Thompson" in close proximity. They learned they shared many common interests. Both were highly engaged on campus. Roger was president of Student Senate, and a member of the marching band, Collegiate Choir, Apollo Quartet, Blue Key and Phi Kappa Phi. Carol was active in Kappa Kappa Gamma leadership, IWU Dad's Day, Student Senate, Beta Beta Beta, Alpha Lambda Delta, Green Medallion, Egas and Phi Kappa Phi.
They soon became a couple and married shortly after graduation. Illinois Wesleyan served as the setting for their story's beginning. "We were both pretty happy there," Roger said.
Roger and Carol Sheldon are Illinois Wesleyan's 2022 Distinguished Alumni Award winners.
After IWU, Roger went on to Northwestern University Feinberg School of Medicine and a pediatric residency in Boston. Carol worked for Illinois Bell Telephone while her husband attended medical school. She worked at Boston Children's Hospital in an administrative role during his residency. She served as a tutor and foster mother. The Sheldons' plans were temporarily interrupted by the Vietnam War, when Roger served two years in the U.S. Army, stationed in El Paso, Texas. The family's next move was to the University of Colorado in Denver, where Roger had landed a fellowship in pediatric pulmonology.
It was during this time, just as the youngest of their two children was graduating from diapers, Carol felt the itch to go back to work. But she didn't want to go back to the types of jobs she had held before.
"I had always wanted to be a doctor," she said.
Carol had shared that ambition with a former IWU dean when she was a senior and her husband was in his first year of med school. The dean very curtly responded that her duty was to support her husband. She never forgot the exchange.
"Women didn't go to medical school in those days," Carol said. "But Roger was the one to say 'Well, if you want to go to medical school, we'll figure it out.'"
And they did. Carol enrolled at CU-Denver while Roger went to work there. Seeking somewhere they could both practice, the Sheldons eventually landed in Oklahoma City.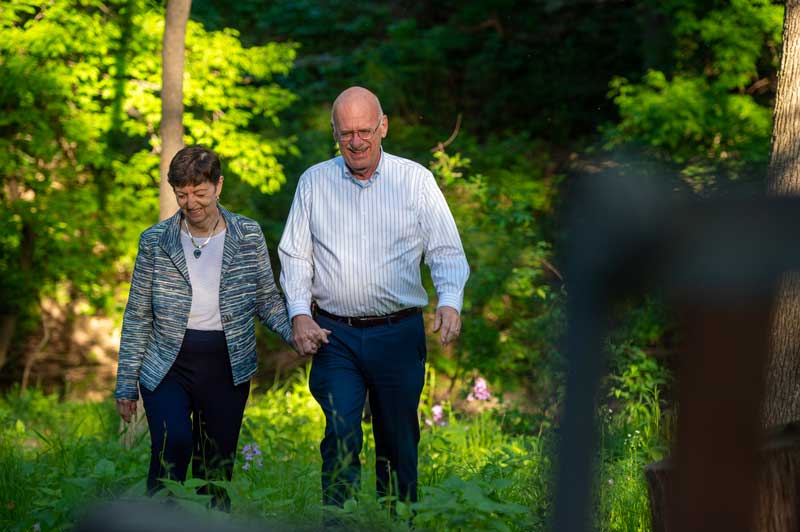 They quickly established themselves as healthcare leaders there. Roger led the neonatal unit and NICU at the University of Oklahoma Medical Center, before serving as the university's assistant dean for continuing medical education. He additionally served as assistant medical director of Heartland Health Plan and medical director of the Children's Hospital of Oklahoma. After completing a residency in diagnostic radiology at the University of Oklahoma, Carol joined Oklahoma City Clinic and Presbyterian Hospital, where she become the first woman to chair the radiology department, and served on both executive boards, and as president of the Central Oklahoma Radiological Society. She eventually co-founded Breast Imaging of Oklahoma, where she practiced until her retirement.
A desire to improve the health and wellbeing of their communities drove the Sheldons throughout their careers, and it continues in retirement. Roger remains active supporting child advocacy, the American Academy of Pediatrics, the Earl E. Bakken Medical Devices Center at the University of Minnesota, and Doctors for Early Childhood. Carol has served as president of the Minneapolis branch of the American Association of University Women (AAUW), whose mission is equity for women and girls; it supports college scholarships to nine Minneapolis high school graduates each year, as well as providing food, clothing and transitional housing to surrounding neighborhoods.
The Sheldons also routinely give back and remain engaged with their alma mater. That connection stems back from the positive experiences they enjoyed on campus more than a half century ago.
"We have benefited greatly from Illinois Wesleyan," Roger said. "And to whom much is given, much will be required."
· · ·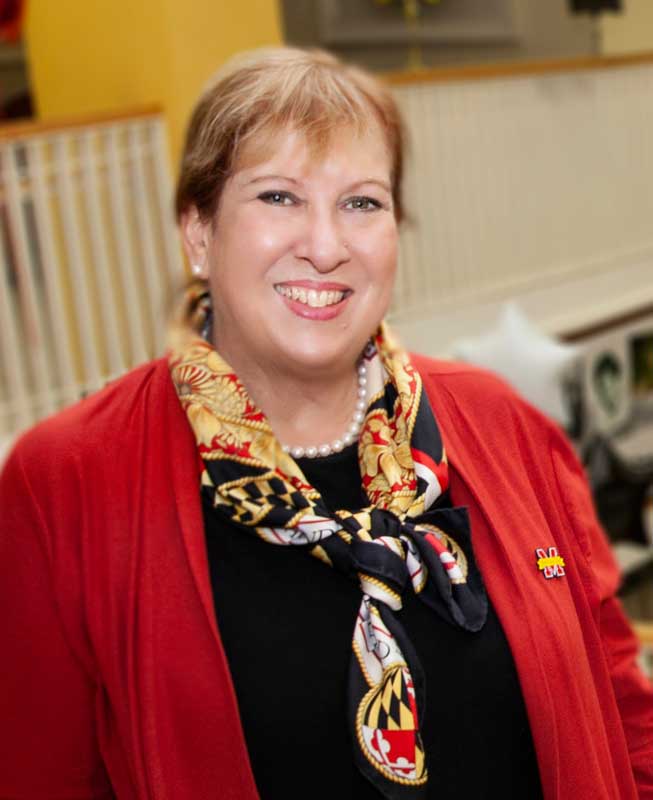 Loyalty Award:
Marsha Guenzler-Stevens '78
Assigned an essay on what she wanted to be when she grew up, sixth-grader Marsha Guenzler-Stevens '78 sharpened her pencil and pulled out a crisp sheet of paper.
"Dean of women," she wrote with the utmost confidence.
"I don't know where the hell I got that," Guenzler-Stevens says, laughing heartily. "People said the usual things, but that's what I wrote, and I'm sure it's because we had been to Wesleyan and had probably listened to some women speak."
Guenzler-Stevens comes from an Illinois Wesleyan family. Her parents are alumni who often brought their children along for return trips to campus. Her two sisters and other extended family members are alumni, too. Her connection to IWU, to a certain degree, is genetic.
Her parents were known to clip Chicago Tribune articles any time an alum was mentioned. They'd read the alumni magazine not only for updates on their classmates, but their classmates' children and extended families.
Guenzler-Stevens inherited that, too.
"You have this great sense of being entrusted with the stories of people," she said. "You're entrusted with an institution that invested in you."
Guenzler-Stevens is Illinois Wesleyan's 2022 Loyalty Award winner.
When informed of the recognition, she felt a rush of emotions. There was gratitude. There was nostalgia. There were thoughts of her family — especially her late father, Robert Guenzler '53 '56, who had died just months earlier.
"He would have loved this," Guenzler-Stevens said. "That's where the tears came from."
Guenzler-Stevens selection for the award is based not on lineage — her parents were IWU's Loyalty Award recipients in 1998 — but on devotion to her alma mater. She has served in leadership roles on the Board of Trustees, Alumni Association Board of Directors, and Council for IWU Women. Guenzler-Stevens has given her time, talent and treasure to Illinois Wesleyan with regularity. When IWU asks, the answer from Guenzler-Stevens is almost always an emphatic 'yes.'
That first ask came shortly after her IWU graduation, when she was offered a job as an admissions counselor. That job was the springboard to a long and distinguished career in higher education. Guenzler-Stevens will celebrate 40 years at the University of Maryland this summer.
She is currently the director of the Adele H. Stamp Student Union, a student center offering inclusive spaces and programming to a student body of more than 40,000.
Guenzler-Stevens loves the job. Working with young people keeps her young at heart. If those interactions weren't enough, she teaches three courses a year.
"My full-time job is an administrator, but I teach for free because each semester I get to know 20 students really well, and I carry their stories," she said. "That's the lesson of my dad and that's the lesson of Illinois Wesleyan."
It's a dream job for Guenzler-Stevens — one she actually dreamed of many years ago.
"I'm ever so grateful that little kids get to dream of who they want to be when they grow up," she said. "And I get to do what I thought I wanted to do when I was in the sixth grade."
· · ·
Robert M. Montgomery Young Alumni Award:
Ianne Fields Stewart '15
Everything Ianne Fields Stewart '15 does is done with purpose.
Whether it's the acting roles she accepts, or the organizations she supports, or the works she creates to provide a platform for others, she does it all with measured calculation of how it can positively impact their community.
"By holding to values that I believe in so strongly, the work will reveal itself to me," she said. "As long as I remain steadfast in what I believe, how I believe it, and what I believe is the most ethical way of going about doing it, that will lead me right."
Fields Stewart, who uses she/her/they/them pronouns, lives their purpose as a Black, queer, transfeminine, New York-based storyteller whose work spans the realms of performance and activism. She is an actress known for roles on Netflix's Dash & Lily, Hulu's The Bold Type and YouTube's The Feels. She is the founder of the Okra Project, a collective addressing food insecurity in the Black trans community. She's a cultural competency consultant who delivers training and facilitates conversations. She is also a teaching artist, director, choreographer and playwright who strives to provide a platform for others.
Fields Stewart is Illinois Wesleyan's 2022 Robert M. Montgomery Young Alumni Award winner.
"I hope my presence allows someone who is young, Black and trans — who may not know it yet or who may just be coming into it — they can take that space in their own life and propel themselves forward in their own autonomy and wisdom in the way they see fit," Fields Stewart said. "Because we all have the right to do that."
Fields Stewart describes their time at Illinois Wesleyan as "formative and important." She gained formal training as a music theatre major. She developed an artistic aesthetic and a voice — and not just onstage. "A lot of my general education courses helped inform my political foundation and built an awareness of social justice movements," she said.
Fields Stewart also learned from experiences of racism, transphobia and queerphobia encountered during their time at IWU. "I think it was that interesting thing of being planted in unfriendly soil and still learning to bloom,"
she said.
Fields Stewart said she rarely feels like "that girl," but she does somehow manage to balance career, advocacy and personal life. She's preparing for acting roles. She remains active in community service. She's been commissioned to write a play for an off-Broadway theatre.
And she's doing it all, as always, with the interests of their community as a guiding light.
"I'm making sure that my people are taken care of and doing my small part to be a part of a larger tapestry of people who are organizing on behalf of Black trans lives," she said. "Wherever the fight goes, I will remain in support of it."