Breaking Through
Story by Matt Wing
Angela (Tomazin) Hesemann '09 found herself laid off at the outset of the COVID-19 pandemic, but co-founded a successful business to meet a new demand also created by the pandemic.
It was early on a Sunday morning in March 2020 when Angela (Tomazin) Hesemann '09 saw her phone screen light up with a text message.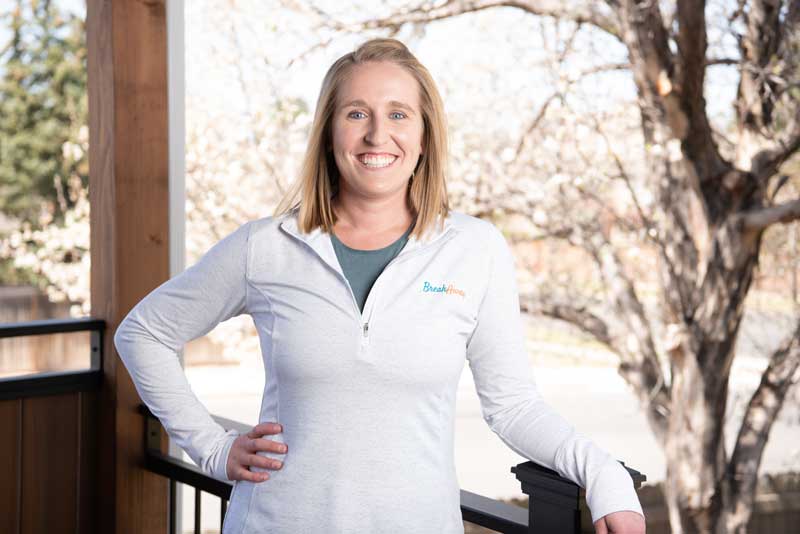 The senior event manager at Grand Hyatt Denver wiped the sleep from her eyes, certain she had misread the message, but she had not. A major business gathering slated to begin the very next day at the Grand Hyatt had been canceled.
"There were hundreds of people from all over the world, and they were already here in Denver when they canceled the conference," Hesemann said. "And that's how it started. Over the next week-and-a-half, every other single event we had scheduled was canceled."
Concern over rising coronavirus cases effectively shut down the hotel and hospitality industries — as it did much of the world. Hesemann was furloughed for six weeks. Then four more. Then worse news: she was laid off.
"That was the toughest moment because it was like, 'Now what do I do?' It was very stressful," Hesemann recalled. "It was honestly a grieving process. I was grieving the loss of 10 years with a company I loved — a company I would have stayed with for my entire career."
Luckily, Hesemann had a support system to lean on. She was offered encouragement from her husband, parents and siblings, as well as best friend Kim Carlson, whom Hesemann had met years earlier working in hotels in Chicago. The two had reconnected when Hesemann relocated to Denver — where Carlson had moved a couple years earlier — and they soon found themselves married to men who were also best friends.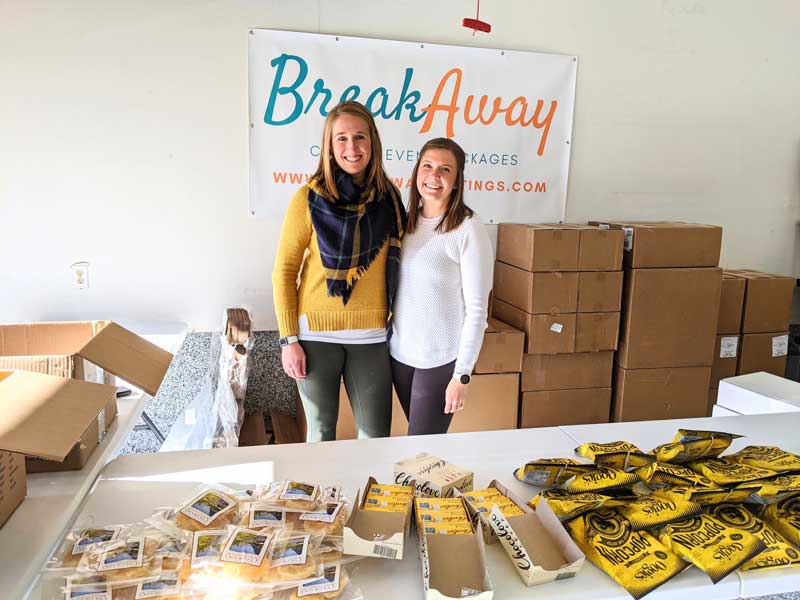 When the couples gathered for a small Fourth of July gathering that served as a brief escape from months of quarantine, a mutual friend lamented the time he had spent the previous week attending a virtual conference. He cited all the symptoms of "Zoom fatigue" many have come to know over the past two years.
As he described his inability to focus and stay engaged through long sessions, Hesemann and Carlson locked eyes. Almost at once, the same idea dawned on them. Could they apply their event and hospitality knowledge to virtual meetings? Could they provide the same food and beverage experiences to attendees of virtual events, separated by hundreds, if not thousands, of miles? And, could they do it by themselves?
"When you have these long conferences, you have breakfast in the morning, coffee throughout the day, beverages to keep you energized and snacks to grab," Hesemann explained. "You have little breaks built into your agenda so you can stretch your legs and network, and that's what was missing from these virtual events.
"So we thought maybe we could find a way to send a package to people's homes that included all the snacks and beverages they needed to stay energized, meeting materials — really anything they would traditionally receive at an in-person conference."
Hesemann and Carlson sketched out a business plan in an Excel document. They purchased a web domain and built a website. They came up with a name.
Just like that, BreakAway Meetings was born.
· · ·
Angela Hesemann grew up in Chicago's western suburbs, the oldest of five children. She excelled in school and her sport of choice: swimming.
A visit to Illinois Wesleyan to tour the campus and meet swimming and diving coach Teresa Fish helped make her college decision an easy one.
Hesemann majored in accounting upon advice from her accountant father. She excelled as a versatile member of the swim team. She learned lessons in athletics that she successfully applied to her academic pursuits. She used knowledge gained from an IWU education to become a stronger swimmer.
The personal growth she experienced at Illinois Wesleyan was apparent to all.
"I was a little bit reserved, kind of a fly-on-the-wall type when I was in middle school and high school," Hesemann admitted. "But I kind of found myself and my personality at Illinois Wesleyan. The experience helped me grow."
Alas, when Hesemann walked across the stage to accept her IWU diploma on her Commencement day, she had no job to rush off to begin. At the height of the Great Recession, she and many of her classmates struggled to find employment. So she worked odd jobs here and there. She coached swimming. She eventually found work at a hotel just up the street from her childhood home in Warrenville, Illinois.
She fell in love with the work. "I loved to kind of welcome people into — well, it wasn't my home, but it kind of felt like it," she said with a burst of laughter. "I loved chatting with people from all over the world, people traveling, people in town for business."
Hesemann eventually moved into a role at Hyatt's corporate office in Chicago, and then to Hyatt's McCormick Place location, where she worked for six years before relocating to Denver.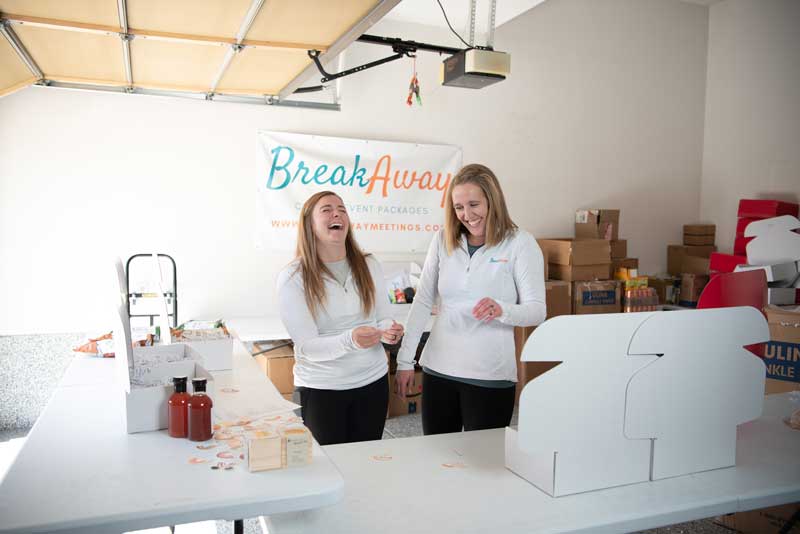 The move to Denver allowed her to reconnect with old friend Kim Carlson, whom she had hired a few years earlier at Hyatt Regency McCormick Place. Carlson was now working at another hotel in Downtown Denver, just a block from Hesemann's new Hyatt location.
Working in nearly identical roles, Hesemann and Carlson shared the highs and lows of working in the fast-paced hospitality industry. Unfortunately, they also shared the fate of being furloughed on the same day — and ultimately, laid off — at the outset of the pandemic.
But their friendship grew during the uncertain time. When one was down, the other picked them up. They encouraged each other. And, after that fateful moment on the Fourth of July, they added a new layer to their friendship.
They became business partners.
"Angela is the most incredible partner I could have ever dreamed of starting a business with," Carlson said. "She's an extremely hard worker, so creative, great with people, and unbelievably supportive.
"It can be a risky move to start a business with a friend, but with her it hardly ever feels like work."
· · ·
Angela Hesemann and Kim Carlson stared at their Zoom screen listening intently, nodding together confidently despite perhaps not fully grasping their client's vision.
"Doritos and soup, it is!" one of them said with Oscar-worthy enthusiasm.
The client call is the first step in placing an order with BreakAway Meetings. Hesemann and Carlson want to know everything about your event: the attendees, theme, budget and more.
Like if your office staff has a weird inside joke about eating Doritos and canned soup.
"Sometimes it's things like that, which we would never propose, but that's why you have these conversations," said Hesemann, who went with the Cool Ranch variety of Doritos paired with a bean chili to deliver on the client's request. "That's far more meaningful than just sending them a box of snacks."
In addition to tailoring the contents of the box, BreakAway Meetings brands it with company logos and colors. Other items, like meeting materials or company swag, can also be included.
"It's all about them. We're just doing the hard work and the creative in the background," Hesemann said. "That's how we like to operate."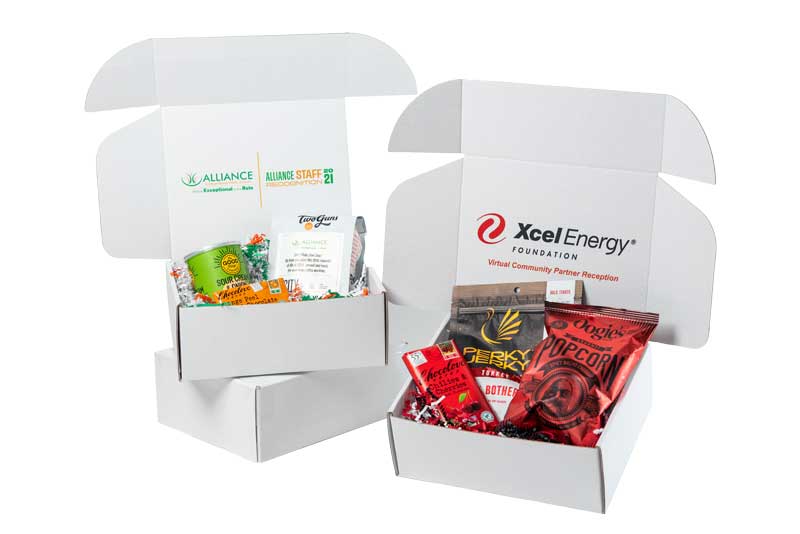 After fulfilling its first order in September 2020, BreakAway Meetings slowly built a clientele.
Using Carlson's three-car garage as a base of operations, the startup emphasized customer service. They went above and beyond, determined to earn additional orders. No order was too big or small. And if a big order required an all-nighter, that's what they did. "We've had our fair share of marathon nights, when we just had to get it done," Hesemann said.
They've learned plenty along the way: preferred shipping companies, food items with greater tendency to spoil, and the amount of inventory they can fit in Carlson's garage. Things have occasionally gone wrong, of course, but a client can still have a positive experience even when things don't go 100% according to plan.
"You have to be apologetic and empathetic, and find out how to make it right," Hesemann said. "Those are the kinds of lessons we learned in the hospitality business."
BreakAway Meetings transformed from hobby to legitimate business. The company's biggest test to date came, however, when Hesemann and Carlson were asked to return to their hotel hospitality jobs, almost a year to the day after being laid off.
They talked it over amongst themselves and their best friend husbands.
"We made the decision that we would go all in on BreakAway, and it's been an excellent decision," Hesemann proudly confirms. "We've never looked back."
· · ·
With so much sad and anxiety-inducing news born from the pandemic, the success of BreakAway Meetings is a welcome success story. Local media outlets seeking some positive news have jumped at the chance to tell the story of two entrepreneurial women who have turned lemons into lemonade.
With each wave of press, the business has surged. "BreakAway is growing so quickly," Carlson said. "Every month we're surpassing what we thought was possible."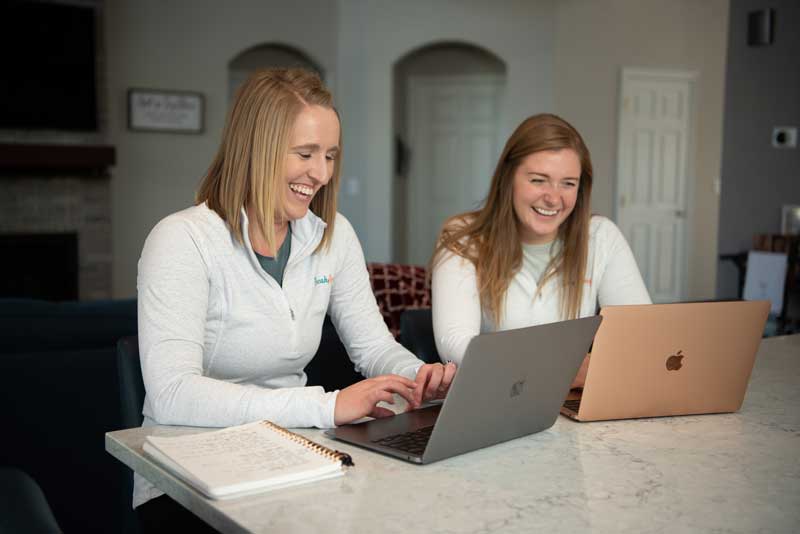 Hesemann and Carlson have declared 2022 a year for strategic planning. They are taking classes at a small business development center in Denver. They've had occasion to hire extra help to fill large orders, and they're currently seeking interns to help them grow the business. They've branched out into offering virtual experiences, such as cooking, mixology and candle making; the early reviews have been positive.
Even with exponential growth, BreakAway Meetings still offers a personal touch.
"We hear from our clients that we're providing exactly what they are looking for, exactly what they need," Hesemann said. "I think we're filling a little hole that other companies haven't yet."
Being able to manage it all has been a challenge, but Hesemann credits her time at IWU for preparing her to do it. She puts her accounting degree to work as the company's bookkeeper.
Her experience of balancing academics and athletics has proven invaluable.
"We're constantly trying to think a little bit differently and creatively, and planning ahead," she said. "Those are skills I absolutely learned and polished at Illinois Wesleyan."
Hesemann and Carlson are determined to keep their success story going. Though the story of BreakAway Meetings started with a raincloud, they're enjoying the rainbow that's come from it.
"This is our livelihood now. We are so proud and really do love it. We've made this commitment to the business and we're putting everything into it that we can," Hesemann said. "It's awesome seeing the results in real time, and it's exciting to be a part of something like this that came out of such a tough situation."