Baked with Love
Story by Matt Wing
Dr. Nurman Noor '08 may be a general practitioner by trade, but a passion for baking earned him a spot in the TV series The Great Australian Bake Off, where he won scores of fans with his likable personality, raw vulnerability and mouth-watering creations.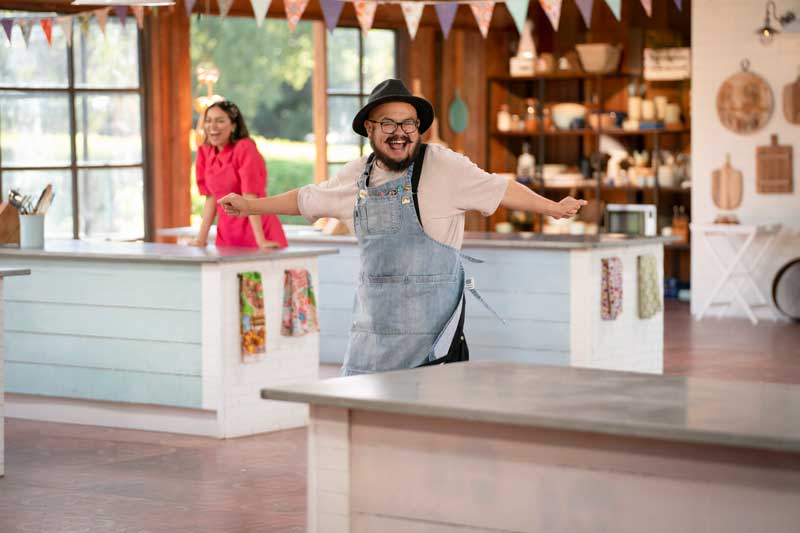 When Dr. Nurman Noor '08 returns home from a long day of seeing patients at his general practice in Tasmania, Australia, he tosses his keys on a side table. He may slide into a comfortable chair, but only for a moment. He eventually finds his way to the kitchen, where he'll extend the index finger on his right hand to press the button on his oven to begin the preheating process.
This kitchen is his happy place.
After offering diagnoses and advice to patients as he has been trained to do through so many courses and clinicals, the rigidity of medicine often leaves Noor craving a creative space at the end of the day.
He finds it in the kitchen of his seaside home in southeastern Tasmania.
"Baking is a way for me to get to use that creative part of my brain, because I don't get to use it a lot in medicine," he says. "My brain is really full of ideas, and it's fun to try and think of the wackiest flavor combination, or a shape that is unusual, or something that's just completely different."
Noor was introduced to baking by his mother, who ran a catering business and restaurant while raising three children in Indonesia. The middle child, he quickly proved himself his mother's best helper. It was then and there in the family kitchen that he first learned the techniques and discovered a love of baking.
Noor later spent formative years in Hong Kong, as a student at an international high school, and the United States, as a student at Illinois Wesleyan University, before finally landing in Australia.
He speaks nine languages — with varying fluency, he is quick to point out — and he has seen much of the world; he spent three months in Ecuador as an IWU student.
Those experiences greatly influenced his baking style. "Being in different cultures opened my eyes to different styles of cooking," Noor said. "Different ideas, different flavors, just being able to push boundaries."
Away from the person who introduced him to the culinary world, Noor briefly paused his passion for baking during educational pursuits. Seeking an American college experience and wanting distance between himself and his older sister studying on the East Coast and extended family on the West Coast, Noor looked for a college "somewhere in the middle." He found it in Illinois Wesleyan, where he majored in biology and philosophy. Noor explored his interests with an eye on a career in medicine, but the experiences that stood out mostly happened outside of classrooms.
He sang in the choir. He studied abroad. He won a dodgeball tournament.
"The education was really important," Noor said. "But there were things that went beyond it that I got out of it."
Noor eventually found his way to medical school, at Australia's Wollongong University, and it was there that his passion for baking was reignited. "I found it to be a nice way for me to relax," he said. "And it was a nice way for me to connect to my mum."
Noor finished med school in 2012 and began a residency in Sydney. He completed his specialization in general practice and explored other special interests in pediatrics, dermatology, mental health and LGBTQIA+ health. He joined Cygnet Family Practice in Tasmania as a general practitioner in 2017. The job affords him a certain level of flexibility and the ability to pursue other interests of hiking, sketching and tending to his lush half-acre property.
And baking, of course.
Noor was a fan of The Great British Bake Off long before its mainstream popularity. The BBC-produced show inspired him to dive deeper into his baking interest, not that he needed it.
When The Great Australian Bake Off premiered in 2013, he was watching.
By 2018, as the show was ramping up for its fifth season, Noor decided he was ready for the toothpick test. He applied and was shortlisted. He went through several rounds of interviews and test bakes. Ultimately, he was among the final cuts and did not appear in that season.
The anticlimactic result of finishing "13th out of 12 contestants," as he describes it, was disappointing. But Noor's baking journey persisted anyway, and he spent much of his pandemic downtime the past two years like so many others, learning new skills and techniques in the kitchen.
When The Great Australian Bake Off announced it would return for a sixth season, to air in 2022, Noor was conflicted.
"I almost didn't apply this time because I remember leaving that experience the first time feeling a bit deflated, losing that passion, and I was afraid of the same thing happening this time," he said. "But somewhere in the back of my mind, there was this thought that kept telling me that if I didn't apply, I might regret it."
The casting, however, was unlike Noor's previous experience, as the ongoing pandemic necessitated all rounds of the audition be virtual. He shared his Instagram account, which mostly serves as a baking diary. He recorded and shared videos of himself baking. He conducted a live bake over Zoom before a panel of judges and producers.
"I had to cut the cake for all of them and show them what it looked like," Noor said, smiling. "That was an interesting one because I bake to feed people, and the fact that I baked this huge thing and I couldn't really feed anyone was somewhat difficult."
In conversation with the panel, Noor was bold. He told them he was "a bit of a rule-breaker" and "not one to be put in a box."
"I just told them if they picked me, I'm someone who's a bit different — actually, someone who's a lot different — and that comes across as me in a person, that comes across in my baking," he recalled saying. "I'm very adventurous, I'm very creative, and that's what they would get from me."
His courageousness paid off. A few weeks later, he got the call and learned he would be among the dozen contestants competing in the show's sixth season. Noor flew to Sydney in September 2021 to begin filming. The schedule was grueling; each episode was filmed over two days, with a first call at 5 a.m. every morning, and episodes were filmed back to back. That allowed advancing contestants a three-day break between each pair of episodes, but even those days were filled with recipe writing and testing bakes.
The conceptualization of dishes was fun for Noor, but submitting plans days in advance proved tricky for the instinctual baker.
"I'm not a recipe baker. I bake a lot of things by feel," he said. "I experimented a lot in terms of baking and even in recipes that I wrote. I adjusted a lot of those during the shows."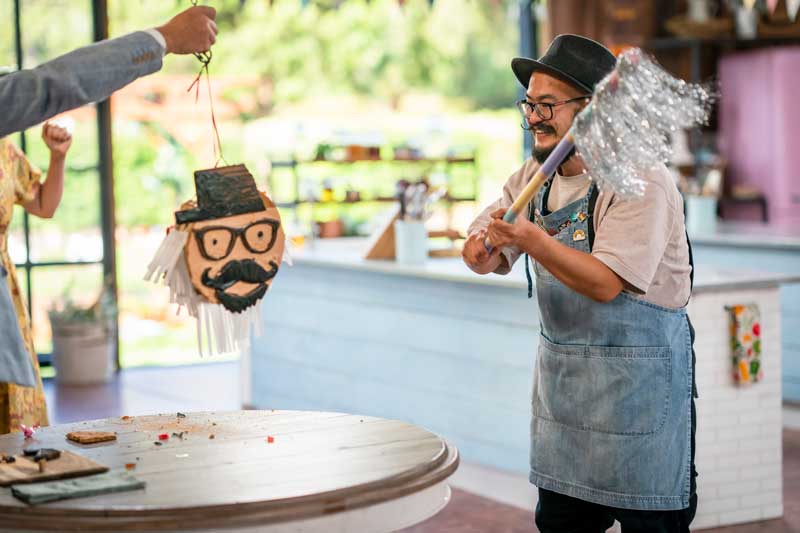 Noor established himself as one of the season's top bakers right away. He was named Star Baker — the judges' choice for top performer in each week's show — in the second of 10 episodes. He consistently earned high marks in the various challenges throughout the season, and was named Star Baker once again in the ninth episode, which earned him a spot in the season finale.
With his signature fedora and handlebar mustache, Noor endeared himself to fans and competitors alike. His genuine, jovial personality was on full display — one show producer called him "the kindest, most joyous person" — but he also had moments of vulnerability and very openly shared personal struggles.
In the season's penultimate episode, the four remaining contestants were challenged to produce a piñata made of biscuits — what Americans would call cookies. Noor chose to create a likeness of himself, replete with said fedora and mustache. But, on the back of the piñata, he included, in words, challenges he's faced in his life: doubt, worry, self-worth and body image.
"I see the action of hitting a piñata as a cathartic moment, and I want to beat down those personal battles," he told the show's judges, Matt Moran and Maggie Beer.
Moran described Noor's creation as "moving." Beer called it "brave and wonderful." They invited Noor to smash the piñata and later selected him as Star Baker for the week.
Perhaps the defining moment of Noor's Bake Off performance was just one of many instances during the season in which he wore his emotions on his sleeve.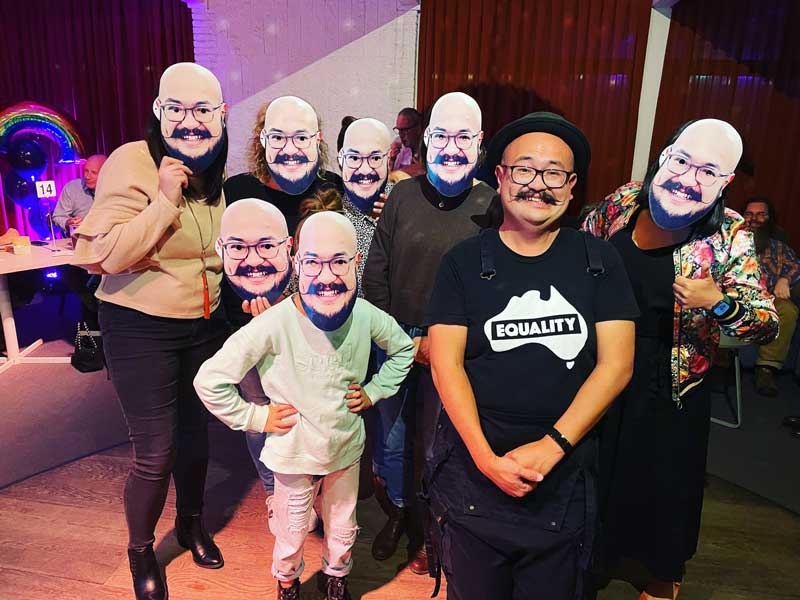 "If I want to cry, I'll cry. If I want to laugh, I'll laugh," Noor said matter-of-factly. "There's this idea of gender expression and masculinity where you have to be tough, where you can't cry, where you can't really show emotion, and that's not me as a person.
"I want to be able to do whatever I want to do and be able to express myself however I choose to express myself."
Noor eventually finished as a runner-up to season winner Ella Rossanis — in unaired footage, Noor actually assisted Rossanis in the final challenge having already completed his bake — but winning was never the main aim, he explained.
"Most of us went into it wanting to be challenged and wanting to meet people," he said. "That was the beauty of Bake Off."
Noor proudly claims he has "found his baking family" through his participation in the show. He communicates with his fellow contestants on a daily basis and has traveled to visit some of them in recent months. "It's been really lovely to meet this group of friends," he said.
His family has also been captivated by his performance on the show. "My mum told me that she loved it," Noor reports with a smile.
Feedback from viewers and fans has been similarly positive.
"I've gotten so many messages through Instagram and Facebook," Noor said. "People have said I brought happiness to them because they thought I came across as genuine. A few of them sent me messages that they've gone through similar battles.
"And it's all great because I didn't intend in this competition to be anyone but me."
Noor is happy with how he represented himself on Bake Off. He's proud of the way his personality shined through in his interactions with fellow contestants, judges and hosts. He's proud of the way he served up dishes that were reflections of himself.
The best baking, after all, requires more than just a list of ingredients and technical savvy.
"For someone who enjoys baking, they're doing it for the love — whether it's the love of feeding people, love of the science of baking, love of the process, whatever love it is," he said. "But it has to be done with the act of love, whatever that direction of love is."