Made to Fly
Story by Matt Wing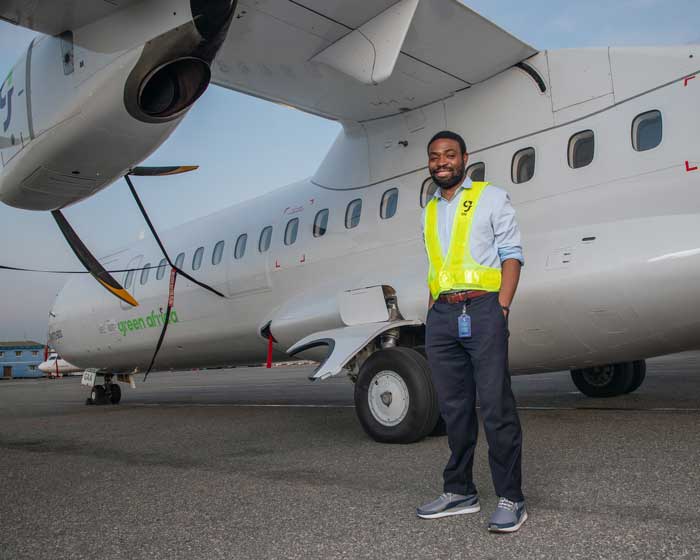 Propelled by an entrepreneurial spirit and a desire to improve life in his home country of Nigeria, Babawande Afolabi '10 founded Green Africa Airways, a startup providing affordable air travel in Africa's most populous country.
When Babawande Afolabi '10 hears the roar of an airplane engine above, he reflexively tilts his head upward. His curiosity always wins out.
"You think about how we as human beings were able to get those heavy machines up there," he says with more than a hint of nostalgia. "It speaks to the ingenuity of humankind. It's beautiful."
Even today, Afolabi remains fascinated by aircraft and air travel, and the perspective one gains while gazing out a window 30,000 feet above sea level.
"The houses and mortgages that we're working every day to pay off, the cars we're working to pay off ... everything becomes so minute," he said.
The allure of it all has become central to Afolabi's professional journey. A winding path that began with four years at Illinois Wesleyan has also included stops at Stanford University, Morgan Stanley and American Airlines.
And it's all led him to his most ambitious endeavor yet.
Afolabi is the founder and chief executive officer of Green Africa Airways, a startup value carrier based in Lagos, Nigeria, his home country's most populous city. Green Africa emphasizes safety, reliability and affordability — nearly all of its one-way flights cost the U.S. equivalent of $50 or less — as it offers air travel to a broader base of customers.
A firm believer in former Illinois Wesleyan President Minor Myers jr.'s iconic "do well, do good" advice, Afolabi saw an opportunity to do both with Green Africa. Nigeria's emerging market provided fertile soil for business growth, and the service would unlock a previously inaccessible world to its clientele.
After years of developing the concept, Afolabi officially founded Green Africa in 2015 with the ambitious goal of beginning operations in one year. Little did he know the processes of fundraising, certification and hiring — let alone unforeseen challenges, such as a pandemic — would require years of painstaking work and a delay in the realization of his dream.
But on Aug. 12, 2021, Green Africa commenced operations with a 90-minute flight from Lagos to the Nigerian capital of Abuja. Afolabi was on board to experience a moment that seemed both a symbolic finish line and starting gate.
"I had to remind myself many times along the way why I was doing this in the first place, which was using what I care about and what I have interest in, to be a force for good and a force for creation," Afolabi said. "And I never forgot that."
· · ·
A knock on the door of the President's House late one night during the first week of fall classes felt like the work of student pranksters.
It was not.
When Illinois Wesleyan First Lady Pat Wilson opened the door that evening in August 2006, she found a soft-spoken student who needed help. His name was Babawande Afolabi and, although he had been on campus for only a week, he feared he would soon have to leave.
Pat Wilson called her husband from another room. The three sat down to talk. Afolabi politely declined the first lady's offer of a glass of water.
"As you might expect, not many students arrive in the evening unannounced at the President's House," former IWU President Richard Wilson said. "For that reason, I have a very distinct memory of Babawande's visit."
A main source of Afolabi's financial aid had fallen through, he explained, and with no backup plan, he had nowhere else to go but home.
Only in the second year of his presidency, Wilson admits he was still new at the time to handling special appeals from students. But after only a few minutes, he was able to confidently come to a decision.
"Babawande's careful assessment of his situation and determination to find a solution to this problem convinced me that we should do whatever we could to help him," Wilson said.
Afolabi's determination in meeting the challenge that presented itself during his first week on campus would define his time at IWU. He became a high-achieving student, a double major in business administration and economics. He was inducted into a prestigious honor society. He was chosen for highly selective internships. He served as a resident assistant in Dodds and Pfeiffer halls. He ascended to the role of student manager in his campus job with Sodexo.
Afolabi was active in student government, eventually becoming the first international student to become president of IWU's Student Senate. That role brought him into frequent and close contact with University administration, where he regularly made positive impressions.
"Babawande's leadership role gave me an opportunity on a regular basis to interact with him on issues of concern to students and the University," Wilson recalled. "I looked forward to our conversations because of his engaging personality, his keen interest in learning from every experience, and his desire to become an effective leader."
Experiences positively impacted the young Afolabi, but it was his interactions with people he found most meaningful. Even more than a decade after his last final exam, Afolabi has instant recall of a mental Rolodex of individuals — classmates, professors, staff members, Sodexo coworkers and others — who played both major and minor roles in his IWU story.
"When I think about my time at Wesleyan, I think it comes down to relationships," he said.
· · ·
Born in Ibadan and raised in Ilé-Ifẹ, Afolabi left Nigeria for Illinois Wesleyan knowing he would one day return.
"I always knew that I would be going back to Nigeria to do something," he said. "I just didn't know what it was."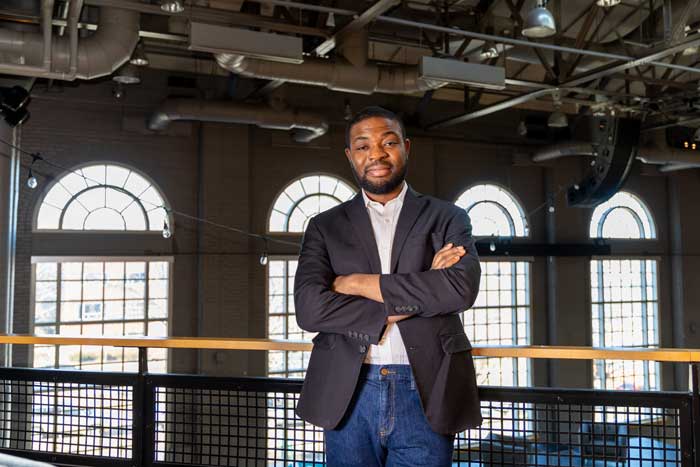 What it would become evolved over a period of time and series of experiences that allowed him to sharpen his business acumen while he figured it out. And while it initially took different forms, it always was fueled by a desire to improve the quality of life for Nigerians.
It may have all started with his father, whom he describes as a "serial entrepreneur," who did everything from farming to baking to business. His father's experience of being denied a small loan to pursue a business opportunity inspired Afolabi to seek a coveted internship opportunity with banking giant Morgan Stanley, which later became a full-time job. His work there afforded exposure to the transportation industry. He learned of the low-cost airline business model, and he saw firsthand the success of the model in the developing world. He wondered if it would work in Nigeria.
The question stuck with Afolabi as he enrolled in graduate school at Stanford. Still curious, he sought out work at American Airlines to learn the ins and outs of the industry.
"If someone had asked me then if the idea of trying to start an airline was already there, I would not have been bold enough to actually admit it," Afolabi confessed. "At that point, there was just this need to learn more, to know more."
By the end of his time at American, Afolabi launched the Green White Group, the initial platform to explore the idea of a low-cost airline in Nigeria. He reached out to mentors he had along the way for counsel; some, like former American Airlines chairman and CEO Tom Horton, became early investors and joined Green Africa's board of directors. Funding the startup became a full-time job for Afolabi, but his mental Rolodex proved useful; former classmates and colleagues from Illinois Wesleyan and Stanford were among some of Green Africa's initial investors.
Afolabi worked day and night for years to get the venture off the ground. "It wasn't just a job to the founding team," he said.
Hiring personnel and navigating a seemingly never-ending certification process were expectedly challenging. Unplanned challenges complicated matters. Green Africa initially announced a letter of intent for 50 Boeing 737 MAX 8s in late 2018, just months before that particular aircraft was grounded after two fatal crashes caused by recurring failures. A year later, Green Africa had to face the reality and associated challenges of commencing operations in the midst of the COVID-19 pandemic.
The compounding challenges raised doubts. There were times when Afolabi questioned his future ... and the future of Green Africa Airways. But each time those doubts surfaced, he thought of the people he'd be letting down. He thought of the journey and the motivation to create Green Africa.
"I didn't have a Plan B. If I was going to fail, I didn't want to fail because I had a backup plan," he said. "I was very fortunate to be surrounded by incredible people, and that is one thing I will say about my story: I've been very fortunate to meet incredible people at different phases of my life."
· · ·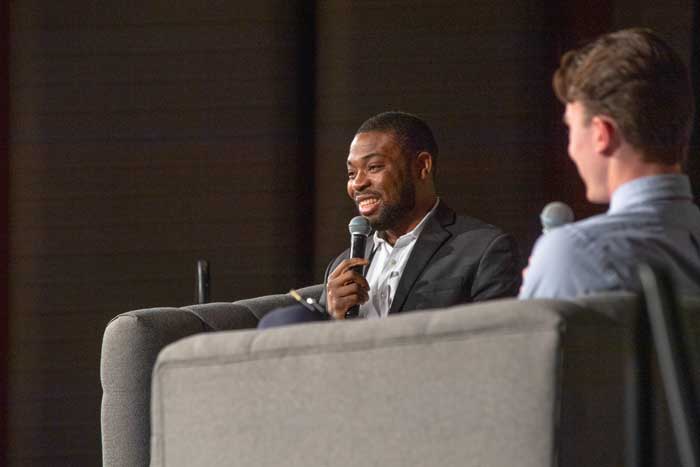 Babawande Afolabi was miles above the ground when it hit him. It wasn't until his airplane had reached its cruising altitude that he had gained the perspective.
The day had offered occasions to reflect prior to that particular moment. Pictures at the festively decorated desk at the airport, handshakes and congratulations from local officials who had come to see him off, even a mid-flight speech he made to Green Africa's first paying customers.
But not until after that speech on Aug. 12, 2021, flying somewhere between Lagos and Abuja, did Afolabi fully realize what had been accomplished.
"Up until then, I'm not sure I was feeling anything. But when I got back to my seat after that speech, I think I finally had the emotion of, 'Wow, this is actually happening,'" Afolabi recalled. "Then we landed, we had another small ceremony, we had a cake, the regulator and airport authority came out, and even some competitors came out to congratulate us. It was a good day."
Six months later, Green Africa Airways is growing. The company boasts a fleet of three ATR72-600 aircraft, though it plans to deploy up to 15 aircraft by the end of the year. Green Africa operates out of eight Nigerian airports currently, with an average of 22 daily flights. The company employs over 260 individuals as members of its "gTeam."
Afolabi likes to think of the future. He often plans five, sometimes 10 years ahead. It's burned him before — he laughs now thinking of his naive expectation of commencing flights one year after Green Africa's founding — but goals not set are goals not reached.
The goal, Afolabi says, is to grow the company and connect Nigeria with the greater African continent, and to bring the majesty of air travel to communities that have never before had the access or experience.
"Our hope and our plan is to build Green Africa into a pan-African carrier that will make it much, much easier for African countries to be more connected with each other," Afolabi said. "Our hope is that for anyone wishing to visit the African continent, Green Africa can make the trip a little bit easier."