Cause for Celebration
Story by Matt Wing
As Title IX turns 50, the Illinois Wesleyan women's athletics community reflects on the progress that's been made and the work that still needs to be done.
Pamela Jacklin '66 gazed out over a raucous Shirk Center crowd, nary an open seat to be found. Cheering fans muffled the sound of a bouncing basketball. The smell of popcorn wafted through the air.
The Illinois Wesleyan women's basketball team was in a battle with visiting Marietta College. An opening round game of the 2018 Division III NCAA Tournament on the Titans' home floor was playing out before a rowdy crowd of supporters on hand to back the nationally ranked IWU women's team.
In town for the annual Council for IWU Women's Summit, Jacklin made an unplanned stop at Shirk that night before heading back to her hotel room.
She couldn't help but pause to think how things had changed.
"It made you think about those who made a difference," Jacklin said. "It made you think of everyone who worked so hard to bring that change about."

Women's basketball at IWU looked a little different in the 1960s when Jacklin was a student. IWU didn't have anything resembling the squad that took the floor for the 2018 national tournament. Instead, there was a loosely organized group of women students interested in the sport. Jacklin was one of them. They practiced together occasionally in anticipation of what were then called "play days," informal gatherings of teams from regional schools, usually hosted by a larger school, such as the University of Illinois. With few if any resourced teams competing, a small school like Illinois Wesleyan was on equal footing with the big schools.
The games themselves were also quite different. Teams played with six players a side. Players were limited to a maximum of two dribbles per touch. Additional rules governed movement. Three players designated as guards were restricted to the backcourt; three forwards were limited to frontcourt play.
"The popular thinking was girls weren't strong enough to run up and down the court," Jacklin said, laughing. "They thought they were protecting us!"
Athletics was only a small part of Jacklin's time at IWU. She was active in Student Senate, the debate team and Model United Nations, all while majoring in political science. After leaving IWU with a bachelor's degree, she earned dual master's degrees in law and diplomacy from The Fletcher School at Tufts University, where she focused on international law and human rights.
While teaching political science and international relations at Bowie State College, she became active in women's causes. She was involved in grassroots women's groups for several years before landing a job at the Federation of Organizations for Professional Women (FOPW).
Although she wasn't a lawyer at the time, her study of human rights law intersected with her dedication to women's issues and, when Title IX was signed into law by President Richard Nixon on June 23, 1972, Jacklin was at the forefront of implementing the landmark piece of legislation. Her work with the FOPW brought her into contact with individuals working on the Association of American College's Project on the Status and Education of Women. It was there Jacklin found herself surrounded by trailblazers and changemakers. Foremost among them were Bernice "Bunny" Sandler, popularly known as the "Godmother of Title IX," and her colleague and right-hand woman, Margaret Dunkle.
"I was learning at the knee of geniuses," Jacklin said. "It was less than a year that I worked there, but it was incredibly important for me and taught me a great deal."
Jacklin went on to a job at Washington State University where she was tasked with putting Title IX into practice. She conducted studies and developed plans to eliminate sex-based discrimination in all of the university's various departments and programs.
Athletics was a part of Jacklin's work, but certainly not the primary focus at first.
"One thing forgotten about Title IX was that it was not initially aimed at athletics. Athletics was an afterthought," Jacklin said. "Title IX was primarily motivated by the desire to provide equal educational opportunities for women at all levels, but with particular emphasis on graduate and professional programs. Without change, women's career opportunities were stunted from day one."
But athletics quickly became one of the most visible areas for application of Title IX. At Washington State, Jacklin studied student interest in the school's athletic offerings. Women students were polled, and the results were stunning. "At every level, women wanted far more opportunities to participate than what was available," Jacklin said, noting she was particularly surprised by women's interest in intramural football.
So began work to expand programming for women's athletics, ranging from a broader spectrum of physical education classes, to intramural offerings, to club sports, to intercollegiate programs. Jacklin's work at Washington State continued for more than three years as she addressed issues both in and out of athletics. It culminated with the presentation of a report evaluating university compliance with Title IX, with recommendations to remedy the extensive inequalities delivered to the university president.
"I had this wonderful playing field to try to implement the lessons that I had learned from Bunny, Margaret and others on how to implement Title IX," Jacklin said. "I'm happy to say that at WSU we were able to do a really, really good job, primarily by recognizing that you must approach everything like an academic — after all, we were at a university — and so that's what we did. The research and analysis made a compelling case for change."
Jacklin went on to serve as a Title IX specialist as part of a federally funded program at Portland State University, where she provided Title IX training for K-12 schools throughout the Pacific Northwest. She consulted with and undertook Title IX investigations, and served as a contributor to a widely used manual for Title IX implementation.
Jacklin earned a law degree at the University of Idaho, where she was a consultant to its president on Title IX. Her work then moved inside courtrooms as an attorney and behind-the-scenes player advancing anti-discrimination efforts. She was involved in litigation against her former employer, Washington State University, based on the Washington State Equal Rights Amendment and Washington State's anti-discrimination law, commonly referred to as "Little Title IX," which ended with a substantial victory for girls and women wanting real opportunities in athletics.
Jacklin later represented plaintiffs with Title IX complaints against schools in Oregon, including the University of Oregon and Oregon State University, both in court and through administrative proceedings, invoking federal law and Oregon's version of "Little Title IX."
She continued to serve as a trusted consultant on Title IX and anti-discrimination matters and, although her pro bono work later took her in different directions, she remained committed to civil rights and equity in education throughout her career.
"It was a very fascinating period of my life because it was meaningful, challenging and rewarding," she said. "I'm thrilled at the progress we've made these last 50 years, while cognizant that more needs to be accomplished."
Even so, Jacklin often thinks of the changemakers who advanced the movement.
"Any important social change takes many, many people from many different positions and many different approaches to bring about real progress," she said. "It takes time, but it can happen, and it's really important to remember that we can have an impact even if we're not seeing it in the present."
Jacklin does, however, see that impact today. She saw it that night at the Shirk Center, not only in the athletes themselves, but in the crowd — men and women, young and old — all there to cheer on women athletes, something unfathomable a half century earlier.
Most recently, Jacklin saw the impact while attending one of her granddaughter's soccer matches.
"We live in the Pacific Northwest, so of course it's rainy and muddy here all the time, and we were at a game where it was just pouring and there were mud puddles everywhere," Jacklin recalled. "My granddaughter was maybe 9 or 10 years old at the time, and she was the star of the team, and she was so happy at the end of the game because they had just won their last game of the season.
"After the game, she was just so thrilled, and I watched her grab two of her friends, and she hugged them and they twirled around, and then she signaled to them to follow her, and they all ran toward the biggest mud puddle they could find and threw themselves into it. They all got up and they were just grinning from ear to ear.
"I snapped a photo of them and, at that moment, I just thought to myself that seeing her then made everything I did worth it."
· · ·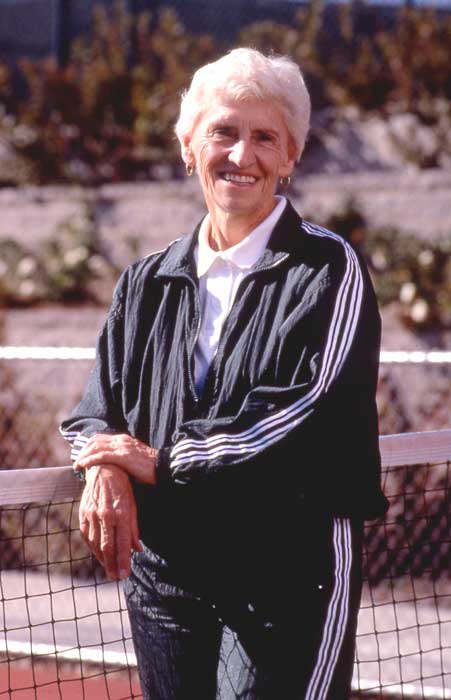 When Barb Cothren arrived at Illinois Wesleyan in 1979 as a women's athletics coach and administrator, Title IX had been in place for nearly seven years. Illinois Wesleyan had added several intercollegiate women's programs and was generally on par with its peers in offering opportunities in women's athletics, if not ahead of the curve.
It was a drastic change for Cothren, who had spent the previous 18 years as a teacher and coach at Tri-Valley High School in nearby Downs, Illinois.
Everything was a struggle back then.
Practice times? Whenever the boys weren't using the gym. Schedules? Good luck. Budgets? Nonexistent.
"I can remember going into closets and finding the old boys' basketball undershirts with numbers on them, and we put them on over our P.E. clothes," Cothren recalled. "That's what we wore for our uniforms."
Things were better at IWU, for certain, but there were still challenges and inequality in those days. The men's basketball team played in Fred Young Fieldhouse, while the women's team played in the old Memorial Gymnasium (now the Hansen Student Center).
One facility was notably better than the other.
"It was very difficult to recruit when a student came on campus and you showed them Memorial Gym, and then they'd tour campus and see Fred Young Fieldhouse," Cothren said.
But things evolved. IWU added sports and participation in athletics increased. Both men's and women's teams outgrew facilities and, thanks to a generous gift from the Shirk family, the Shirk Center was built to serve as IWU's athletics hub, home to all of its teams.
The Shirk Center was a game-changer, Cothren said.
"As the women's program evolved and improved, it became clear that we needed to provide a better facility," she said. "When they built Shirk, it totally changed everything. It was big enough to fit everybody, there was practice time for everybody, and just look at all the sports we have now."
Cothren retired in 2001 having left an undeniable imprint on the women's athletics program at IWU. In the years since, she's witnessed even more positive change from her preferred Shirk Center seat, where she can regularly be found cheering on the Titans.
Things have come a long way since her days of digging through closets for old uniforms.
"You don't really think about it until people start asking about it," Cothren said. "But it is really amazing to think of all that we went through and how we ever got it all accomplished."
· · ·
Incumbent coaches have the luxury of an entire offseason to prepare for their next campaign. Kim Nelson-Brown had all of two weeks to plan for her first season as Illinois Wesleyan's head volleyball coach.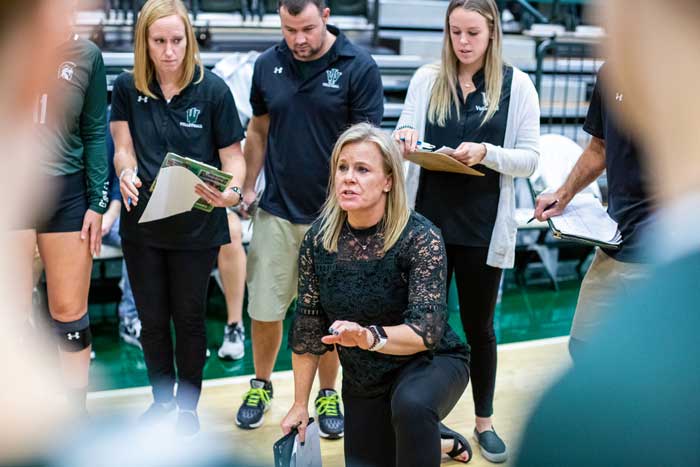 While staffing a volleyball camp at Notre Dame during the summer of 1996, Nelson-Brown got a call from her former college coach alerting her to the opening at IWU. Nelson-Brown called then Athletic Director Dennie Bridges '61 to indicate her interest. The two set a time to meet. She was named head coach a week later.
How did the young coach respond? She led the Titans to a school-record 27 victories.
"I was thrown in feet first," Nelson-Brown said. "And the rest is history."
In the 25 seasons since, Nelson-Brown has helmed a team that's won five league titles and played in six NCAA Tournaments. She's coached 12 All-Americans, one of them her daughter and now assistant coach, Tyler Brown '19. The longtime IWU head coach won her 500th match with the Titans this past fall.
She's seen plenty of changes at IWU in the past quarter century, including a closing of the equity gap.
"Within a couple of years of being at IWU, I started to see a shift of emphasis on our women's sports," said Nelson-Brown, now an associate athletic director and senior women's administrator at IWU, in addition to her coaching duties. "I would never say we were neglected; I just started to see that our voices mattered and we were involved in more decisions.
"It was important to Coach Bridges that our women were treated equally to our men. All of our women's sports benefited from this shift, and our current athletic director, Mike Wagner, has continued to make sure all of our teams feel appreciated, valued and treated equally."
Nelson-Brown knows, however, there is still work to do. For every sign of progress, there is too often a corresponding reminder of inequality. She points to the highly publicized disparity in accommodations between the men's and women's basketball teams competing at the NCAA's 2021 Final Four events as an example.
Speaking up and calling out such instances is vital, the coach said.
"Over my time at IWU, I feel I've learned to use my voice to fight for our women and what we needed and deserved," Nelson-Brown said. "My hope through all of this is to encourage our female student-athletes to use their voices, too."
Nelson-Brown is proud of all the on-court accomplishments of her team over the past 26 years. But that pales in comparison to the pride she feels when she sees IWU volleyball alumni serving in leadership roles and inspiring the next generation.
"Knowing that these women are out in the community making a difference, using their voices and leading in these roles is ultimately what we try to create here at IWU," she said.
· · ·
Gianina (Taylor) Baker '04 can remember countless pressure-packed moments during her time as a student. Her organic chemistry oral examination, leading student organizations in a time of rapid change, and her doctoral dissertation defense spring to mind.
But nothing compares to the nerves she felt before running the second leg of the women's 4x400-meter relay at the 2004 NCAA Division III Indoor Track and Field Championships as a member of the Illinois Wesleyan track team.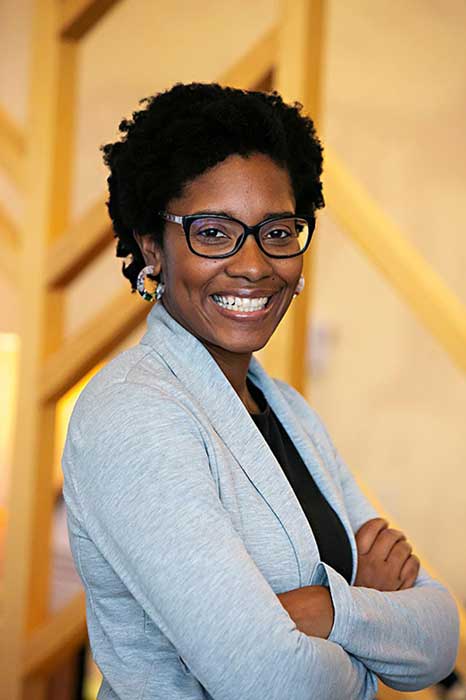 "When faced with a challenge, I often think back to that time and how I used those nerves to move forward and compete at my highest level," Baker said. "Those experiences have absolutely shaped me, helped me grow and see what's possible."
Despite competing in the 'B' final — or "slow" final, as it's often referenced — Baker and her 4x400 teammates clocked the fastest time to claim the national title. "We were laser-focused on our goal, trusted our training and were empowered by Coach (Chris) Shoe(macher) to execute," she recalled.
It was a memorable moment, though just one of many for a former IWU student who was highly engaged during her time on campus. Baker was president of the Black Student Union, co-president of the Student-Athlete Advisory Committee, a resident advisor, student ambassador, and member of the student group Sisters Actively Visualizing Vitality through Intellect.
The multitude of experiences provided the foundation for a successful career. She is currently the associate director of evaluation, learning and equitable assessment at the Office of Community College Research and Leadership, a research and resource-development organization, dedicated to documenting, advocating, and facilitating the systematic use of learning outcomes assessment to improve student learning. Her work has been recognized often; she was most recently named to Central Illinois Business Magazine's "Forty Under 40" class and its 2020 Woman of the Year.
Opportunities in women's athletics played a vital role in preparing her for such a career, Baker said.
"I certainly took pride in working hard and formed some amazing friendships with strong women who also participated in athletics," Baker said. "We pushed our bodies to their limits, of which our ancestors would be proud.
"We also understand the pressure put on us as we look to keep such opportunities open to younger generations of women and the advocacy role needed to do such."
· · ·
Carol Willis '68 never got to be the star player. She never even got to be on the team.
Growing up in a time when opportunities for girls to participate in high school athletics were somewhere between scarce and nonexistent, Willis had to watch from the sidelines.
Fast forward 50 years and Willis is finally part of the team.
Through her support of women's athletics, Willis is as familiar a figure in IWU athletics as anyone else these days. You'll find her in the stands, watching practice, or visiting coaches and support staff in the Shirk Center.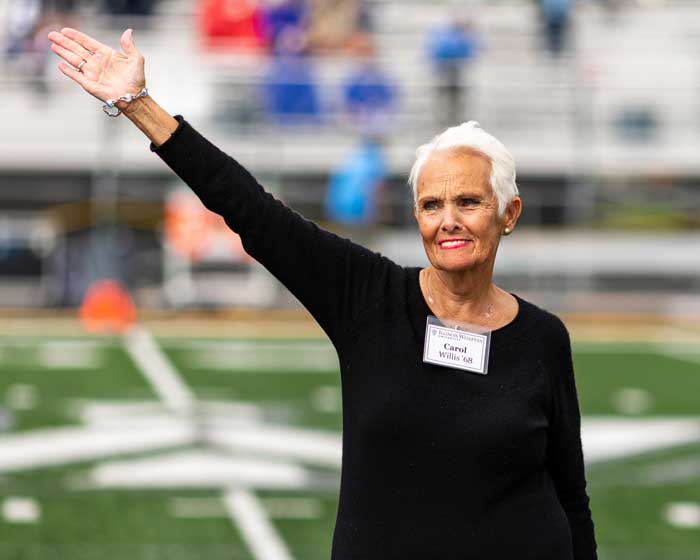 "This has given me purpose in life," Willis says, tears welling up in her eyes.
Willis' support of IWU athletics started when she learned of a need for new women's locker rooms. When she connected with IWU Athletic Director Mike Wagner to discuss the project, she learned Wagner was in possession of funds to refurbish the men's locker rooms, but refused to move forward until he could also begin work on the women's locker rooms.
"I got a little emotional when Mike told me that," Willis said. "Because that's one thing I can say for sure: there is 100% equality between men's and women's athletics here at Wesleyan."
Willis' connection to IWU athletics has only grown as she's gotten to know the coaches, staff and student-athletes. She's been particularly supportive of the Titan softball team and played a leading role in funding a new pitching and hitting facility adjacent to the field, and later, a renovation of the field itself.
Her support was recognized when the field was rechristened as Inspiration Field at Carol Willis Park in 2021, in a moment Willis calls "one of the highlights" of her life.
"Carol is a trailblazer in terms of providing first-class opportunities for women and girls involved in sport," said IWU Head Softball Coach Tiffany Prager. "Every student-athlete, coach and athletic administrator within the footprint of our campus community has been positively affected by Carol's generous heart."
Willis takes no greater joy in life than seeing the smiles on faces of young women participating in athletics. Providing opportunities she didn't have gives her purpose.
"You get to an age where you ask yourself what you are going to do with the rest of your life," Willis said. "It's not often you really get the opportunity to impact lives, but I have, and this will be my legacy."
· · ·
Fifty years after Title IX was signed into law, its impact is still being felt.
"I am fortunate enough to have had the opportunity to discuss Title IX extensively as a part of the softball team. We have met to talk about its roots and its impact on our lives as female student-athletes," said Madison Moore '23, a junior outfielder and biology major. "Society does not always treat women with the full dignity and respect they deserve, but Title IX has been very impactful as a step in the right direction towards a more just and equitable society.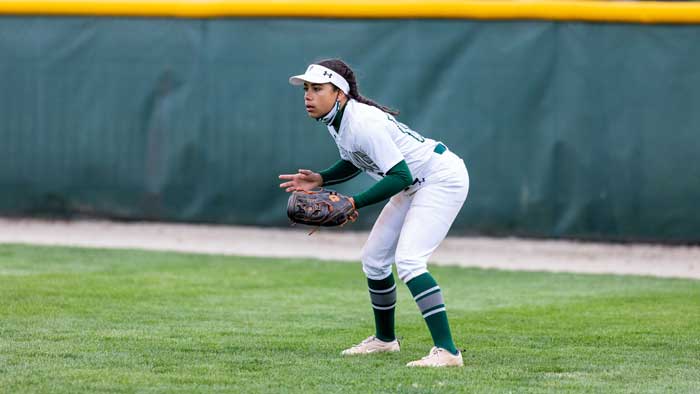 "It has afforded me the privilege of being a part of Titan athletics and on a team that is equally supported by our athletic department and Titan community."
Moore is an important part of that Titan community. The native of Madison, Wisconsin, is the Student-Athlete Advisory Committee's director of community service, and active in the Fellowship of Christian Athletes and IWU's Pre-Health Club.
She's a key member of the softball team as well, sharing the team lead in hits in 2021. She's grown as a player during her three seasons as a member of the team, but she's grown as a person, too.
"It has been a blessing to be a part of this softball family that truly supports me in all facets of my life, even outside of softball," Moore said. "I have received so much support from my professors, coaches and the IWU community during my time here, and this is truly what makes being a Titan so special."
Moore recognizes that the work of Title IX continues, and she's committed to doing her part. She's inspired by people like Carol Willis '68, the namesake of IWU's softball facility.
"She is a phenomenal example of a female leader and role model that we can all look up to," Moore said. "As a woman in sports, Carol inspires me every single day to challenge myself to break the glass ceiling and leave my mark on the world."