Bringing Broadway Back
Story by Matt Wing
A lifetime of experiences prepared Bill Damaschke '85 to serve as producer of a Tony Award-winning musical that echoes real life as Broadway bounces back from the COVID-19 pandemic.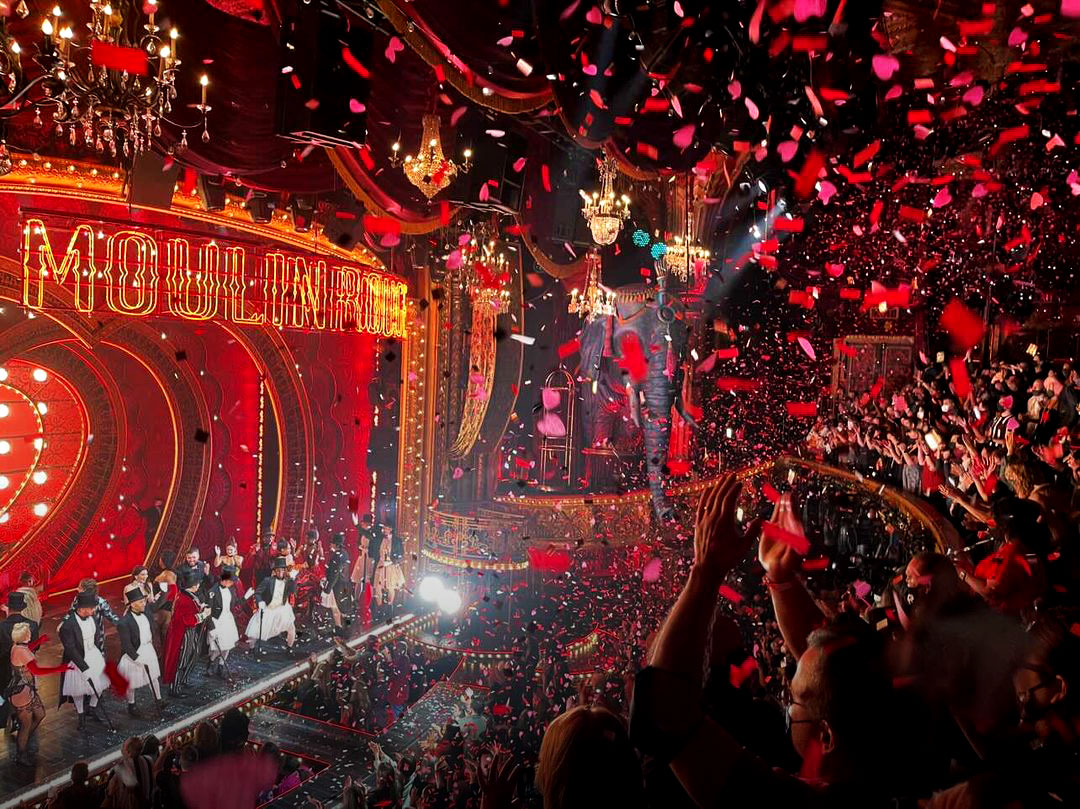 Bill Damaschke '85 approached the microphone onstage at Broadway's Winter Garden Theatre and channeled his inner Harold Zidler.
Moulin Rouge! had just been announced winner of Best Musical at the 74th annual Tony Awards. A tuxedoed Damaschke, the show's producer, stood at the mic before a standing ovation and a national TV audience. He wondered how Zidler, one of the central characters in Moulin Rouge!, might handle such a situation.
"Hello, chickens," Damaschke said with Zidlerian bravado, using the character's familiar welcome.
The unique greeting drew laughter from Damaschke's peers in the audience. He quickly changed characters, however, and, as producer of the musical that had just captured its 10th Tony Award of the evening, thanked the production's creative staff, company and backstage personnel.
"(They) bring their hearts, souls, passion and talents to the show each and every night," he said. The Tonys marked a finish line of sorts. Moulin Rouge! opened on Broadway in June 2019 to glowing reviews, and the team was just hitting its stride when, in March 2020, an outbreak of COVID-19 amongst the cast and crew forced Broadway's first closure due to the pandemic; a week later, all of Broadway was shut down.
The Al Hirschfeld Theatre sat empty for more than 18 months before Moulin Rouge! reopened on Sept. 24, 2021. Two days later, Damaschke and others from the show — Moulin Rouge! was nominated for 14 Tonys — were recognized for performances from what felt like eons before.
"It was a long night after a really long couple of years. We reopened the show, taped our Tony number and had the Tonys all within three days, so it was a pretty epic week," Damaschke said three days after the awards show. "Every day that week, we felt like we'd never get through it, but we did."
Though the Tonys felt like a capstone event in many ways, the triumphant night also marked a beginning. The reopening of Moulin Rouge! was done with new personnel both onstage and backstage. International openings of the production in London and Melbourne were just weeks away. A national tour begins in February.
The Tonys provided an opportunity to celebrate, even if only for just one night.
"I'm so happy for the show, and I'm personally really happy," Damaschke said. "I'm not sure I've taken it in yet just because we've all had to get right back up and go back to work."
· · ·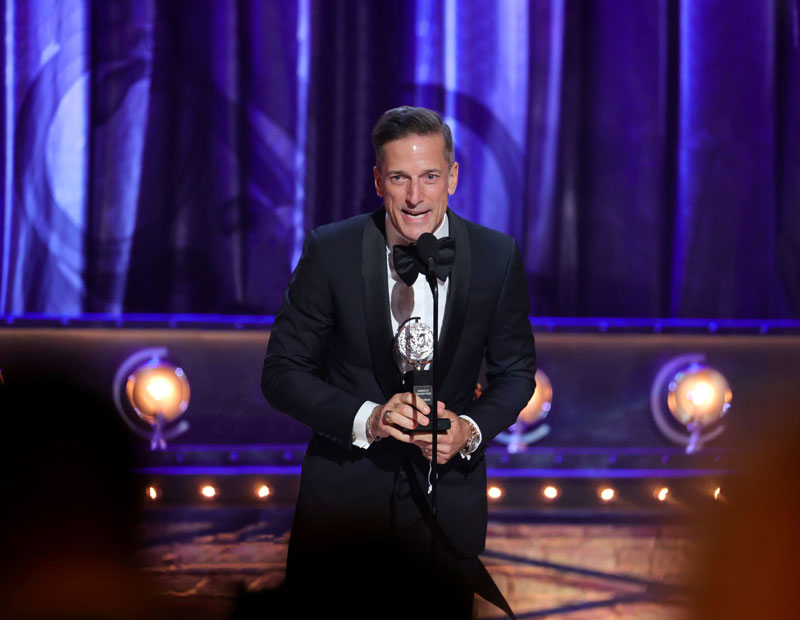 Bill Damaschke first gained experience that would prove useful in a career as a Broadway producer while babysitting on Saturday mornings at his family home on Chicago's South Side.
The eldest of seven children took on the responsibilities that naturally fell upon the oldest child, and that meant doling out the household chores every weekend.
"I would do these kinds of grids, and someone had to clean a bedroom or sweep the floor or do the bathroom," Damaschke recalled, smiling. "Everybody had a chore and everything had to be done by a certain time so we could go outside and play or stop and watch Scooby-Doo together, because those things were on the grid, too."
It was all in a day's work for the eldest child in a blue-collar family, Damaschke said.
"I guess I'm kind of an organized person, and with seven of us, I had to babysit all of the time," he said. "That was my way of trying to produce my brothers and sisters … to varying levels of success."
Damaschke's father was a truck driver, often on the road for long stretches. His mother was a waitress and, later, an executive assistant at a bank in Downtown Chicago. William and Carol Damaschke knew hard work and instilled a strong work ethic in their children.
Bill Damaschke embraced the commitment to putting forth top effort. Before he became a top executive with DreamWorks Studios and a Tony-winning Broadway producer, he held less glamorous jobs as a waiter, telemarketer and office temp. The jobs paid the bills but weren't anywhere near the career he had imagined.
No matter the job, he was going to do it well.
"I was never going to be a victim of not trying," he said. "Sure, they weren't fun jobs and they weren't going to add up to the career I wanted, but I was just going to do a good job because at least when I walked away from it, people were going to say I did a good job."
· · ·
Bill Damaschke struggles to pinpoint the moment he decided he wanted to work in show business.
Maybe it happened while spending the Saturday evenings of his youth watching WGN's "Movie of the Week" with his father. Maybe it happened when he joined his high school drama program and performed on stage for the first time. Or maybe it was when he enrolled at Illinois Wesleyan and found himself in a circle of creative classmates with similar ambition.
It had certainly happened by the time he walked across the stage on Illinois Wesleyan's south quad to accept his diploma on a May afternoon in 1985.
"The great thing about Wesleyan was there was this group of people above me whose paths were super clear. A bunch of them went to New York, a bunch went to L.A., a bunch went to Chicago," Damaschke said. "There was never a question if I could do it because people one or two classes ahead of me had done it and there were these little networks in all of those places."
After graduation, Damaschke set off for New York. He found regular work on stage in between working odd jobs to pay the bills.
A fateful trip to Los Angeles a few years later changed everything.
"It was 1990 or 1991 and I was on a plane there to visit some friends, and I was just like, I'm moving there," Damaschke recalled. "I literally just had this feeling, this stupid whim. When I landed, I told my friend who was there to pick me up, and she didn't believe me."
But two months later, the staunch New Yorker made the move to Hollywood. He continued acting — on stage, in commercials and soap operas — while continuing to support himself with random jobs. He manned a theatre box office. He catered and waitered. He did market research, cold-calling people for feedback on products ranging from margarine spread to diapers.
Show business, however, remained his passion. He dreamed of success as an actor, but it didn't stop there.
"I was already thinking about how to become a producer and get on that side of it," Damaschke said. "I wanted to be an actor and become famous enough to have my own company so that I could produce and direct things — because all the actors that I admired, that's what they did."
· · ·
Bill Damaschke was in the right place at the right time.
While continuing to take on acting roles, he served as a producer's assistant during the making of Disney's Pocahontas. Soon after, he joined what was then a small startup as a coordinator in its production office. He estimates he was among the first 30 or 40 employees hired by DreamWorks Studios, a company that quickly grew to become one of Hollywood's leading studios.
Being in on the ground floor at a studio experiencing rapid growth meant Damaschke did work far beyond the scope of his title. He set up departments. He hired artists. He made frequent trips to IKEA to buy desks and lamps to accommodate the growing operation.
Damaschke found a home in DreamWorks' animation division. He worked as a production manager on Prince of Egypt, the company's first foray into animation. And as DreamWorks grew, Damaschke grew with it. He was promoted to head of creative production in 1999, and head of creative production and development in 2005. He made his producing debut in 2004 with Shark Tale, which earned an Academy Award nomination for Best Animated Feature (a trajectory told in IWU Magazine in 2005).
It was a rapid ascent for Damaschke, who became Dream-Works' chief creative officer in 2011.
"We had incredible leaders who were so good at communicating the vision and purpose of what we were doing," he recalled. "We were going to build a world class animation studio, and we were going to make animated movies for everyone, not just kids."
Damaschke oversaw an unprecedented time of growth as DreamWorks challenged and often outperformed the major movie studios. But, like many good things, his time with the company came to an unceremonious end.
"I don't know if I would have ever left DreamWorks had I not been fired. But in entertainment, working anywhere for 20 years is a really great run," he said. "At that time, the company was prepping to be sold and we had a number of 'almost-sales,' and there was a lot of downward pressure."
As part of his separation agreement, Damaschke had a noncompete clause prohibiting him from working in animation. Fortunately, another aspect of his work at DreamWorks served as an impetus for the next step in his career.
Damaschke had overseen DreamWorks' live theatrical productions, which included Shrek The Musical, a critical success that enjoyed a yearlong Broadway run and earned eight Tony nominations. The work also included a live-action arena tour inspired by DreamWorks' How to Train Your Dragon, in which Damaschke partnered with Global Creatures, the company behind another arena show, Walking with Dinosaurs. The pairing introduced Damaschke to fellow producer Carmen Pavlovic, with whom he developed a lasting working relationship.
Not long after working together on the arena tour, Pavlovic's production company secured rights to a number of musicals, including Moulin Rouge! And when Pavlovic was ready to commence production of the jukebox musical, her first phone call was to Damaschke.
"She called and asked, 'Would you help me with this?'" Damaschke recalled. "And that, 'Would you help me with this?' has become a great portion of the past five years of my life."
· · ·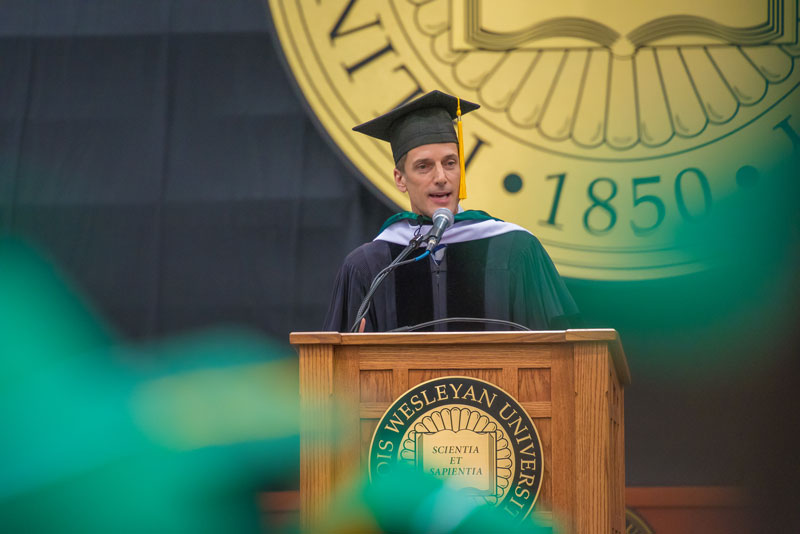 Bill Damaschke often recalls a saying he's heard in Broadway circles. He's learned the truth of the adage from experience.
"They say it's really hard to open a show," Damaschke said. "But the real work starts the day after opening."
The first two musicals Damaschke produced were critical successes; Shrek The Musical and The Prom earned a combined 14 Tony Award nominations. They were not as commercially successful in their Broadway runs, however, with Shrek running for just over a year and The Prom less than 10 months.
But both musicals have lived on beyond their time on Broadway. Productions of Shrek The Musical have been staged in more than a dozen international locations, with tours both domestically and abroad. The Prom spawned a Golden Globe nominated Netflix adaptation and its domestic tour kicked off in November 2021.
Moulin Rouge! has already outpaced Damaschke's previous productions in terms of critical success, and he hopes its Broadway run does, too.
"Everybody working on Moulin Rouge! has really put one thousand percent of their art, passion and talent into it," Damaschke said. "So for it to get the kind of recognition that it has, I hope it sets us up to have a really long run in New York."
Interrupted by the COVID-19 pandemic, Moulin Rouge! is just now approaching the completion of its first full year of Broadway performances. Between a COVID outbreak amongst cast and crew at the outset of the pandemic, a year-and-a-half-long shutdown, and a reopening with a mix of new and returning cast and crew, it's been an emotional time for those connected to the production.
That was certainly the case on "reopening night" on Sept. 24, and perhaps even more so one night earlier at an invited dress rehearsal.
"We wanted to have our friends and our families there, and we had 250 first responders there, and we recognized them in the audience because our show was hit by COVID pretty hard," Damaschke said. "We thought having the people that were there for our show, there for New York, there for Broadway, to all be part of that first show back would be a really great way to celebrate, and it ended up being fantastic."
The reopening of Moulin Rouge! has been met by the same high praise as its original opening over two years ago. International productions opened on Nov. 12 in London and Melbourne. A national tour begins in February in Chicago.
Moulin Rouge! continues to resonate with audiences because of its music, its pageantry and its message. Despite being set over a century ago, it's a tale for our time.
"Our show, at its core, is about a group of artists who are trying to put on a show against all odds and save their theatre," Damaschke said. "It's also a love story and it's about other things, too, but it's about a group of artists putting on a show and trying to do it under extreme circumstances, and that's kind of what's playing out in our real lives right now."