Titan Among Titans
Story by Matt Wing
Burke Nihill '00 is the president and CEO of the National Football League's Tennessee Titans, where he and his family are all part of the team.
The way Burke Nihill '00 describes landing a job with the Tennessee Titans sounds like an advertisement for LinkedIn.
And that's where it starts: a paid advertisement on the professional networking website.
"LinkedIn creates an algorithm, and if you search for jobs in a certain location and you're in a certain profession, they start putting advertisements in your feed," Nihill said. "And I had this job posting for the Tennessee Titans general counsel that popped up in my feed."
Nihill was intrigued but questioned his qualifications. He had never worked in sports. Most general counsels had twice his experience. But with each reading of the posting, he was able to form an argument he possessed what the Titans sought. With encouragement from his wife and kids, he applied for the job.
He was surprised when his phone rang.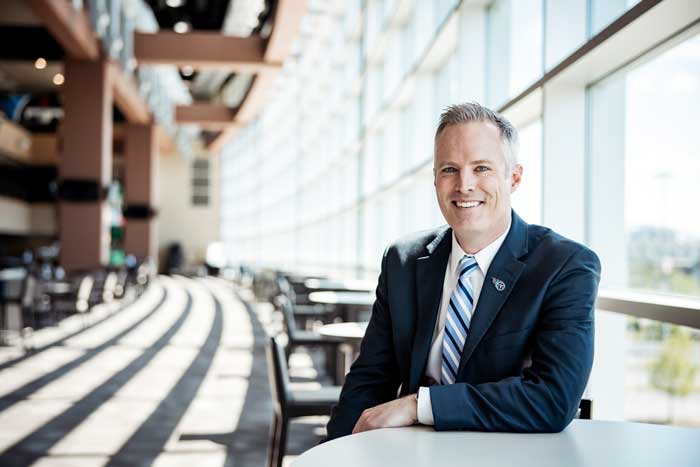 "I made it through round after round of interviews, and a few months later we were moving to Nashville," Nihill said. "It was exhilarating to get that offer."
Four years and two promotions later, Nihill got another phone call. This time it was Titans majority owner Amy Adams Strunk.
"It was the beginning of the pandemic, so everyone was working remotely, and she called to let me know (Titans president and CEO) Steve Underwood had retired," Nihill said. "And, to my great surprise and delight, she asked me to step into his role."
• • •
The first job Burke Nihill ever wanted was to be the starting third baseman for the Chicago Cubs.
When the suburban Chicago kid realized his big league dreams may never come true, he considered alternatives. Maybe he would follow in his father's footsteps as a dentist. Or maybe he'd become a teacher or a coach. He enrolled at Illinois Wesleyan knowing he'd be able to pursue many paths.
Nihill changed majors five or six times but never because he lacked interest in the subject material. "I always got curious and interested in something else," he said.
Nihill finally settled on business administration. He planned on a career in accounting, but a business law class changed his plans.
"I was on these parallel paths where I was interviewing at accounting firms, but also thinking about taking the LSAT (Law School Admission Test)," Nihill said. "I had taken one of Professor (David) Marvin's business law classes and I really enjoyed it. I enjoyed him. It wasn't a drag to get through class."
Nihill took the LSAT. He applied to law schools. Accepted to the University of Illinois College of Law, he drove to the mall to buy an orange and blue Illini hat.
But once again, his plans changed.
• • •
A game of cards. A bag of Twizzlers. A sorority formal.
The progression of a relationship between Illinois Wesleyan students was unique, for sure.
Burke Nihill and Holly (Munch) Nihill '00 met playing cards at a bar in their final semester at IWU. They quickly learned they had much in common. They were both business administration majors. They were both active in Greek life, he in Theta Chi, she in Sigma Kappa. They both loved sports.
Holly Nihill was on the track team and served on the gameday operations staff for the football team on which her brother John Munch '98 was an All-American linebacker. Burke Nihill was on the club lacrosse team and a daily visitor at the Shirk Center, where he was incapable of turning down a pickup game invitation.
They were both competitive, whether it be on the track, the court, or in a game of cards.
It was a perfect match.
"I thought he was super sweet and really cute," said Holly Nihill. "I was the social chair of my sorority and we had a formal coming up, and I really wanted to go with someone special."
The courtship began. Plans were made to attend the formal. In the meantime, Burke Nihill indicated his interest in the same way a penguin does by presenting its mate with a perfectly smooth pebble: he offered a gift.
"This was before students had personal computers, so if you wanted to check your email, you had to go to the computer lab," he recalled. "I knew from our earliest flirtations and dates that she liked Twizzlers, so when I knew she had some homework to do, I'd walk over to Buck Library and walk around, cubby by cubby, peeking over each one to see if she was in there so I could give her some Twizzlers.
"It was just to show her that I was learning about her and to give her a little gift."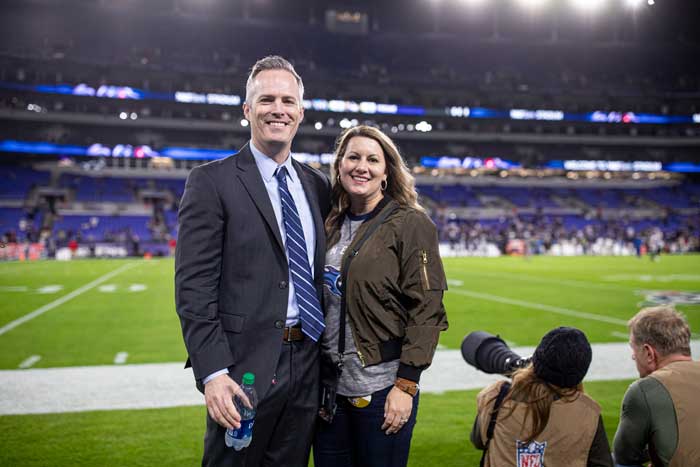 The relationship faced a test with Commencement fast approaching. Both made post-graduation plans prior to their meeting. Burke Nihill was going to law school at the University of Illinois. Holly Nihill had planned a move to Arizona.
"We figured the best way to give us a chance was to find a spot where both of us could settle in," Burke Nihill said. "And it ended up being worth the sacrifice of our plans because we were engaged the next year and married the year after."
• • •
The first member of the Nihill family to work in professional sports wasn't Burke Nihill.
"I interned with the Chicago Bears for a couple summers and was eventually offered a full-time position," said Holly Nihill. "But I knew I would be supporting us while Burke was in law school, so I decided it was best to pass."
Having abandoned their post-graduation plans, the Nihills relocated to Chicago. Burke Nihill enrolled at Chicago-Kent College of Law while Holly Nihill supported the young couple with a job in account management at MetLife. After earning a law degree, Burke Nihill landed a job at a Chicago-based firm representing small businesses. The Nihills soon began a family.
The hours were long for Burke Nihill. He was rarely home in time to help put his daughter to bed. Wanting to spend more time with his family, he considered a career change. Holly Nihill was one step ahead of him.
"One night I looked over her shoulder and saw her looking on one of the job sites for me," Burke Nihill recalled. "It spurred a conversation that inspired me to find something else."
Burke Nihill found an opportunity at OfficeMax as associate general counsel, but his duties there quickly grew beyond the scope of legal transactions. He built a reputation as a creative problem solver. That reputation followed him to VMWare, a Silicon Valley software company, where he took a leadership role managing a team of 10 lawyers. "I had such unbelievably patient mentors who invested in me as a leader," he recalled. "It was a big part of my journey."
Near the end of his time at VMWare, a seminal moment came by way of a three-month assignment in Atlanta. Burke Nihill was tabbed to lead the legal team of a newly acquired business. The Nihills had never left Chicago and the prospect of leaving — even for just a few months — was not an appealing one.
Three months later, their feelings had changed.
"We never thought about moving, but being forced to do it gave us this perspective that maybe there were some advantages to it," Burke Nihill said. "Our family became closer because we were all we had, and we also got to see a different culture, a different way of life.
"It was a really eye-opening experience and kind of convinced us we could move."
• • •
In the Tennessee Titans' third season in Nashville, and first using the Titans moniker, the team played in the Super Bowl for the first time in franchise history. Late in the fourth quarter, needing a touchdown to tie the game, Titans wide receiver Kevin Dyson caught a pass and darted toward the end zone, only to be tackled at the 1-yard line as time expired.
It was one of the most exciting finishes in Super Bowl history, albeit a disappointing one for the Titans. But it offered hope for the future.
This was in 2000.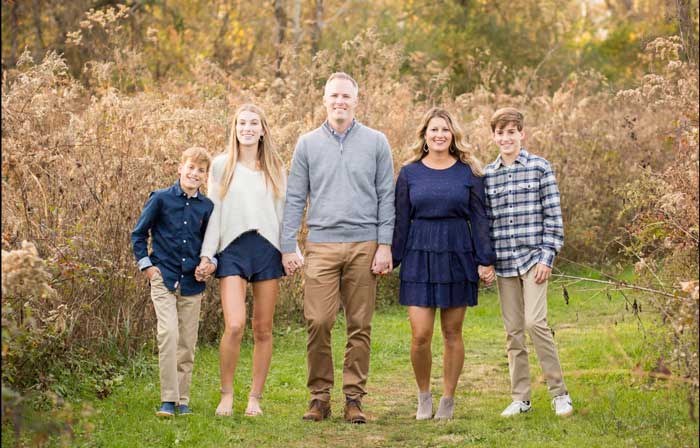 The following years produced mixed results. When Burke Nihill first came on board in 2016, the Titans were in the midst of an eight-year playoff drought and the reluctant owners of the top pick in the NFL Draft by virtue of having the league's worst record the season before.
The Titans were struggling. So were the Nihills.
"The first year here was hard," Holly Nihill said of the move to Nashville. "I'm not a cryer, but I think I cried every day that first year."
Slowly, fortunes started changing for the Titans … and the Nihills.
The Titans posted their first winning campaign in five years in Burke Nihill's first season with the team. The next season, they won their first playoff game in 15 years.
The Nihills, meanwhile, settled into their new home. The Nihill children made new friends and immersed themselves in school, sports and activities. Burke and Holly Nihill made new friends, too, including many through the Titans. Wanting to become a "real southerner," Burke Nihill took an interest in barbecuing and smoking meats.
He settled into his role with the Titans, too. As general counsel, he served in a legal function, managing vendor contracts and employment issues. Then president and CEO Steve Underwood — himself the team's former general counsel — took Nihill under his wing, inviting him to meetings and project work extending far beyond the legal realm.
Burke Nihill gladly accepted additional responsibilities. Through two promotions — first to vice president in 2018 and then to senior vice president in 2020 — he took on oversight of human relations and stadium operations. He was asked to spearhead the Titans' successful bid to host the 2019 NFL Draft, a smashing success with records set for attendance and viewership.
Nihill's talent as a creative problem solver and jack of all trades became evident to the Titans' top brass.
"I had a really unique opportunity," he said. "I was able to get involved and have visibility and build trust within every corner of the organization."
• • •
The role of an NFL president and CEO varies from club to club. The league's top executives primarily oversee business operations. Some dabble in football operations. Others take on pet projects. In 2020, they were consumed by the COVID-19 pandemic.
Burke Nihill wants to make his organization the best in the NFL. Even before he assumed the front office's top position, he took notice of a mission statement prominently displayed in the team cafeteria. A group was formed to review it and, nearly two years and much discussion later, a new, simplified mission was unveiled.
Win. Serve. Entertain.
Nihill loves the new mission statement. He talks about it any chance he gets. That included a presentation to Illinois Wesleyan students, sponsored by the Hart Career Center, in April 2021.
The bookend aims of the mission are simple. The Titans want to win games. They want to win championships. The organization also wants to entertain its fans. In the music capital of the world, where entertainment options are plentiful, the Titans have to stand out.
The other aim is perhaps the one Nihill is most invested in. He wants to show how the Titans are engaged members of the community. In just the past year, Nashville has endured flooding, tornadoes and a Christmas day bombing in its downtown district. The Titans have responded in the typical ways of donating supplies and funding relief organizations. But the Titans also show up. Burke and Holly Nihill boarded buses with other Titans staffers, coaches, players and spouses to respond in crisis situations.
"We see ourselves as neighbors to our community," Burke Nihill said. "We write plenty of checks to help in those situations, but we feel it's more meaningful if we can show up ourselves."
The Nihill kids do their part, too, handing out school supplies to underprivileged students on the first day of school every year. "Getting to see our kids serve is pretty special, and I know it's impacted them," Holly Nihill said. "It's given us the chance to talk about having a duty to give back to the community."
By living their mission, the Titans' visibility in Nashville is on the rise. Success is judged by wins and losses, of course, but the Nihills see success when their kids' friends visit their home wearing Titans T-shirts, or when they see a wall covered in Titans apparel at Dick's Sporting Goods.
"A lot of it has to do with the success of the team, but we've taken a different approach to how we engage with fans and serve the community," Burke Nihill said. "They get to see us loving the community, which I think in turn inspires them to love us back."
The Titans' future is bright. In 2019, they came just one win shy of the Super Bowl. In 2020, the franchise won its first division title in a dozen years.
The Nihills' future is bright, too. Once hesitant to leave Chicago, Nashville is now their home. Holly Nihill says they'll be buried there one day. Burke Nihill says that even when his time with the Titans is up, his family will be sticking around.
The Titans and the Nihills are rooted in the community.
"I honestly believe this is where we are supposed to be," Burke Nihill said. "Holly and I really try to pay attention to that fact and do it justice by leveraging what we've been given here to do good in our community.
"And hopefully during my leadership of this organization we can continue to do really great things."