Reimagining Radio
Story by John Twork
Illinois Wesleyan's storied campus radio station, WESN, is evolving through renewed interest and investment while continuing to serve as an important platform for student voices.
Seated behind the guest mic with less than a minute before showtime, Jez Lafuente '24 admits that he's suddenly feeling nervous.
"It's just a conversation," assures Lea Spiers '22 with a calming smile. Spiers pulls the host mic closer and checks the nearby computer screen where a digital countdown indicates the final moments of a song.
"Ten seconds," she says to Lafuente and Martin Rodriguez '23 who are seated across from her, separated by a large mixing board covered in an orderly array of lighted buttons and dials. As the music fades, Spiers flips on the mics and welcomes the listening audience to her show, Diversity Deep Dish, live on 88.1 WESN — Illinois Wesleyan University's student radio station.
On this week's episode, Spiers and her guests — Lafuente and Rodriguez — are discussing the animated television series Steven Universe. As promised, Spiers pulls Lafuente and Rodriguez into an engaging, natural conversation. The mics seemingly disappear.
And, yet, Spiers remains aware of the technical aspects, checking audio levels and occasionally adjusting the mic stands. As her guests chat, she glances at a tablet where her notes for the show are compiled in a digital document.
Spiers, Lafuente and Rodriguez discuss many aspects of Steven Universe with a focus on ways that the show has "set the bar for inclusion in animated television," according to Spiers.
"The diversity of the cast is incredible … and the music!" Lafuente exclaims. "Speaking of music...," says Spiers, seizing upon the natural transition to play a song featured on the show.
To a listener, Spiers sounds like a seasoned professional. In reality, this is only her 10th episode. Two months ago, she had never spoken on the radio.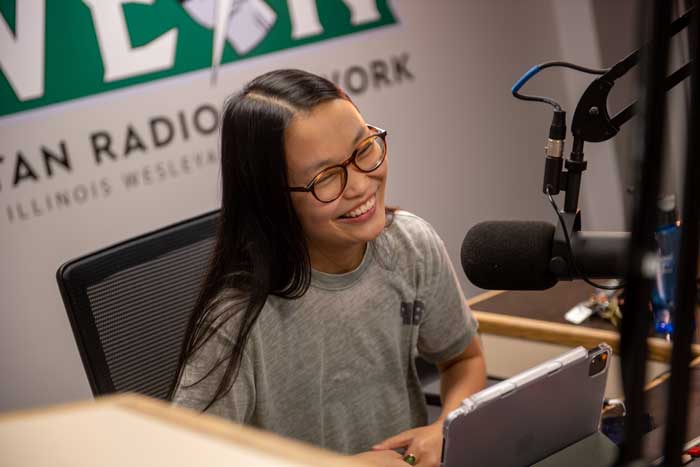 But, after receiving a campuswide email from WESN Advisory Committee Chair Tony Bankston '91 inviting students to consider hosting or DJing for an hour or two each week, Spiers decided to give it a try. Now, she's among about 30 students who are part of the newly revitalized and increasingly relevant WESN.
Launched in the 1970s, WESN has a storied history that includes an impressive list of successful alumni who honed the craft of broadcasting in Kemp Hall's basement studio. Through the decades, technology at the station has changed — from music on vinyl, to eight tracks, to cassette tapes, to CDs, to digital tunes. The purpose of the station has also evolved.
Bankston — now Illinois Wesleyan's associate athletic director — started at WESN as a first-year student during the fall of 1987 amid the station's alternative rock heyday. While walking to his room on the second floor of Magill Hall, a classmate noticed Bankston's R.E.M. concert T-shirt and suggested that he consider DJing a show at the campus radio station.
"College radio back then was the only place you could find alternative music, like R.E.M.," said Bankston, who first DJed Fridays from 8-10 p.m. "People would listen from the fraternity house or as they were getting ready for a social event or something like that, and then people around town would listen as well. So, it just became a really fun outlet to play music."
Bankston said in the 1990s,students filled up WESN's weekly schedule with shows from 6 a.m. until about 2 a.m. "And, there wasn't a computer in sight," he noted. As a student DJ, Bankston transitioned from playing cassette tapes to CDs. Former WESN general manager Rick Lindquist '99 oversaw station modernization and implementation of digital music in the early 2000s. Gradually, listeners' reliance on radio for music decreased as access to online music grew. With the development of MP3 players, smartphones and music streaming services, listenership and overall student interest in WESN waned. The once full schedule of live, student-hosted shows was replaced by primarily automated music and occasional community programming.
But, thanks to recent efforts by Bankston, Senior Digital Creative Strategist Curtis Kelch, School of Theatre Arts Stage Electrician Joe Vitti '17, and local broadcaster Derek Bohlmann — who now serves as the station's general manager — WESN is undergoing a significant overhaul. Unchanged is the service that WESN provides: a platform for Illinois Wesleyan student expression.
To better support operations, WESN now airs underwriting spots — the nonprofit radio version of commercials — during Illinois Wesleyan sports play-by-play broadcasts and throughout student programming. Bohlmann provides much-needed consistent station leadership while overseeing fundraising efforts and technical operations, along with training and scheduling of student broadcasters. He also collaborated with Bankston on a comprehensive station renovation project which included replacing outdated equipment, upgrading the computerized automation system, and updating the studio with new paint, branded wall decals, and improved furniture.
At the beginning of the spring 2021 semester, Bankston sent that campuswide email seeking student involvement in recently relaunched WESN. Spiers, a sociology major with a double minor in women's and gender studies and health, was intrigued. Though she had never considered hosting a radio program before, Spiers — who works as a peer mentor in the Office of Diversity and Inclusion (ODI) — thought it could serve as a creative outlet for some of her primary interests.
"I like music. I love my work with ODI — diversity and inclusion are very important to me. So, I could kind of combine it all into one," Spiers said.
After expressing interest, Spiers visited the studio where Bohlmann explained the technical aspects of hosting a show. Spiers recalls taking detailed notes on her phone.
"It was a lot, and I was kind of nervous," Spiers admits. "You have to make sure your mics are in program mode, and make sure your mics are on and know what to click."
Generating content for the 90-minute, weekly program was less daunting for Spiers. Before her first show, Spiers created a mission statement that she reads at the beginning of each episode: "We strive to connect students in innovative ways to ODI and its resources, provide students with a virtual space for expression and community, and promote/inform decisions, different initiatives on campus and in the Bloomington-Normal community through an inclusive lens."
"I just really like connecting with students and centering students' voices that aren't always at the center of attention on campus," Spiers said.
Although she lacked specific radio experience, Spiers — similar to countless WESN alumni — quickly identified parallels between her liberal arts academic experience and hosting an on-air program.
"In research methods, we had a unit on in-depth interviews," Spiers said. "And so it was fun seeing those connections between how to create a research-oriented interview and what questions you ask, what probes you might want to use to follow up on questions, especially in the interview instrument. That was a cool way of seeing those two worlds (sociology and radio) collide."
She continued, "It's a huge conglomeration of all my interests, and I love one-on-one, deep conversations, hence 'Deep Dish' as the name; that's how things knit together."
Like many of the other new WESN programs, Spiers' Diversity Deep Dish has taken inspiration not from other radio shows, but from podcasts. "I love podcasts. I love NPR's Code Switch," Spiers said.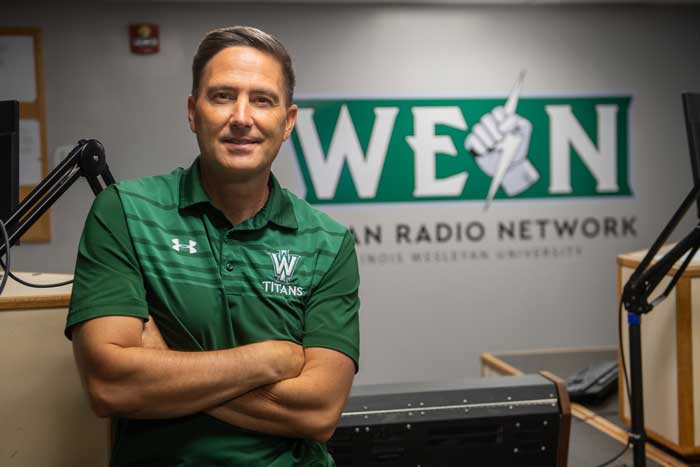 Bankston, who jokingly refers to terrestrial radio as "the original podcast," sees increased interest among students who want to host on-air conversations, akin to podcasts, focused on news, politics, social justice, entertainment and sports among other topics. He also notes that along with centering student conversations, WESN still provides a platform for music that isn't played on commercial radio.
As word continues to spread about opportunities at WESN, Bankston is confident that involvement in the revitalized station will grow from around 30 students to more than 100.
"For any Illinois Wesleyan major, enhancing those communication skills through an extracurricular like doing a radio show really ties together the liberal arts experience," Bankston said. "With a vibrant radio station, I think we're going to continue to have students who end up pursuing careers in broadcast communications after graduation because of the exposure that they had through WESN."
After wrapping up a semester of Diversity Deep Dish, Spiers isn't quite ready to begin applying for jobs in professional radio. However, she is looking forward to returning to the WESN airwaves this fall.
"I hope that the sphere of influence and awareness around the show gets larger," said Spiers. "Representation is really important to me. That has been a very rewarding aspect of doing the show — knowing that students are feeling seen and feeling heard."
Nearly 50 years since it first signed on, WESN is vastly different in many ways, yet importantly similar through its ability to amplify the authentic voices of Illinois Wesleyan students, via 88.1 FM.