Leaving a Legacy
Story by Matt Wing
Illinois Wesleyan's 2021 Distinguished Alumni Award winner Dr. William Farrar '71 has made a lasting impact through his many leadership roles at The Ohio State University Wexner Medical Center.
Dr. William Farrar '71 etched his name into the Illinois Wesleyan football record book when, on one crisp fall afternoon in 1968, he plucked five North Park passes from midair to set a Titan football record for interceptions in a single game. The mark has stood for over 50 years and no one has even come close.
It's a record Farrar is proud of, for sure, but it will pale in comparison to the legacy he will leave when he retires one day from a career that has already spanned well over four decades at The Ohio State University Wexner Medical Center.
A surgical oncologist specializing in the treatment of breast cancer, Farrar has held leadership positions at institutional, state and national levels over the course of a distinguished career. He's currently chief executive officer of The James Cancer Hospital and Solove Research Institute, director of the Stefanie Spielman Comprehensive Breast Center, and the Dr. Arthur G. and Mildred C. James-Richard J. Solove Chair in Surgical Oncology.
It's three full-time jobs for one person, all with a common aim.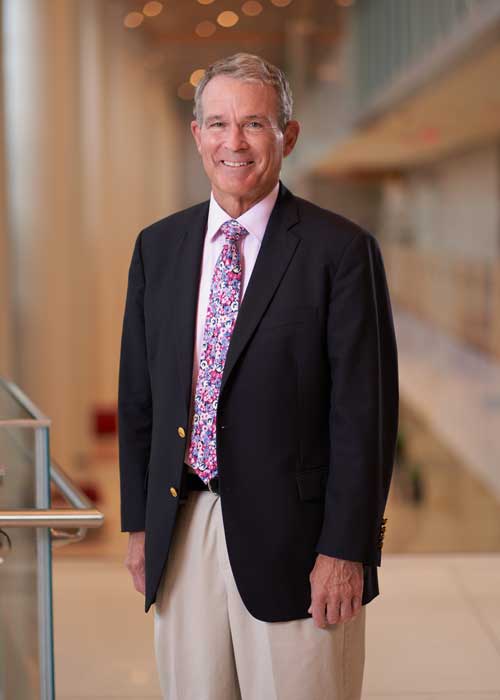 "It's all about patient care and trying to make a difference. Caring for cancer patients is something I have truly found worthwhile and meaningful," Farrar said. "It's been tough to figure out when I should retire because I really feel that taking care of cancer patients is my purpose — and I have been blessed to meet, treat and help thousands of unique patients along their cancer journeys."
Dr. William Farrar is the winner of Illinois Wesleyan's 2021 Distinguished Alumni Award.
"I really was very humbled when I was told, but I'm proud to represent my class," Farrar said. "To be considered for and receive this award is something that I had never even thought about."
Farrar was born in Centralia, Illinois. His family moved to Clinton, Illinois, when he started elementary school, and eventually to Aurora, Illinois, by the time he entered the fourth grade. He was active in sports and brought home report cards that would make any parent proud. Plans to become a doctor were made early on.
"I think it was back in the seventh grade when we had career night and we had to write down what we wanted to do and, for me, number one was medicine and number two was law," Farrar said. "We also had a family friend who practiced medicine, and he often spoke about how much he loved his career and helping patients.
Farrar served as an orderly at a local hospital during his high school summers, and his interest in medicine grew from those experiences. Scouted by an Illinois Wesleyan recruiter because of his athletic talents, Farrar chose IWU for equal parts academics and athletics. He stood out in the classroom, where he was mentored by influential professors Wendell Hess and Dorothea Franzen. He stood out on the field of competition, too, starring for the Titans' basketball, football and golf teams. He won a total of 10 varsity letters.
"I enjoyed all aspects of both the academic as well as the athletic experiences Wesleyan provided for me," Farrar said. "It was exactly what I wanted and what I needed. I was actually sorry I had to leave Wesleyan because I really had such a good time and such great friends."
Bachelor's degree in hand, Farrar enrolled at the University of Virginia for medical school, where he found himself better prepared than many of his classmates. "Wesleyan did a great job of educating me for the next step," he said.
Farrar landed at The Ohio State University in 1975 to serve his general surgery residency. Aside from a two-year fellowship at Memorial Sloan Kettering Cancer Center in New York City, he's never left Columbus, Ohio, for any significant stretch of time.
Much like the professors who inspired him at IWU, Farrar found a mentor at OSU in Dr. Arthur James, who encouraged him to pursue surgical oncology.
"I was his partner until he retired in 1989," Farrar said. "During that time, I learned of his desire for a cancer hospital to be built in Columbus, which was completed in 1990, and I'm grateful to have been here before and since its opening."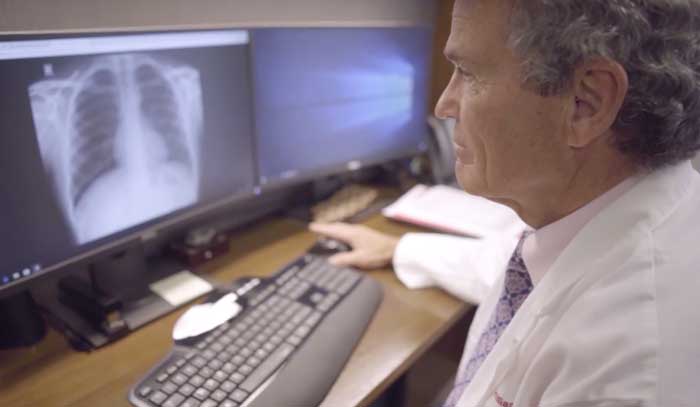 Farrar has served in many roles over the past 31 years at The James, from director of the surgical oncology division, to heading the surgical oncology fellowship program, to serving as the director of medical affairs. He was appointed interim CEO of the hospital bearing his colleague's name in 2017. A year later, he was named its permanent CEO.
Farrar has had chances to work elsewhere, but he's never seriously entertained an opportunity that would take him away from The Ohio State Wexner Medical Center — especially The James.
"I've just never really wanted to leave what I helped build here in Columbus. That's why I'm still here," said Farrar, who still operates two days a week. "One of these days I'm going to retire, but I'm not quite sure when that will be."
Farrar says he has plans for when that day comes. He and his wife Kathryn will spend more time with their four children and seven grandchildren. Farrar passed his athletic prowess on to his kids — his son was an accomplished hockey player and his three daughters all won state tennis championships in high school — and the grandkids are beginning to play organized sports now, too.
Travel will be part of retirement as well, although a trip to Illinois Wesleyan won't have to wait until then. Farrar will be back for Homecoming 2021 to celebrate his 50-year reunion and accept the Distinguished Alumni Award.
A busy career and family life have limited Farrar to only a couple of return trips to his alma mater over the years, but he's looking forward to seeing what has changed and what has remained the same at the University where he left his mark.
"I'm sure it will be a lot of fun," he said. "I hope the people I played sports with and my fraternity brothers are able to come back and we get a good turnout. I'm hoping I'll be able to see old friends, talk about old times and embellish stories from back then that weren't as good as we'll make them sound when we tell them now, so I'm really looking forward to all of it."