Keeping Our Community Safe
Story by Matt Wing
Through her many campus roles, Vickie (Noltkamper) Folse '86 helped the Illinois Wesleyan community safely navigate the COVID-19 pandemic.
As Vickie (Noltkamper) Folse '86 prepared to address a group of graduating nursing students for the final time in a classroom setting this spring, she searched for the right words to say.
The Illinois Wesleyan professor and director of IWU's School of Nursing ultimately chose to let her students do most of the talking.
"It was important to acknowledge their personal exhaustion and the magnitude of this pandemic, with the awareness that they are entering a very different healthcare system than what they envisioned when they committed to nursing as their major," she said. "We reflected back on a year that has been surreal and punctuated by a raw awareness of the vulnerabilities that we all experience."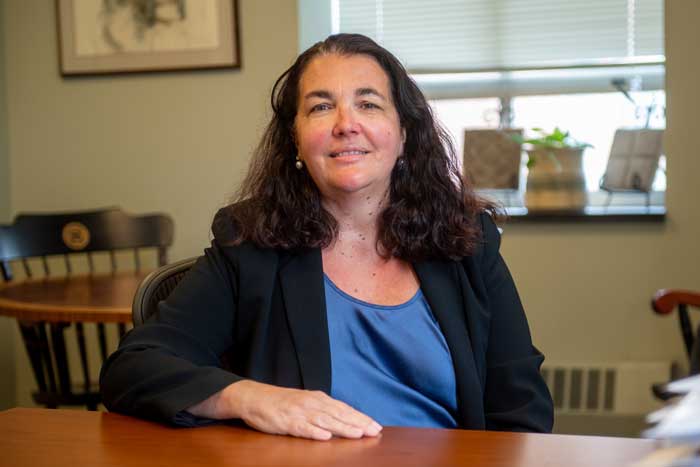 The COVID-19 pandemic has prompted many difficult discussions on Illinois Wesleyan's campus, and Folse has been in on most of them. As a faculty member in the School of Nursing, she has played a leading role in preparing the next generation of nurses to enter the healthcare sector during one of the most uncertain times in our history. As the executive director of both IWU's Arnold Health Services and Counseling & Consultation Services, she has guided essential services benefiting students' physical and mental health.
As a member of IWU's COVID-19 campus response team, she's been an unwavering, science-driven leader in developing health guidelines and policy to keep the Illinois Wesleyan community safe and healthy.
"Vickie has been tireless — and essential — in working to keep this campus safe," said IWU President S. Georgia Nugent. "Her relationships in the health community enabled us to have clear, accurate and timely information. Her formidable organizational skills helped us to effectively manage testing, contact tracing, vaccination clinics, and more."
Nugent pointed to Folse's vital roles in Health Services and Counseling & Consultation Services — posts initially assumed in interim capacities less than six months prior to the pandemic — and her total commitment to the well-being of the entire Illinois Wesleyan community.
That dedication, Nugent said, helped Illinois Wesleyan manage the pandemic in an exemplary fashion, with low case totals and infection rates, and broad community adherence to the "Titan Pledge to Prevent the Spread of COVID-19."
"Honestly, I don't believe we could have succeeded as we did without her," Nugent said of Folse. "I could sum it up this way: Vickie Folse is Illinois Wesleyan's Dr. Fauci."
• • •
A childhood playground accident and ensuing trip to the emergency room marked an important moment in setting Vickie Folse on a nursing career path.
In a frenzied dash to the tetherball pole while she was in the fourth grade, Folse collided with a classmate. Briefly dazed, she quickly noticed everyone on the playground was staring at her. She soon learned why as she was quickly transported to the ER to receive stitches for a gaping head wound.
Unlike those around her, Folse remained calm throughout the ordeal. Before the doctor stitched her up, she asked for a mirror so she could see the treatment she was receiving.
"I had this nice combination of handling a crisis calmly and being intrigued by the roles of the healthcare providers around me," she said. "And it really solidified my interest."
Folse later enrolled at Illinois Wesleyan as a nursing major and, while her primary focus was cemented years earlier by that playground injury, she knew she wanted to explore other subjects. In addition to her nursing coursework, she counted philosophy and religion courses among her favorites. She immersed herself in campus life and joined Sigma Kappa Sorority. She met her future husband, Dick Folse '85.
Vickie Folse began her nursing career at OSF Saint Francis Medical Center in Peoria, Illinois. A couple years later, she earned a master's degree in psychiatric nursing from the University of Illinois at Chicago. She resumed her work at Saint Francis and shortly thereafter began "dabbling in teaching," leading clinical courses at Bradley University. In 2002, she earned a doctorate in nursing from St. Louis University.
Later that year, she returned to her alma mater in a full-time capacity as an assistant professor in IWU's School of Nursing.
She had come full circle.
"I was a student here more than three decades ago — I don't know where the time has gone — but I love that the quaintness of Illinois Wesleyan has remained and that the faculty-student relationships have endured," Folse said. "I look at students' experiences today and they very much parallel my own."
• • •
When Vickie Folse and members of IWU's COVID-19 campus response team first convened in early 2020, they could never have imagined how all-consuming their work would soon become.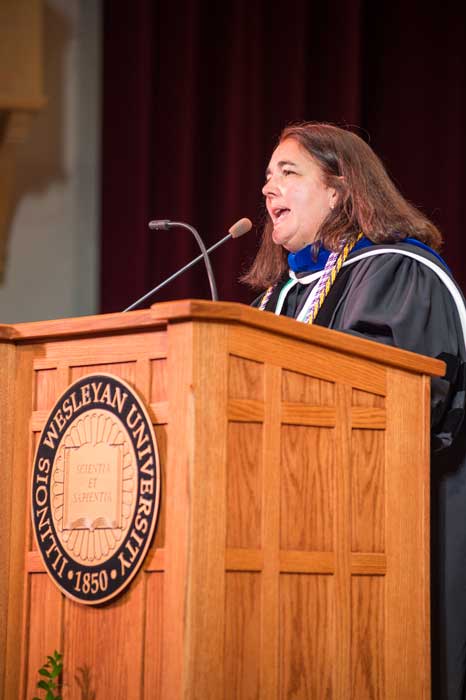 Illinois Wesleyan's first official communication regarding what was then termed the "2019 Novel Coronavirus" was sent on Feb. 3, 2020. The ensuing weeks and months entailed many more such messages, the pivot to online instruction for the remainder of the spring semester, and hundreds of hours planning for a safe return to campus for the 2020-21 academic year.
"The questions we were receiving at the beginning were so raw because we knew so little about the transmission of the virus then," Folse said. "People were trying to balance their commitment to Illinois Wesleyan with a very real fear of the risks they could bring home to their families. People who weren't involved in the official campus conversations or who weren't reading the scientific literature were coming to work and they were frightened."
Folse met regularly with health and government officials, including the McLean County Health Department. Prominent alumni working in healthcare were consulted. A partnership with Redittus Laboratories was developed to conduct on-campus testing. Folse also met weekly with medical directors from other colleges and universities in Illinois to discuss the evolving science and the responses on their campuses.
In some instances, Illinois Wesleyan instituted policies more stringent than the guidelines set forth by the Centers for Disease Control, and local and state health departments.
"Not everyone agreed with us, but I stand by the decisions we made because we were making them within the context of a residential campus community that has athletics as part of our DNA and face-to-face learning as our tradition of teaching," Folse said.
The Illinois Wesleyan community has been steadfast in its commitment to mask-wearing, social distancing, hand-washing and cleaning protocols, which helped keep case rates low on campus, Folse said. Conducting baseline testing — required tests for all students upon arrival on campus at the outset of the fall and spring semesters — also played a vital role in preventing the spread of the virus.
Folse says she's proud of the University's response to COVID-19 and commitment to the Titan Pledge. She played a leading role in keeping the campus community safe, but insists it was a team effort.
"I can't think of a single person on this campus that wasn't somehow involved in either decision-making or in implementing very difficult policies or procedures that allowed us to stay true to our academic and residential mission while keeping people safe," she said.
• • •
Vickie Folse sat across the table from familiar faces when she returned to Illinois Wesleyan to interview for a faculty position. Many were her former professors.
Folse was hired by Illinois Wesleyan as an assistant professor in 2002. She was promoted to associate professor in 2008. A year later, she earned an even bigger promotion.
"Many of the faculty members who taught me were still here and were my colleagues for many years," she said. "So it was a great honor when, after a national search in 2009, I was chosen to be the director of the School of Nursing, because many of the people on that search committee were those very faculty members who were here when I was a student."
Under Folse's leadership, the School of Nursing has continued to grow as one of Illinois Wesleyan's most well-subscribed programs. Folse has frequently published and presented research, and reviewed others' work in nursing journals. She's earned grants for the School of Nursing and faculty-student research. She's served on countless campus groups and committees doing wide-ranging work, from setting curriculum to student advising to serving on hiring committees.In 2018, she earned the Kemp Foundation Award for Teaching Excellence.
Her reputation as a campus leader well known, Folse has been relied upon heavily in recent years. She served as interim director of IWU's School of Music for 14 months, beginning in June 2018, and, just three months after finishing that role, took on the role of interim executive director of IWU's Arnold Health Services and Counseling & Consultation Services. (Folse eventually shed the interim tag and will remain in the role through the 2021-22 academic year, though the University remains committed to finding a full-time executive director.)
"Vickie Folse has long been an outstanding campus leader as director of the School of Nursing," President Nugent said. "But this year, her contributions to our campus have been incomparable."
It's all in a day's work for Folse, who, despite her many roles, still counts teaching as her primary focus. After all, she was once in her students' shoes.
"I think it's a great perspective to have, and it probably makes me more tolerant of the students talking to each other in the back of the classroom," she said with a laugh. "They could be future leaders."
• • •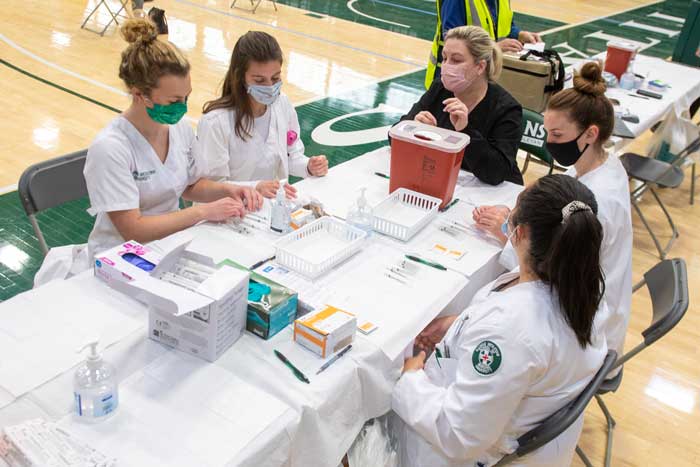 Sixteen months after the outset of the COVID-19 pandemic, Vickie Folse sees a light at the end of the tunnel. Widespread availability of vaccines and declining positivity rates — both locally and nationally — are cause for optimism as Illinois Wesleyan prepares to welcome students back for the fall semester.
"We're not out of the woods yet, but I think we have a template that works well for us," Folse said. "I think we can be successful in staying the course."
The 2021-22 academic year will be the third consecutive school year impacted by the pandemic, though not nearly to the extent of the past two years. Illinois Wesleyan is planning a full return to face-to-face learning, and after more than a year of mostly online, hybrid and HyFlex course offerings, programs like nursing that rely heavily on hands-on learning will soon be back to serving students in their pre-pandemic modalities.
Though the pandemic necessitated new modes of instruction never before deployed at Illinois Wesleyan, Folse has the utmost confidence in the preparedness of nursing students whose experiences were altered because of the pandemic.
"The cumulative four-year experience they had may have been cut short by a few months, but that doesn't take away from the totality of their experiences. I remain as confident in the graduates of 2020 and 2021 as I always have," Folse said. "My youngest daughter finished work on her nursing degree in 2020, so I watched IWU students navigate all of those abrupt shifts through the lens of a parent watching her own daughter do the same at another university."
For all the opportunities dashed by the pandemic, a few were born from it. Illinois Wesleyan nursing students were offered experiential learning opportunities as volunteers during on-campus COVID testing clinics and, more recently, two sessions of a vaccine clinic hosted at the Shirk Center.
As she prepares for students returning to campus in just a few short weeks, Folse has often reflected on how the COVID-19 pandemic has changed us. "It's been an opportunity for all of us to slow down and reevaluate what's important," she said. "I hope we don't lose that."
The tragic loss of life over the past 16 months has been heartbreaking. Initial inadequacy of personal protective equipment was disheartening. Inconsistent messaging from the highest levels was frustrating to all, especially those in healthcare and health education.
But Vickie Folse chooses to focus on the good as she reflects on the COVID-19 pandemic and how it's impacted the Illinois Wesleyan community.
"The best part, without question, has been watching our campus come together to achieve a shared goal," she said. "The highlight has been seeing what, when we are unified, we could accomplish."