Cookies for a Cause
Story by Matt Wing
A love of baking and a transformative volunteer experience led Katherine Slevin '10 to found C. Love Cookie Project, a bakery that supports the local immigrant community in Portland, Maine.

It all started with an Easy-Bake Oven.
A love for baking was born the moment a young Katherine Slevin '10 unwrapped the classic children's toy on a Christmas morning at her family home in Peru, Illinois. As one of eight children in the family — five of whom later attended and graduated from Illinois Wesleyan — there was always someone around to taste test her latest creation.
"My parents always gave us these Christmas presents that encouraged us to find our own path and explore our own interests," Slevin said. "A big part of my story is that they encouraged us to do what we wanted, to do what we loved to do.
"And for me, it was always all about baking and pastry."
The ding of the Easy-Bake Oven signaled to Slevin's brothers and sisters that a new treat was ready for sampling. She eventually graduated to making desserts from scratch, including chocolate chip cookies the size of a dinner plate and Sunday morning cinnamon rolls, both of which became family favorites. It was in her dessert trials and family dinners that she first learned how food could bring people together. That fostering of a communal atmosphere around food and creating memories in the kitchen has always stuck with her. She felt it when she shared her kitchen creations with family and friends. She felt it at extended family gatherings when the smell of traditional Lebanese cuisine hit her nose the moment she walked in the door. She felt it in the way everyone gathered in the kitchen, no matter the occasion.
She feels it now as the owner and operator of C. Love Cookie Project, a Portland, Maine, bakery cooking up tasty treats for its customers while supporting its community by donating 21% of sales to organizations benefiting the local immigrant population.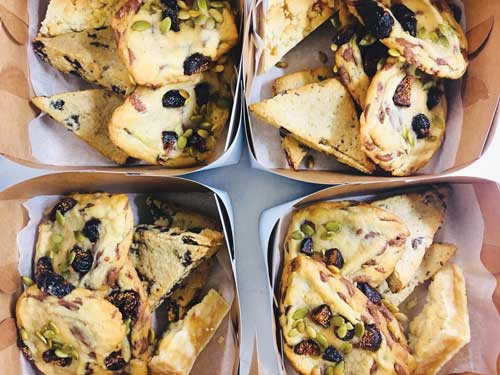 "It's so cliche, but it's true what they say about loving what you do," Slevin said. "And I'm super grateful to be able to do it."
Slevin never aspired to own a business. She just wanted to bake and create pastry. She applied to Illinois Wesleyan "in case the pastry thing didn't work out," and because she had seen how IWU had positively impacted her siblings. She enrolled undecided but later declared a French major and history minor. The one thing she did know was that she wanted to study abroad; she got that chance her junior year when she studied in France.
But a career as a pastry chef never strayed too far from her focus. She baked often for family and friends. She spent summers seeking any and all experience she could find.
"I would literally pack a suitcase and crash on my sister's couch in Chicago and work pastry jobs every summer," she said. "So when I graduated, I actually had some professional experience under my belt."
With a diploma in hand, Slevin found work in kitchens in downtown Chicago hotels where she perfected her craft. Perhaps more importantly, she became part of a tight-knit pastry chef community that shared recipes, techniques and work opportunities. Members of that community helped Slevin land an internship with renowned French pastry chef and chocolatier Pierre Hermé, one of her baking idols.
"It was so crazy because I read about him back when I was in grade school and had always loved his creative brain," Slevin said. "So going back to France and working there for a summer really allowed me to elevate my pastry game."
Slevin eventually returned to her hometown of Peru. She helped open a local cake shop and did other work here and there. Her restless nature spurred her to seek a new adventure. She applied to a handful of bakeries across the country, many in places she had never been before.
She got a call from the owner of the Standard Bakery Co. in Portland.
"I had never been to Maine, and I didn't really know anything about Maine, but it was a situation where everything kind of fell into place," Slevin said. "I got an interview over the phone where I talked with the owner for a couple hours, and a few weeks later I flew to Maine with a couple suitcases, and that's how it started."
Slevin didn't know anyone when she moved to Portland, but was quickly accepted into the baking circle there. She also engaged in the local faith community and joined a Bible study group. She met a friend there who had recently returned from working with refugees in Egypt and Lebanon.
Slevin felt compelled to do something similar. She and her friend signed up to volunteer with Eurorelief, a nongovernmental organization providing assistance during the European migrant crisis. The organization, described by Slevin as "small but mighty," dispatched the pair to the Greek island of Lesbos, an epicenter of the refugee crisis.
They were quickly assigned to the Moria Refugee Camp, the largest and most overcrowded camp. Slevin was assigned a role in clothing distribution.
"My job was essentially to welcome and give warm clothes to refugees coming off of the rafts," she said. "People would show up in the middle of the night — huge families, so scared, not knowing what was going on and freezing — and we would have to get them clothes as quickly as possible.
"It showed me how small things can make a big difference, and I think I've carried that with me."
Slevin eventually returned to Portland and her job at the Standard Bakery six months later, but admittedly left a part of herself at the Moria camp.
"When I first got back from Greece, I just felt really empty. I don't know how else to describe it," she said. "I was just rolling croissants as I had always done, but this time it felt aimless, because I was so changed by my experience serving in Greece. It had such an impact on my worldview and my person and the way that I view others."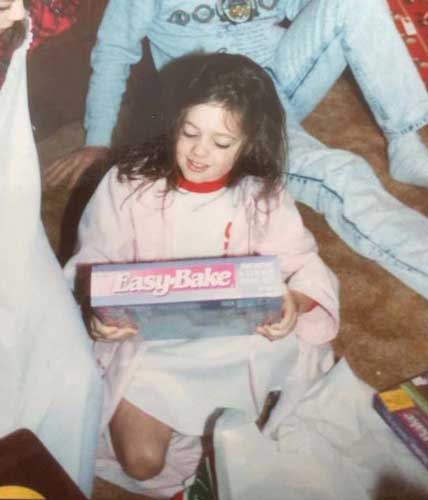 Slevin was compelled to do more.
"I felt like I had been given so much, just in kindness and being shown a different way to see the world," she said. "My eyes had kind of been opened up to the beauty of humanity."
C. Love Cookie Project was soon born. Though the vision wasn't clear right away, Slevin spent her days planning a business that both fostered and supported a community. Between rolling trays of croissants, she scribbled down ideas on paper towels and napkins and stuffed them into the pockets of her chef pants. At the end of the day, she emptied her pockets with what would become C. Love's founding charter.
The bakery opened in 2017.
A seldom-used kitchen at the Root Cellar, a Portland nonprofit that was one of C. Love's initial beneficiaries, was secured as a base of operations. A kitchen staff, which Slevin would also characterize as "small but mighty," was assembled. Every detail of the business was carefully considered, and Slevin's deep faith often served as a guiding force. Cookies would be baked in triangles — a nod to the Holy Trinity — and three nonprofit beneficiaries would split 21% of the bakery's sales with each receiving 7%, seven being a Biblical number of completion. The "C." in "C. Love" stands for many things, Slevin says — community, cookie and coffee among them — but, for her, it stands for Christ.
Twenty-one percent also held significance. "It's just my favorite number," Slevin said, laughing. "I realize that's going to make me sound silly, but it's true."
C. Love started small, serving mostly as a wholesaler to local shops and cafes. Slevin opened up for online holiday sales in 2018 and 2019. The experience gained from processing and fulfilling online orders proved handy as the COVID-19 pandemic required such a shift in 2020.
"Opening up shipping was a good call because that's honestly what got us through this past year," Slevin said.
C. Love has raised more than $20,000 to support Portland's immigrant population to date. It's far more than Slevin ever thought possible — "when we first started, I just wanted to give back $5," she said, most humbly — and plans are underway to expand the business and its philanthropy.
Slevin and her staff will soon launch C. Love Baking Academy to "continue C. Love's mission by offering women the skills needed to thrive in a professional pastry kitchen and lift immigrant women to the level they deserve." Enrolled students will receive training in the kitchen, as well as in the front of the house, in C. Love's new retail space. (Slevin has temporarily suspended online ordering as she and her team prepares for the launch of the academy, but will begin accepting online orders again no later than the 2021 holiday season.)
"It's C. Love's future," Slevin said of the academy, the excitement audible in her voice. "I love having women in the kitchen, and we're really looking forward to getting started."
Expansion to other cities may someday be part of C. Love's future, too. Slevin has looked at other cities with large immigrant populations as possibilities. "It's a model that can be easily replicated and, because it's such a special mission, it would be cool to see in other cities," she said.
Slevin, however, is focused on the present. Her growing business keeps her plenty busy. The day-to-day grind of running a small business can sometimes cause her to lose sight of the reason she got started in the first place.
But when she sees a woman empowered by skills learned working in the C. Love kitchen, or the good being done in her community by the bakery's nonprofit beneficiaries, she is quickly reminded of her purpose.
"It's those simple moments that make this whole thing worth it," Slevin said. "I don't always notice them, but sometimes they'll spring up and I step back and realize that this is such a beautiful thing."