Angel in Adoption
Story by Matt Wing
Guided by her own adoption experience, Dr. Judith Eckerle '98 serves as director of the University of Minnesota's Adoption Medicine Clinic.

Raising biological and adopted children together under the same roof can present unique challenges for families, but the parents of Dr. Judith Eckerle '98 took an approach that would be lauded by experts today.
"They were really progressive for the '70s and '80s," Eckerle said. "They did all the things we tell adoptive parents to do now."
Raised in Minneapolis-St. Paul and allowed to pursue interests ranging from horseback riding to musical theatre to synchronized swimming, Eckerle was also encouraged by her adoptive parents to explore her Korean heritage.
"I went to Korean culture camp every summer, and so did my three siblings, who were almost always the only white kids there," Eckerle remembered. "My mom was like, 'We are a family, and Judy is Korean, so we are all going to go.'
"And my brother hated it! — I mean, I didn't even love it — but we all went every year."
Eckerle enjoyed a childhood where she was showered with unconditional love in an idyllic upbringing that may have seemed unlikely after a precarious beginning to her life.
When she was one week old, Eckerle was found abandoned in an alley in Seoul, South Korea, outside a police station. She was taken to an orphanage, where she stayed for about five weeks. She then spent nearly six months in a foster home before she was adopted by a couple in Minnesota.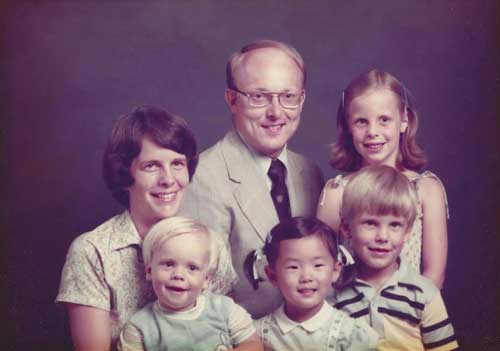 The loving and supportive home allowed her to flourish. A self-described "big nerd," Eckerle excelled in school. While many of her classmates looked forward to recess and after-school activities, she loved being in the classroom. She was drawn to science, among many other subjects, and when her stay-at-home mother decided to go back to school to become a nurse after her children entered school, the young Eckerle often tagged along to classes or thumbed through her mother's course materials.
"I just loved science and I always loved children, so I was always going to be a pediatrician," she said.
Eckerle's dream of becoming a doctor guided her during high school. As a senior, she spent 20 hours a week shadowing Dr. Dana Johnson, the head of a neonatal intensive care unit at the University of Minnesota (UMN). As a student at Illinois Wesleyan, she was encouraged by the late IWU President Minor Myers jr. to pursue her many interests in addition to pediatrics; Eckerle double-majored in biology (pre-med) and music (flute performance), while also active in orchestra and cheerleading.
"Everyone was so supportive of my goal to become a doctor and be pre-med — it was such a big focus — yet they encouraged all the different activities as well," Eckerle said. "I met great people, and I just had a really well-rounded liberal arts education, and I was able to fit in all the classes and experiences that I wanted, both scholastically and extracurricularly."
On the day of her IWU Commencement, Eckerle's parents gave her an all-expenses paid trip to South Korea as a graduation present. Eckerle was more excited about traveling — she had never traveled abroad before — than the prospect of returning to her birth country.
But that changed a few days into the trip. For the first time she felt a connection to her birth country she had never felt before.
"It wasn't until I got there and smelled the smells and tasted the food and was immersed in Korean culture that I understood how important it was to me," Eckerle said. "It really was a life-changing trip."
The experience motivated Eckerle to begin a birth parent search. She moved to the West Coast and worked as a nanny and waitress to earn money to fund a return trip to South Korea. She repeated the cycle every few months over the next two years, as she took a gap year and a deferral year before entering medical school.
With the internet still in its infancy, Eckerle conducted dozens of newspaper, radio and TV interviews to aid in her search. A Korean TV producer made a documentary about her search for her birth parents. For better or worse, she gained a certain degree of notoriety in South Korea.
"I couldn't walk into a restaurant without little old ladies recognizing me and patting me on the head, and then somebody started stalking me from prison, writing me these long letters," she said. "It was pretty intense for a while, but there was almost no one in Korea who had not heard my story."
Unsuccessful in her search to that point, Eckerle returned stateside and enrolled in the Medical College of Wisconsin in Milwaukee. The work was difficult. The hours were long. She needed an escape from the rigor of med school. On a whim, she Googled information about pageants and soon signed up for her first.
The experience of competing in pageants was precisely the diversion she had sought. Eckerle competed and won on the Miss America circuit at the local level, earning a chance to represent Wisconsin and vie for a spot in the national pageant. It was later determined Eckerle was one week too old to be eligible — a mistake born from outdated website information — and she had to give up the crown.
But Eckerle was undeterred. She next competed in the Miss USA system, where she won the title of Miss Wisconsin, USA, and earned the opportunity to compete at the Miss USA pageant in San Antonio. Her Miss USA pageant journey was chronicled in an IWU Magazine story in 2003.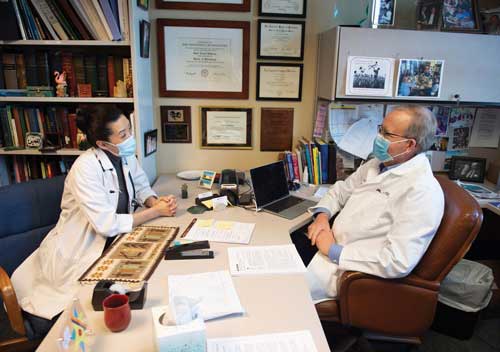 "Pageants were a really fun diversion from the seriousness of medical school, and they did buy me a lot of publicity and additional attention back in Korea for my birth parent search," Eckerle said. "Pageants have been a fun way to connect with young adults, and I still volunteer to do interview training and try to serve as a role model. I want to teach them they can have fun and still have a brain and use it to forward whatever causes are important to them."
Competing in the Miss USA pageant did provide more leads for Eckerle in her birth parent search, but none were fruitful. She still has never made a connection with her birth parents or blood relatives. She is no longer actively searching, but is hopeful DNA technology — namely, direct-to-consumer genetic testing and public DNA databases — may one day provide answers.

After an "intense" two weeks in San Antonio vying for Miss USA, Eckerle returned to Milwaukee as a third-year med school student to refocus on her schooling, upcoming residency and job search.
A pair of phone calls changed everything.
"One of my cousins adopted a child from Korea, and she called and said, 'Hey, did you know about this adoption clinic here at the University of Minnesota?' And I didn't," Eckerle recalled. "So I called to learn more and the person that answered the call was my mentor, Dr. Dana Johnson, the doctor I shadowed when I was in high school."
Eckerle was surprised to hear his voice on the other end of the line but soon learned that Johnson founded the clinic after adopting a son himself. Johnson's involvement in the clinic made it even more intriguing to Eckerle.
"He said, 'Why don't you come and see what we do?' So I came and rotated with him," Eckerle said. "And three days after starting that rotation, I walked into his office and told him that this was what I was going to do for the rest of my life."
Johnson didn't have a job to offer Eckerle right away, though he promised he would see what he could do. Eckerle left for her residency in New York City and Johnson obtained National Institutes of Health funding for Eckerle to work with him directly, after her residency, in an innovative adoption medicine fellowship.
Eckerle had landed her dream job.
"Being internationally adopted, it was such an easy fit for me," she said. "I knew I'd understand the kids and the families and the issues that they go through, and serving them just felt so natural."
Eckerle has been part of the University of Minnesota's Adoption Medicine Clinic ever since. She currently serves as its director, as well as an associate professor in UMN's Department of Pediatrics, and a faculty member in the Division of General Pediatrics and Adolescent Health, and Center for NeuroBehavioral Development.
She splits time between her clinical and academic duties, both of which serve the adoption clinic. No day is ever the same. The confluence of disciplines within adoption medicine keeps the work interesting and satisfies Eckerle's curious nature.
"I'm challenged every day by my patients, my families and my colleagues," she said. "Being in an academic setting at a university, I can call a colleague and say, 'Hey, what do you think of this rare disease?' And being in that kind of environment where I'm constantly learning is super exciting."
The gamut of adoption medicine is perhaps never on display as fully as it is in the center's Comprehensive Child Well-being Assessments, which bring experts in all subfields of pediatrics together in the same room on clinic days.
The clinic's ability to help patients was boosted by a grant through the Minnesota Department of Human Services. "I think we are probably the only ones in the world doing this," Eckerle said. "To have instantaneous feedback and know exactly what direction you need to go in is really amazing, both for the child and for the family."
Eckerle and her colleagues spend a fair amount of time fundraising, teaching, grant-writing and generally "spreading the word." The clinic doesn't make money on the services it provides. Nor can it offer services to families unaware of its existence. Though the clinic provides services to 400-500 families and another couple hundred in the pre-adoption process annually, Eckerle knows that with more than 7,000 kids in the foster care system in Minnesota, the clinic could be doing more.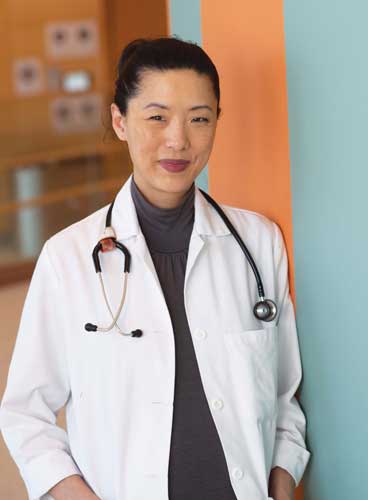 "One of our biggest challenges is that some people just don't know that we are here or what we do," she said.
The focus of Eckerle's work, however, is and always has been kids and families. She meets with families during the pre-adoption process to discuss adoption terms. She goes through an extensive checklist to gauge the comfort level of an adoptive family — asking if they would be willing to adopt a child with a developmental delay, or a child exposed to alcohol or drugs in utero, or a child with a cleft palate — with the goal of placing children with families possessing the skills and resources to provide for it. Consultations with pediatric psychologists, occupational therapists and other specialists have become part of the comprehensive assessment that all children receive, and clinic staff in many instances offer support both before and after a child's placement with a family.
The success stories are many. There was the young boy who screamed for an hour straight during his first appointment, but returned six months later — after a myriad of therapies and interventions — and calmly greeted Eckerle and asked her about a picture of Jupiter hanging on the wall.
Sometimes, Eckerle says, success can be as simple as physical growth. She recalls an 18-month-old girl who was overdue to start cutting her first tooth but, three months after her first clinic visit, returned with a mouth full of teeth.
"They all came in at once because her body could finally focus on using nutrition for the normal things like growth," Eckerle said. "Everything grew. Her hair grew. Her feet grew. And it all happened within just the first couple months because she didn't have to spend her energy and resources on being stressed or hypervigilant or hungry or neglected.
"It's amazing how some of these kids literally transform within a few months of being in a stable household. The turnaround and the change can be absolutely monumental."
The job can be incredibly rewarding, but also therapeutic.Eckerle recalls a time when she first started working at the clinic when she would get emotional in discussing adoption issues.
"It kind of felt like therapy every day, working with families and kids and figuring out how I could better help other people, but also learn about myself," she said.
Eckerle's work has been recognized in Minnesota and beyond. She has earned UMN's Department of Pediatrics Excellence in Child Health Advocacy Award. She's been named one of Minneapolis-St. Paul Magazine's "Top Doctors, Rising Stars" three years in a row. Her work on pediatric tuberculosis has been recognized by the Centers forDisease Control. She has twice been an invited editor for the leading pediatric infectious disease reference The Red Book. She is considered an internationally recognized voice in the study of fetal alcohol spectrum disorders.
In 2018, Eckerle was nominated as a Congressional Coalition on Adoption Institute Angels in Adoption honoree by Minnesota Senator Amy Klobuchar. Eckerle was presented the award at the U.S. Capitol by Klobuchar and, along with other honorees, afforded the opportunity to meet with government leaders to advocate for children who have been adopted or are in the foster care system.
"Judy's impact is not limited to Minnesota. She is a passionate advocate for permanence within the child protection system, speaking with representatives from dozens of countries and traveling to Korea and Honduras to educate policymakers on why family care is preferable to institutional care," said Dana Johnson, Eckerle's mentor, in the UMN announcement of the honor. "As an adopted person, her own story has an energizing effect on all those who hope to improve the lives of children who have experienced adversity."
Eckerle continues to be a positive force in the lives of children. She and her husband, a UMN physics professor, have a young daughter and another on the way later this spring. Her personal adoption experience, now reinforced by her parenting experience, guides her in making a difference in the lives of children and families who have experienced adoption or foster care.
"It's so exciting to see how far these kids come despite the struggles they have been through, and the services we are able to provide them in order to help them reach their potential," Eckerle said. "Hopefully we can keep using our knowledge and experience to help these families grow and come together."