Up for an Adventure
Story by Matt Wing
The tallest mountain in North America beckoned Andrew Baldock '99 to Alaska and set in motion a quest to climb the world's highest peaks.

On his first serious mountaineering adventure, Andrew Baldock '99 thought he saw someone die.
While scaling Mount Hood in 2015, Baldock heard a commotion below him on the mountain. He turned to see a fellow mountaineer sliding out of control down the face of Mount Hood, an active stratovolcano and the highest peak in Oregon. Screaming for help and desperately attempting to plunge an ice ax into the glacial surface as he careened down the mountain, the helpless mountaineer disappeared from Baldock's sight in mere seconds.
It was a sudden and stark reminder of the danger involved in mountaineering.
"There are these holes in the glacier where all the sulfuric gases come out, and he was heading in that direction and could have easily fallen into one," Baldock said. "And if that happened, it would have been game over."
Baldock later encountered the shaken climber on his descent of Mount Hood. The rookie mountaineer had escaped the near-death experience with only minor injuries, mainly in the form of friction burns. The interaction validated for Baldock — himself a rookie then, too — the time, training and money he had spent in carefully planning his summit of Mount Hood.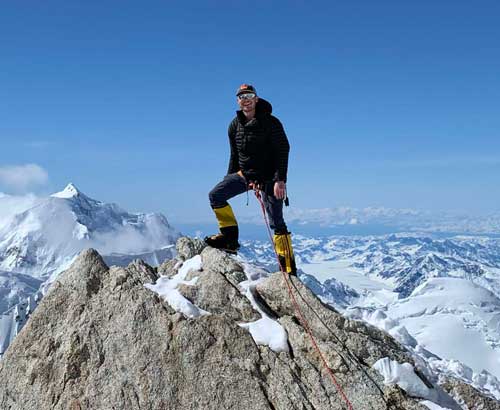 Baldock took courses to learn the skills needed to climb the world's tallest peaks. He purchased the best, most trusted equipment. He familiarized himself with the many dangers inherent to mountain climbing, everything from avalanches, to physical ailments brought on by altitude and extreme weather, to the phenomenon of "summit fever," the compulsion to reach the peak of a mountain at all costs, famously chronicled in Jon Krakauer's Into Thin Air.
"I think most climbers are risk takers and they get a high off of doing something that's risky," Baldock said. "But the good ones are very careful and manage that risk."
Baldock's interest in mountain climbing — and all things outdoors — began long before his summit of Mount Hood. He grew up in Pana, Illinois, a typical Midwestern town of about 5,000 residents. He was active in youth sports, Boy Scouts, and anything else that kept him outside. He eventually became an Eagle Scout, learning many of the basic skills essential to mountaineering. His first climbing experiences came on annual trips to Giant City State Park in southern Illinois.
A desire to continue his track and field career at a school with a strong academic reputation led Baldock to Illinois Wesleyan. While competing in the pole vault and short-distance events for the Titan track team, he majored in political science with an eye on a legal career, inspired by, of all things, an Academy Award-nominated legal drama.
"A lot of people have asked me why (I wanted to become an attorney), and I don't exactly know the answer," Baldock said. "But I really wanted to go to law school — and I know this kind of sounds kind of ridiculous — but it was after watching A Few Good Men with Tom Cruise and Jack Nicholson.
"So if there was any single motivation to become an attorney, I think that was it."
Baldock earned a Juris Doctor at the prestigious George Washington University Law School and went to work, first as an assistant district attorney in St. Clair (Ill.) County, just across the Mississippi River from St. Louis. Five years later, he became an ADA in Fairbanks, Alaska. In 2019, he was promoted to supervisor of the special victims unit for the district attorney's office there, which oversees the largest prosecutorial district by area in the United States.
The move to Alaska was made possible by a job opportunity, but the motivation to relocate to America's most remote state was for altogether different reasons.
"Really, it was wanting to climb. Denali is kind of what drew me here," Baldock said, referencing the tallest peak in North America, formerly known as Mount McKinley. "(Alaska) has the glaciers and the highest mountains in North America, rivers with salmon swimming in them and bears and moose and the northern lights.
"You see all these TV shows about Alaska, and there's a reason for that. It's truly a remarkable and amazing place."
Baldock's work is a sharp contrast to that beauty. He oversees trials of individuals charged with the most horrific of crimes: murder, rape and crimes against children among them. He sees things that you can't unsee. At the end of a long day, he struggles as many do to disconnect from his work.
Mountaineering and physical training help accomplish that aim. Baldock's weekly routine includes four trips to a local gym, weightlifting, and a Saturday afternoon climb in Denali National Park and Preserve that can last eight hours or longer.
The training keeps the former Titan track athlete in peak physical condition, although his athletic strengths have shifted over the years.
"I was not an endurance person back then — I hated endurance training — but now I'm in the best shape of my life as far as endurance goes," said Baldock, now 44 years old. "If I met Andrew Baldock atIllinois Wesleyan and we had to race a mile, I'd kick his ass."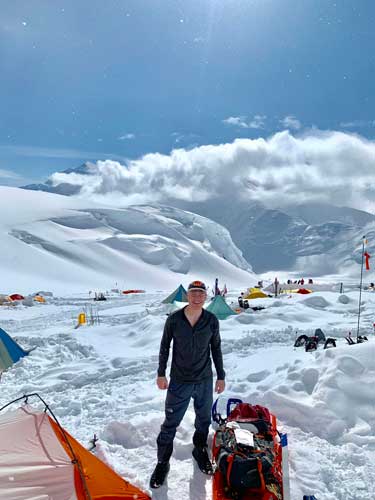 Baldock's training, of course, is all done with an eye on his next mountaineering conquest. His immersion in the sport has deepened over the years. He reads about mountaineering. He shops for the best gear. Vacations are often planned around his next mountain climbing adventure.
So it's no surprise that when his local newspaper runs a story about the happenings on Denali, he reads it. One such story detailed a man attempting to climb the tallest peaks in all 50 states who had died of a heart attack on Denali's summit.
And while it was yet another reminder of the danger involved in mountaineering, it did get Baldock thinking.
"I just thought it would be a really cool thing to do, to climb the highest point in every state," he said. "So I started doing it."
The points range from Florida's Britton Hill, at a mere 345 feet above sea level, to Alaska's Denali, at a daunting 20,310 feet. Baldock started with Hawaii's Mauna Kea in 2012 and has since chipped away at the list, slowly checking states off over the past nine years. Some states have required a dedicated trip. Others have been completed in small batches. He once summited five states' highest points on the same day, climbing the tallest peaks in Pennsylvania, Maryland, West Virginia, Kentucky and Tennessee on one marathon day in May 2019.
A month later, Baldock climbed Denali, the crown jewel of North American mountaineering that had beckoned him to Alaska.
"It's a monstrous, monstrous mountain," Baldock said. "And being so far north, you get some of the most extreme weather in the world."
Now a longtime resident of central Alaska, Baldock is accustomed to bitterly cold temperatures. He's experienced cold that most individuals haven't and can quite clearly remember enduring the very specific temperature of minus-59 degrees.
But it wasn't the cold that hampered him as he scaled Denali.
"It was the heat," he said matter-of-factly. "Most people don't think about that, but when you're that high the sun just radiates off of everything, especially all that ice and snow. It can get really hot, really quick, and when you're hauling up to 120 pounds while the sun is just bearing down on you, it can zap you pretty quick."
Denali has been the most arduous climb in Baldock's quest to join the 50-state completers of the "Highpointers Club," the exclusive group of individuals who have climbed each state's highest peak, which counts just over 300 among its ranks. Baldock's summit of Denali also counted as his second ascent of one of the "Seven Summits," the tallest peaks on each of the seven continents, after previously summiting Russia's Mount Elbrus in July 2017. (Though a less technically challenging climb, Mount Elbrus presented a different set of challenges for Baldock and his climbing team; located in a region plagued by terrorism, Baldock's group had to pass through several Russian checkpoints manned by soldiers wielding automatic weapons to access the mountain.)
Baldock has now climbed 46 of the 50 states' highest peaks. His only real challenge remaining is Montana's Granite Peak (elev. 12,807 feet), and he hopes to complete the climbing project by next year.
He also plans to continue his Seven Summits quest. Next up will be South America's Aconcagua, hopefully in 2022. After that, in some order, will be Africa's Mount Kilimanjaro, Antarctica's Mount Vinson and Australia's Mount Kosciuszko. Baldock wants to finish the challenge with Mount Everest, often considered the most difficult of the seven. He jokes that he'll need his wife's permission for that final climb, though quickly corrects himself. "She worries like any spouse would," he said. "But she's fully supportive of this."
Baldock hopes to be joined on future climbs by friends he has made along the way. There is a certain bond forged by the shared suffering that comes from the treacherous conditions endured and the great physical exertion that is required to scale the world's tallest peaks. Baldock has climbed with individuals from all over the world and from all sorts of backgrounds. On his summit of Mount Elbrus, he became close with the son of a Belgian baron who had served as an ambassador to the former Soviet Union.
"You never know who you're going to meet," Baldock said with a wide smile. "Part of what interests me is meeting people from all over the world who do this. Everybody's got a story to tell, and that's part of the draw."
In the same breath, however, Baldock describes high-altitude mountaineering as anything but a pleasurable experience. The endeavor requires extensive training. The required equipment, travel and climbing guides are expensive. The dangers are too many to count.
But he keeps climbing.
"Somebody once said that if you live life at the edge, you can see things that people can't see when you live in the middle, and there's some certain truth to that," Baldock said. "I don't believe in living your life on the edge every single day, and I would never take a risk that I didn't think was worth it, or was an irresponsible risk, but I think most climbers are risk takers who like to live at the edge."
And the view from there?
"Climbing a mountain is a pretty miserable experience, but the sacrifices that you make, not only in the preparation, but the pain that you go through to get to the top, make it a total high beyond description.
"That exhilaration of standing there and all the work that you've put in to get there make it all worth it."