Vision for the Future
Story by Matt Wing
Diversity of faculty, students and curriculum are essential to the future of Illinois Wesleyan's School of Music under the direction of Franklin Larey.
. . .
Franklin Larey always had the music in him.
He grew up in a musical family. His father was a teacher and choral director. His mother was a self-taught pianist. Classical music played on a radio in the Larey home nearly every day.
But growing up in apartheid-era South Africa, in the rural town of Malmesbury, the young Larey (pronounced luh-RAY) did not have the access to music education that whites did. Though surrounded by social injustice and poverty, he and six siblings enjoyed a childhood where the main rule was to be home before dark.
He loved music and longed for the day he could channel the notes dancing in his head into an original composition. But in the meantime, he listened. He befriended a librarian who ordered records from the much larger library in Cape Town. He tagged along to hear his mother play piano. He listened intently to the music played in church.
Every opportunity he was presented to engage in music, Larey jumped at the chance.
So when a new neighbor with a piano moved in next door, Larey spent hours listening as the music wafting through an open window filled his ears.
"I just sat outside and listened," Larey remembers fondly.
Recognizing their son's interest in music, Larey's parents decided on a special gift for their son's 16th birthday: piano lessons with the new neighbor.
So began Franklin Larey's career in music. He flew through beginner's books and his new teacher's lesson plans. The music in his head flowed easily through his fingertips and over the piano keys.
"It all just came very naturally to me," Larey said.
Within six months, Larey's teacher sensed his pupil was progressing at a rate he couldn't match. A new teacher was sought and, fortuitously, a new classically trained music teacher moved to Malmesbury to begin teaching. Larey became one of his first students.
Larey poured himself into his music. He spent his days thinking about music. He spent his evenings practicing.
"We didn't have a piano at home at that time, so I had to walk down the street to a neighbor's house. They had an old, upright piano, so I used to go immediately after school and they let me practice there," Larey said. "I would practice from the moment school was out until I had to go, but I often wished I could stay longer."
Though music wasn't part of his formal education, Larey excelled academically. He was especially proficient in science. As he neared completion of his secondary education, his teachers and principal encouraged him to attend medical school as South Africa had just begun allowing Black students to study medicine at white universities.
Larey had other plans.
"I remember making the decision that I did not want to do that. I wanted to study music," he said. "It resulted in a lot of very tense conversations with the principal, who told me that I was making a big mistake. But I spoke to my parents, and they were very supportive."
Larey enrolled at the University of the Western Cape, a school founded in response to the segregationist policies of apartheid. Larey enjoyed living and learning in an environment alongside individuals with whom he could identify. He had influential professors who encouraged him.
But Larey's time at UWC was not without challenges.
"I was at a Black university during a very tense political time. When I got there, in the '70s and '80s, there were lots of disruptions, lots of protests," he said. "There was also the pressure on all of us to not participate in musical activities. There are horror stories of how theatres and managers kept Black musicians out of and away from the main stages of the country."
Larey majored in music and psychology and earned a bachelor's degree from UWC in 1981. And, like so many young college graduates, he found himself at a crossroads, unsure of what to do next.
But, "out of nowhere," as Larey recalls, UWC offered him a position as a junior lecturer in the same department where he had been a student just weeks before.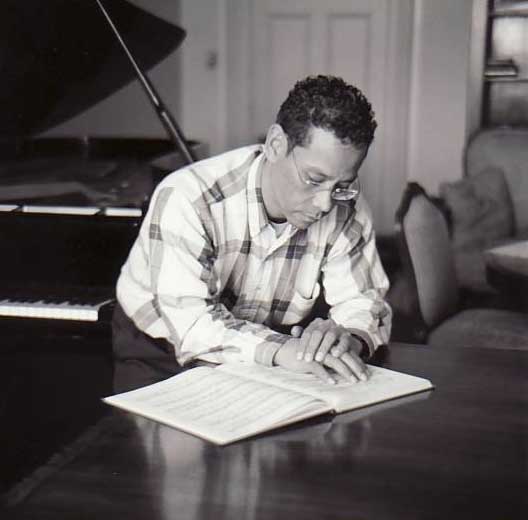 The appointment allowed Larey to begin his teaching career while also performing professionally and continuing his studies. He took classes part-time at the University of Cape Town, which offered a much less welcoming environment than he had experienced at UWC.
Larey liked working with the students at UWC, especially students of color who had transferred in from UCT. Many had struggled to adapt and perform at a high level academically in UCT's hostile environment, but many became top students at the more supportive UWC.
"I enjoyed my teaching at the University of the Western Cape," Larey said. "I dealt with a lot of students who came to us after studying at white institutions but couldn't cope in those environments, and so I got to see firsthand the terrible effects those situations had on young people."
After five years of teaching at UWC, Larey applied for and was granted a Fulbright Scholarship in 1986 to continue his studies at the University of Cincinnati, where he completed his doctoral degree and joined the faculty of the school's preparatory program. Larey found the environment on an American college campus a breath of fresh air.
"I was astonished at how people of all nationalities lived and worked together," Larey said. "It boggled my mind because I came from a country where we were very cocooned, and you only ever interacted with people like yourself."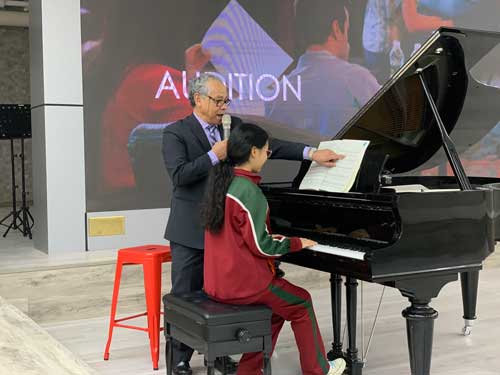 Larey spent 10 years stateside but eventually felt the pull to return to his home country, which had undergone dramatic changes during his time away. Apartheid ended in 1994 and, when Larey joined the faculty at UCT in 1997, he returned to a much different place than he had left.
"It was one of the most exhilarating moments of my life because I had been out of the country for almost 10 years and returned to a space where I could walk in neighborhoods where previously I could not even be seen. I could buy property in neighborhoods where we were not allowed to be," Larey said. "I saw the wonderful interaction between young people of all races, all religions, and Cape Town is in many ways still like that."
Larey climbed the academic ranks at UCT and within five years became the first Black director of the university's South African College of Music. He was charged with transforming the school's faculty, staff and curriculum. He appointed a number of Black musicians and academics. He introduced a program to recruit talented, underprivileged Black students.
"It was an important time, and it was a big responsibility," Larey said. "But it was something that I also enjoyed because I could see the positive effects it had not only on the students, but on the entire university environment."
Larey returned to the United States frequently during his tenure at UCT, including an annual return to serve as the summer director of the Adamant Music School in Vermont, beginning in 2004. But Larey and his husband, an American he met at the University of Cincinnati, decided to return to the U.S. full time in 2018, after 22 years in South Africa.
He served on the faculties at St. Joseph's School of Music in St. Paul, Minnesota, and Gustavus Adolphus College in St. Peter, Minnesota, before he became intrigued by a job posting at Illinois Wesleyan University.
"I started reading about the school's liberal arts curriculum, its commitment to Jeffersonian ideals and what an education should be about, and I found it very attractive," Larey said. "I was in Cape Town for the December holidays when I had a video interview with the panel, and I really liked the conversation we had and felt very good about the nature of the conversation and the kind of questions they asked."
Larey was named the director of Illinois Wesleyan's School of Music in July 2019 and tasked with leading a transformation similar to the one he orchestrated at UCT. Larey's vision for the future of IWU's School of Music centers on "restoring the school to its former glory" by engaging alumni, increasing visibility off campus, and fostering diversity in its students, faculty and programming. (Larey provided a Titan Talks webinar in August 2020, titled "The Future of the School of Music," available on YouTube.)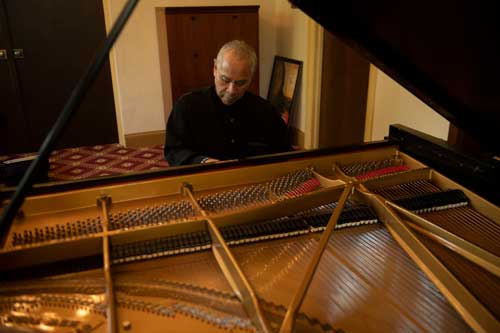 Larey's ability to implement his vision right away has not been easy. The COVID-19 pandemic that has necessitated online instruction and distance learning has been particularly difficult for music education.
Perhaps a greater challenge to Larey's vision came with Illinois Wesleyan's internal academic program review conducted by the Program Evaluation Task Force (PETF), a committee of elected faculty members informed by departmental reports, data and higher education trends, which recommended the closure of IWU's School of Music.
Illinois Wesleyan's Board of Trustees announced plans instead for a transformation of the School of Music when it took action on program review recommendations in July 2020.
"It would be less than frank of me not to admit that the past three months or so have been trying and difficult," Larey told attendees of his Titan Talks webinar. "I am deeply thankful for the Board of Trustees' decision to reject the recommendation of the PETF to close the School of Music. I am also grateful for the support I received from my colleagues in the School of Music in developing a counterproposal to keep the school open, and also the support from colleagues across the broader university."
Larey drew strength from an outpouring of support from School of Music alumni who called and wrote to tell him what the School of Music meant to them.
"Your commitment to and your advocacy for the School of Music deeply moved me," Larey told alumni in his Titan Talk. "I will cherish each and every email and telephone call in which you so thoughtfully conveyed your passion and your love for the School of Music and for Illinois Wesleyan University."
Alumni involvement is central to Larey's vision for IWU's School of Music, as is communication, collaboration, and a commitment to a community rich with diverse people and ideas.
His experience in music education, after all, is a testament to the power of diversity.
"I think my experience and understanding of how much better life is when there is diversity has helped me because I've seen it myself," he said. "I've experienced it myself. I've been enriched by it."
Larey admits that transforming the School of Music will be a long and laborious process, but he is up to the task.
"It will require collaboration, recruitment and a strong sense of community in the School of Music," he said. "It will take a lot of work, but we are all going to roll up our sleeves and get going."