Titan Talks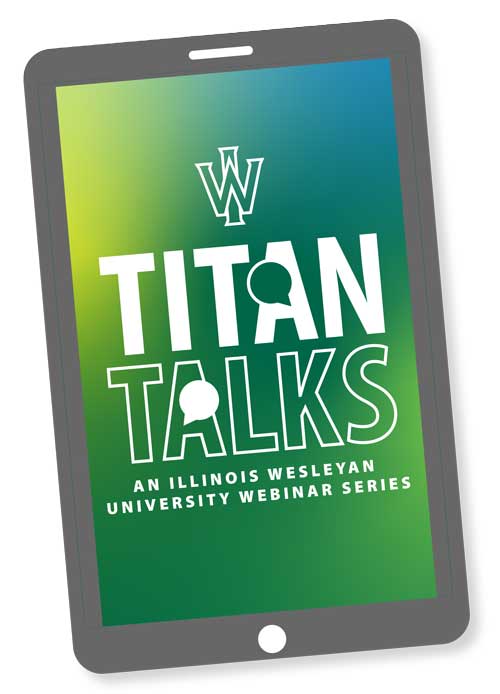 In the midst of a global health crisis that has largely kept us apart, a transformative social justice movement brought us together and sparked a long-overdue national reckoning on race, equity, privilege and justice.
Important discussions took place in both virtual and in-person settings far and wide. At Illinois Wesleyan, such conversations took place through Titan Talks, a webinar series featuring IWU alumni speakers for the benefit of the entire Titan community.
Launched in April 2020, the Titan Talks series initially featured alumni on the front lines in the global response to COVID-19. But when horrific acts of racial injustice brought renewed attention to deeply rooted systemic inequality, Titan Talks pivoted to offering a forum to discuss the critical issues of our time.
. . .
How We Got Here: Racism + Higher Education
Derrick Tillman-Kelly '09
The director of the UIA Fellows Program and Network Engagement for the University Innovation Alliance, Tillman-Kelly offered a history of race within the context of higher education and the troubled history many colleges and universities have with marginalized groups.
"When we talk about history, if issues of race and racism, sex and sexism, homophobia, aren't raised and contextualized in the normal understanding of history, it makes it sound like it's a one-off thing that's about a particular group of people," Tillman- Kelly said. "But Black history is American history. LGBTQ+ history is American history. So we have to recognize that it's been a part of history, it's a part of today, and it has to be considered, held and wrestled with, to move us forward."
---
White Allyship and Solidarity: How to Be Part of the Solution Against Anti-Black Racism
Jessica (Meyer) Bondalapati '11, Kevin Carey '13, Libby Haywood, moderated by Nicole Chlebek '16
Framed by an understanding of privilege and systemic racism, panelists shared their commitment to action and active denouncement and dismantling of racist policies. Panelists also shared perspectives on how best to be an ally to the Black community and support other allies.
"Most of us are good people. That's why we're here. Most of us genuinely really, really care about other people," Chlebek said. "We just grew up as white and did not have to think about how our race allowed us to walk through life with privilege. Because we're white, we did not have to think about race."
---
Father and Son: An Introspective Dialogue of Life as Black Men
David Wilkins '74, Nate Wilkins '17, moderated by Brandon Common
Father and son David Wilkins '74 and Nate Wilkins '17 discussed their life experiences and perspectives as Black men in an intergenerational conversation highlighting the similarities and differences of navigating issues surrounding race and the perception of Black men in our society. The conversation focused not only on how race has affected their lives, but how they have been able to achieve success. They also shared lessons learned and offered insight for progress.
Among other topics, the Wilkinses described when they had "the talk" that Black parents often have with their children. "The talk was an ever-present conversation about being young Black people in a nation that treats young Black people — whether they are in a predominantly white, middle-class community or they are in the inner city — often with utter disregard," David Wilkins said.
---
Activism and Advocacy in the Latinx Community
Citlalli Gonzalez '18, Tristan Gunn '04, Melissa Ramirez '14, moderated by Yesenia Martinez Calderon '20
Panelists discussed, entirely in Spanish, activism within the Latinx community, challenging anti-Blackness both inside and beyond their communities. Discussion included ways in which Black and brown people can stand together against racism.
"A successful allyship needs to begin with one's own acknowledgment of our failures. It's important to acknowledge our privileges, but also knowing our failures in terms of which groups do we make racist comments to or assign certain prejudices to," Ramirez said. "It's important to recognize those failures to be able to say 'OK, I have made mistakes, but I've also learned lessons.'"
---
Invisibility of Black Women in Leadership
Monica (Cheek) Hall '90, Jazmyne Kellogg '16, Ade Olayinka '11, Alani Sweezy '19, Amanda Toney-Logan '74, Lois (Bright) Wilkins '75, moderated by Rosetta Clay
An abundance of research has shown that Black women, living at the intersection between two other marginalized groups — Black men and white women — are one of the most likely racial and gender groups to go unrecognized and unheard. Panelists shared their experiences as leaders in their respective fields, what they've learned on their journey, and steps they see for progress.
"If we as Black women don't show up and speak for ourselves, our stories and our issues are, in a way, often overlooked," Sweezy said. "And when our stories are told, if they are told by other people, they are often diminished."
Did you miss a Titan Talk? Want to learn more? Go to: www.iwu.edu/titan-talks.