Safe Space
Story by Matt Wing
Illinois Wesleyan's Office of Diversity and Inclusion, led by Hannah Mesouani and Veronica Torres Luna '19, provides services and programming for underrepresented students while fostering a welcoming and inclusive campus community.
. . .
Hannah Mesouani has a career goal that most of us would consider at the very least a bad day at the office.
"My dream is to work myself out of a job," she says with both a smile and a matter-of-fact tone.
Mesouani is the director of Illinois Wesleyan's Office of Diversity and Inclusion, which promotes a campus community that appreciates, encourages and celebrates diversity through programming and services available to the entire campus. Mesouani and ODI outreach coordinator Veronica Torres Luna '19 form a team that supports underrepresented and marginalized students while also providing educational opportunities to help members of the greater IWU community understand and appreciate the diversity around them.
It's hard work with no finish line in sight, but that doesn't discourage Mesouani from maintaining a desire to live in a world where such services are no longer needed.
"It will never happen, but I like the idea that one day we might not need this office," she said. "I think it's a good aspiration."
There is still work to be done, of course, and Mesouani and Torres Luna do it guided by their own experiences. Mesouani spent her first 19 years growing up in Morocco before attending a private liberal arts college where she was among just a handful of international students. Torres Luna was born in Mexico and moved to Chicago when she was 10 years old before eventually enrolling at Illinois Wesleyan.
Both full-time members of IWU's Office of Diversity and Inclusion had higher education experiences similar to many of the IWU students they serve today. Mesouani and Torres Luna can recall instances as college students where they felt alone and lost in a sea of classmates who didn't look like them, talk like them or come from the same places as them. They remember fleeting moments of belonging and acceptance. They longed for an environment where those feelings were more common.
That's why, Mesouani says, Illinois Wesleyan's Office of Diversity and Inclusion is so important.
"Have you ever gone into a space where you were the only?" she asks, rhetorically. "Maybe you were the only guy, or maybe you were the only person under 60, or maybe the only person over 60, and you felt like you didn't fit in.
"And I think we underestimate the physical heaviness that comes with being the only. It can be traumatic and isolating, and what we provide at ODI is a space where those folks get to feel at home."
The ODI space, which recently moved to the upper level of Hansen Student Center, offers an informal "living room" atmosphere. There are comfy couches and TVs with Netflix and Hulu subscriptions. Snacks are available in abundance. But, most of all, ODI offers a safe space where students can be themselves.
"At least for our Latinx students, they can come in here and speak Spanish, and sometimes just hearing that language that you speak at home with your parents is just something that makes you feel good, makes you feel at home," said Torres Luna. "And, to some extent, it makes you forget about everything else, and you can just feel good."
Many of the exchanges between the ODI staff and current students take place through these informal interactions. But more formal programming is designed to offer engagement opportunities for IWU students from the day they step foot on campus to the day they walk across the stage to receive a diploma.
Incoming students of color can enroll in the IMPACT (Influencing and Maximizing Positive Academic and Campus Transitions) pre-orientation program that offers multicultural students a preview of campus life. Throughout each semester, the ODI staff hosts a series of "3D discussions" to foster conversations centered on diversity, dialogue and dignity. There's also a multitude of other workshops, presentations and events, such as the annual Unity Gala, a formal, black-tie event celebrating diversity on Illinois Wesleyan's campus. At the end of students' IWU journey, ODI hosts a Multicultural Graduation to celebrate graduating students of color and a Lavender Graduation to celebrate the accomplishments of LGBTQIA+ graduates.
Mesouani and Torres Luna also counsel members of the Illinois Wesleyan community wishing to educate themselves on topics of diversity and inclusion. The ODI staff responds to bias incidents and microaggressions, and advocates for identity-based student organizations.
"We do a lot, but we love it," Mesouani said. "The way I see Veronica and myself is sort of as backup dancers to whatever journey our students are on, whatever stories they want to tell. We're here to do a lot of the legwork, a lot of the research, and support them in feeling like they can make this as much of a home as any other student can."
During the summer months, ODI keeps busy by hosting the Summer Enrichment Program (SEP), a 10-week cohort-based program open to students of color and international students, focused on academic, personal and professional growth. "It's my favorite time of the year," Mesouani said.
The Office of Diversity and Inclusion also supports a peer mentoring program, Succeeding Through Empowerment and Proactiveness (STEP), which connects new students with returning students who were once in the same shoes as them.
Torres Luna manages all aspects of the program, beginning with the pairing of the students, which she readily admits is her favorite part of the job. She uses a detailed survey to match the students, and has learned that first-year students most often want a mentor in the same or a similar major. She then provides ideas and materials for mentors to use in their weekly check-ins with mentees, and conducts routine progress meetings with all involved in the program.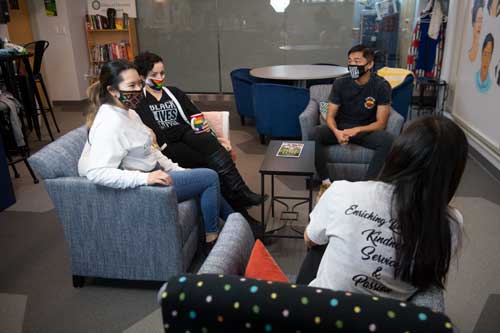 "Hannah and I can't always be there for the students," Torres Luna said. "So having that extra layer of support, and a person that looks like you and has been through that same experience being there for you, is something that I know both mentees and mentors appreciate."
Torres Luna can cite countless STEP success stories. She has found the program is often just as beneficial to the mentors as it is for the first-year students they advise.
"Earlier this year, one of our mentors got (a meal) for her mentees, and they were all sitting out on the quad eating together, and it was just such a wholesome moment for her," Torres Luna recalled. "She was almost crying when she was telling me because she was so happy about it. They were all getting along so well, and two of the students who live in the same building were talking about how they were going to use the leftovers for breakfast, and it just made her feel so good.
"It was just so nice for her to see how she was making a difference."
Mesouani and Torres Luna split their time between formal programming like SEP and STEP and the less formal, "walk-in" interactions with students pretty evenly — Mesouani jokes that it's 80% of each — which keep their days pretty full.
"I try to stop by the space as often as I can and just hang out with everyone. It is always so fulfilling anytime I stop by because I know it is a safe space and everyone has a mutual understanding," said Wah Chook '22. "I get lunch and catch up with Hannah and Veronica. They are a huge part of my support system on campus. I know I can always go to them with whatever it is and be 100% honest whether it's about my classes, social justice stuff on campus or anything in my personal life.
"They are mentors but very much so my friends as well."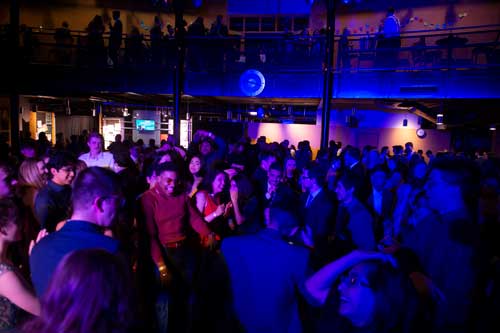 Many students who engage with the Office of Diversity and Inclusion in their first year stay connected with ODI throughout their time at IWU. That's especially true for Sean Ly '21, a former IMPACT pre-orientation mentor, ODI ambassador and SEP intern. He, like Chook, regularly drops into the office just to relax and see friends.
But Ly and others can tell you the space is more than just a spot to hang out with Netflix and snacks.
"The community that ODI creates embodies everyone, no matter what identity you hold, where you come from or what you believe in," he said. "It is a big melting pot of harmonious happiness and sustainable inclusivity."
Mesouani and Torres Luna often hear that ODI is the place some students feel most welcome on campus. Sometimes they hear it's the only place some students feel welcome. Mesouani says it's "heartbreaking" to hear that, although it's a good reminder of the importance of her work.
Progress is being made. The most recent university data shows retention rates of Illinois Wesleyan students of color are higher than those of the entire student body. But the personal success stories Mesouani and Torres Luna see and hear about firsthand are the most powerful indicators of success.
"Students come to ODI and make friends, and these are friends they have for the rest of their lives," Torres Luna said. "Students go through a lot here and having this space and having these relationships, these friendships, they really help."
Mesouani and Torres Luna haven't worked themselves out of jobs just yet. But they are making a difference and empowering students.
"Just today, I had two students here and they were encouraging each other. I was just sitting back and listening, because they were basically doing my job," Torres Luna says with a wide smile. "They were really encouraging each other, saying things like, 'Oh, you're gonna be so great' and 'Oh, you're going to do so good,' and it was just amazing to see that."