Long Way Home
Story by Matt Wing
When the novel coronavirus outbreak presented travel challenges for Illinois Wesleyan students abroad, the IWU community came together to help students return home quickly and safely.

The global reaction to the novel coronavirus felt like a series of falling dominoes. News came fast with little time to digest the latest development before another update scrolled across the screen. For travelers abroad, those falling dominoes threatened to box them in and leave them stranded in a foreign land.
Fifty-five Illinois Wesleyan students were studying in 15 countries during the Spring 2020 semester. Other groups, like the IWU volleyball team, were traveling abroad over Spring Break.
IWU students studying in Italy, an early coronavirus hot spot, were required to return on March 2. Less than two weeks later, all IWU students abroad — and international travelers nearly everywhere — were assigned an immediate and mandatory task.
Get home.
"It felt like wave after wave of crises," said Stacey Shimizu, IWU's director of the International Office and Study Abroad program. "With each success, there was relief, celebration, exaltation. But it was all shadowed by the question of what next? "
The challenges presented by the unprecedented time were many: suddenly closed borders, crowded airports, canceled flights, stress and anxiety amid the chaos. But the Illinois Wesleyan community came together to negotiate those hurdles and to assist and empower students faced with unforeseen circumstances.
"Bringing students home was a group effort, involving people at IWU, partners overseas, travel agents, and the students themselves," Shimizu said. "In the midst of all the stress and uncertainty, colleagues acted with calm urgency, sharing information and ideas, and responding at all hours."
• • •
Being stood up, scammed and majorly stressed did little to weaken the resolve of Shakira Cruz Gonzalez '21. She was going to make it home.
"Failure was not an option," she said.
The junior political science major had been studying abroad in Morocco for two months before she was called to return on March 12. But, to get home, she had to endure a marathon of waiting and a series of disappointments before returning to her hometown of New Orleans.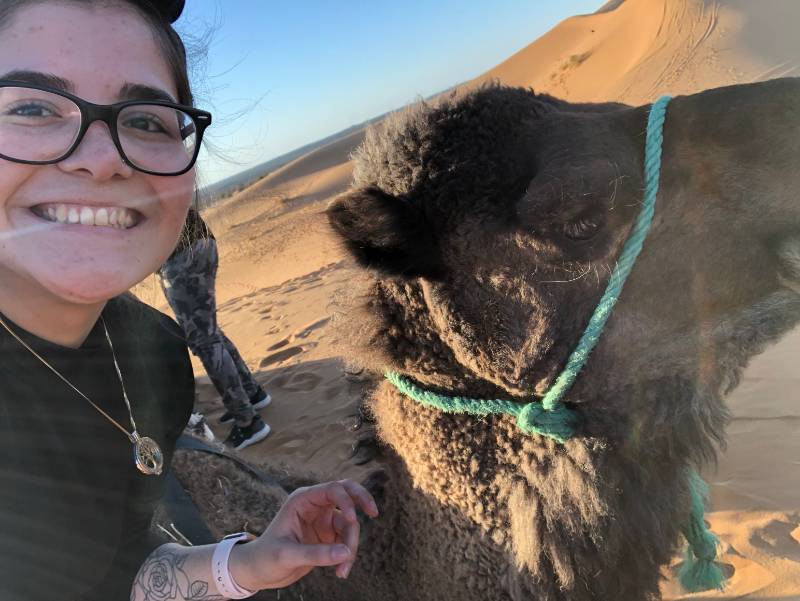 "I wasn't afraid. I was hopeful and optimistic, determined to find a way out, although there were times I felt like the universe was against me," said Cruz Gonzalez, who was in the Moroccan capital of Rabat at the outset of the COVID-19 pandemic. "Every time something new came to light, I became more determined and more focused on the idea that I was getting home."
Cruz Gonzalez first tried to move up her return flight home by two months. An hours-long phone call with airline customer service was unsuccessful. A flight from nearby Casablanca to New Orleans was then booked for a week later. It was canceled later that same day.
Plans were made to head to the Rabat airport early the next morning with students from other universities, but the driver never showed. A frustrated Cruz Gonzalez then took the advice of Shimizu, whom she had kept apprised of each development, and headed to the Casablanca airport. There, Cruz Gonzalez went from counter to counter seeking a flight home, but struck out over and over again.
Needing to clear her mind, she took a walk around the airport concourse when a kiosk caught her eye. She was offered and purchased what she believed to be a $500 ticket to France. But she was misled. It was only a wait-list ticket.
Though her frustration grew, so did her determination. Cruz Gonalzez continued to search for a way out. She stayed in contact with Shimizu. She eventually learned that flights to France were being booked only for passengers with pre-booked flights from France elsewhere. Shimizu helped book a flight from France to the United States. Cruz Gonzalez was then able to book a flight from Morocco to France.
After five days of anxiety and uncertainty, she was heading home.
"The two feelings I felt were sadness and gratitude," Cruz Gonzalez said. "The sadness I felt came from the realization that I was never going to be able to study abroad again. … The gratitude came from the reminder that I was actually in Morocco, even if it was only for a short time."
Cruz Gonzalez had to rely on herself to navigate the difficult situation, but was thankful to have an ally at IWU. "Stacey Shimizu is the hero in my story," she said. "She was so kind, patient, encouraging and resourceful."
• • •
Illinois Wesleyan volleyball coach Kim Nelson-Brown awoke to a knock on her hotel room door in Salzburg, Austria, at 2:30 a.m. on March 12. She picked up her phone to check the time and was alarmed to see dozens of missed calls and text messages.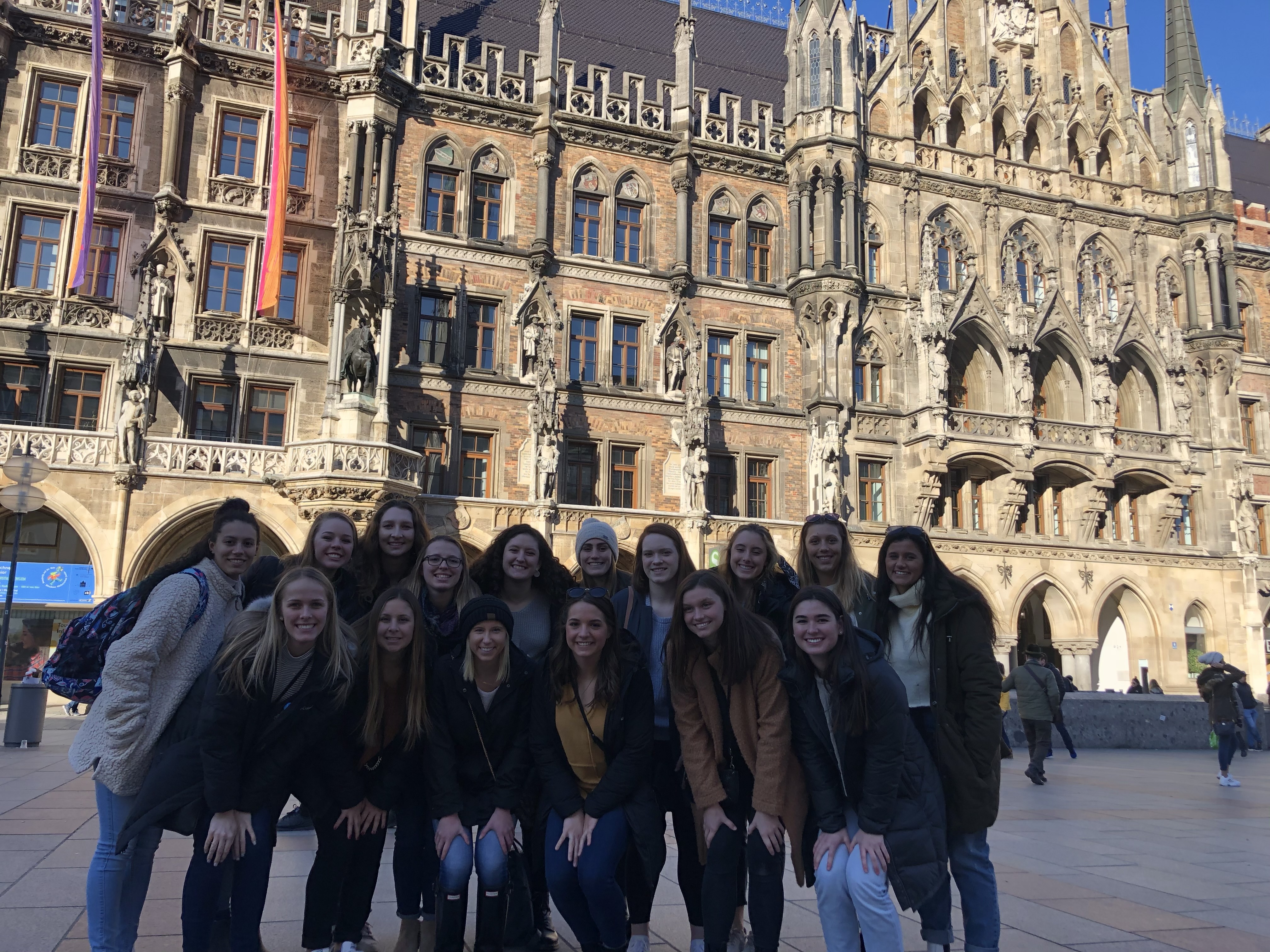 A half-hour earlier, seven time zones away, the U.S. had announced restrictions on travel from European countries. Although there were many unknowns at the time, the decision to cut short the remainder of the team's exhibition tour of Austria and Germany was made out of an abundance of caution.
Just how that would happen required swift coordination. Nelson-Brown worked with Illinois Wesleyan Athletic Director Mike Wagner and a travel company to quickly devise a plan.
"Obviously, at 2:45 a.m., there's not a whole lot to do," Nelson-Brown said. "But our travel company contacted me and encouraged us to start packing and head immediately to the airport."
The group, which included two coaches, 14 student-athletes and 22 family members, departed at 5:15 a.m. that morning for the airport in Munich, which was believed to offer the best chance for the group to travel together. They sought a flight — any flight — that would return them to the United States.
The team's bus was stopped at the German border and all its passengers were required to get off and show passports. "Anxiety was high already, and you could tell some of our group members were stressed when this happened," Nelson- Brown said.
The group arrived at the Munich airport and secured boarding passes for a flight to Chicago with a connection in Charlotte. Some players' parents met the group in Chicago to take them home. A bus was sent to transport the remaining group back to Bloomington-Normal. Having closed campus and extended Spring Break for an additional week, those players stayed the night at a local teammate's house before returning to their respective homes the following day.
"Besides being a 30-hour day, there was relief to be home so we could figure out what was going on," Nelson-Brown said. "As a coach and as a parent, I consider myself a mom to these players, so there was relief to get them all home safely and together."
• • •
Illinois Wesleyan Professor of Biology Given Harper remembers the exact time he began coordinating travel back to the United States for the 24 students he was leading on the Spain Program in Barcelona.
It was 3:13 a.m.
That's when Harper received a text message from a panicked student in the early morning hours of March 12. The U.S. had just announced European travel restrictions. Specifics were hard to come by, but it was clear their trip would be cut short.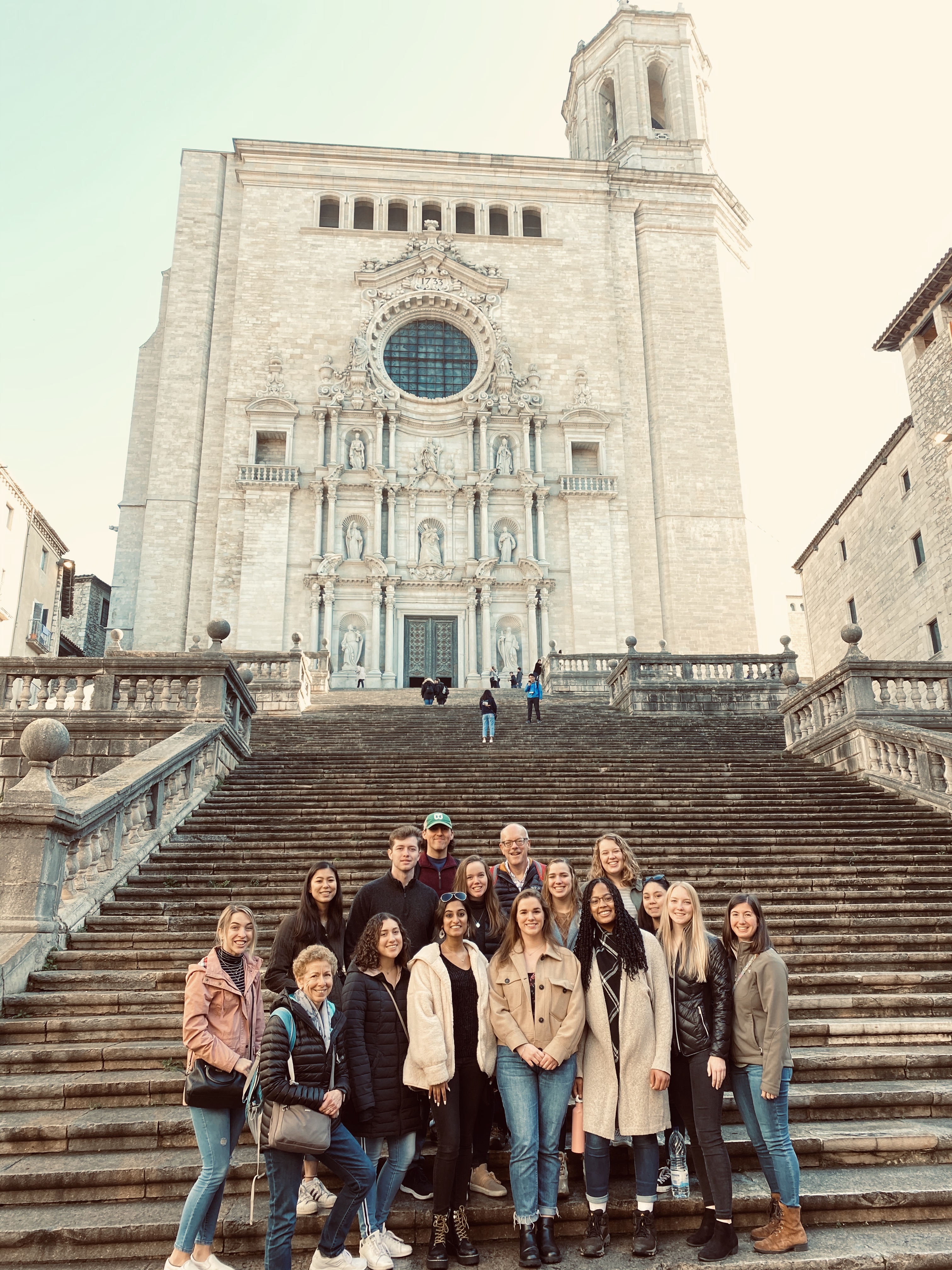 Harper worked with Shimizu to book flights back to the U.S. on March 15. Students were instructed to be at the airport four hours before the scheduled departure, but Harper's phone started buzzing again on the taxi ride to the airport. Several students reported they were not listed on the flight manifest.
Upon arrival at the airport, Harper bounced between airline counters seeking answers. "We believe the flight was overbooked and the airline's computer system was overwhelmed," he said.
Harper stayed in contact with Shimizu throughout the uncertainty. Four students booked separate flights with help from their families. Meanwhile, Harper continued to work the airline desks. Eventually, he and the students were encouraged to try checking in again.
This time, the results were more promising.
Five students secured their booked seats. Thirteen were placed on standby. But two more students were not in the system at all. Harper and his wife Jean offered their seats to the students, but the airline would not allow the transfer. Luckily, a high rate of cancellations (mostly European nationals not allowed to enter the U.S.) allowed for those two students — and all 13 on standby — to board the flight.
"Jean and I told the students we would be waiting for them out in the terminal if they were unable to board the flight. We assured them they would not be alone if they did not make their flight," Harper said. "Several minutes later I started receiving a stream of texts from the students indicating they were able to board. Once I heard from the final student, it took a minute or two for the realization to sink in that all students would make it out.
"Needless to say, I was extremely relieved to hear such wonderful news."
Amid the chaos, the Harpers missed their flight. Another was booked for the following day. They taxied back to their Barcelona apartment where Given had wisely hidden a key above the door, half expecting such a return. After hauling their luggage up five flights of stairs at the end of an emotionally exhausting day, they collapsed on the bed.
The streets of Barcelona were mostly deserted with shops and restaurants closed due to the pandemic in the days before the IWU Spain Program left. But the city came to life each night when Barcelonans gathered on their balconies to cheer and applaud healthcare workers.
"They repeated their performance that night," Harper said. "It was a profoundly moving experience that brought tears to our eyes."
The Harpers returned home to Bloomington-Normal the next day. The feelings at the end of the ordeal ranged from exhaustion to disappointment to relief.
"I was extremely disappointed that the semester ended for the students, as I had put my heart and soul into helping make this an experience of a lifetime for them," Harper said. "I believe they certainly had such an experience, although it was much shorter than what we had hoped."
• • •
Illinois Wesleyan's efforts to return students to campus, or to their homes, was almost a total success. Fifty-four students studying abroad, and groups like the volleyball team and Collegiate Choir — which earned accolades while touring South Africa over Spring Break — were able to return despite travel challenges.
One student, Thao "Jenny" Le '21, was unable to return from Oxford's Pembroke College despite repeated attempts to book a flight from London to her native Vietnam. Shimizu stayed in contact with Le on a regular basis throughout March and has continued to check in frequently (Le was finally able to travel home to Vietnam in early June).
That continued support from Shimizu mirrors the cooperation between IWU officials and others helping coordinate student travel during the coronavirus outbreak. From Shimizu working with airlines and travel companies, to IWU International Student and Scholar Advisor Robyn Walter communicating with international students, to Director of Government and Community Relations Carl Teichman '80 working with government officials to navigate travel restrictions, the Illinois Wesleyan community came together at a time when the situation demanded it.
"Although I wish our students had been able to enjoy their full semester abroad, responding to COVID-19 has certainly made their time abroad both more memorable and more precious," Shimizu said. "Seeing the ways in which they initially fought to remain abroad, and then the calm and competency with which they managed their return, has been a gift.
"IWU students are resilient, and I know that each one of them looks forward to the day when they can again explore the world."