Innovative Dreams
Boundless curiosity and deeply rooted motivation inspired a groundbreaking medical device and served as a springboard to a career in medicine for Niyant Vora '19.
Story by Matt Wing
Ask Niyant Vora '19 what he's working on and you may have to answer a question first.
How much time do you have?
The recent Illinois Wesleyan graduate spent the past four years on campus immersed in wide-ranging studies and activities. Biology labs in CNS. German classes in State Farm Hall. Evenings at the Mark Evans Observatory. Weekends volunteering at OSF St. Joseph Medical Center.
Free time? The few remaining moments of the past four years were spent pursuing other interests. Classical music. Bollywood movies. Karate classes. Harry Potter books. Playing the ukulele.
Oh, and developing a prototype for a device that could revolutionize sleep study.
And perhaps more.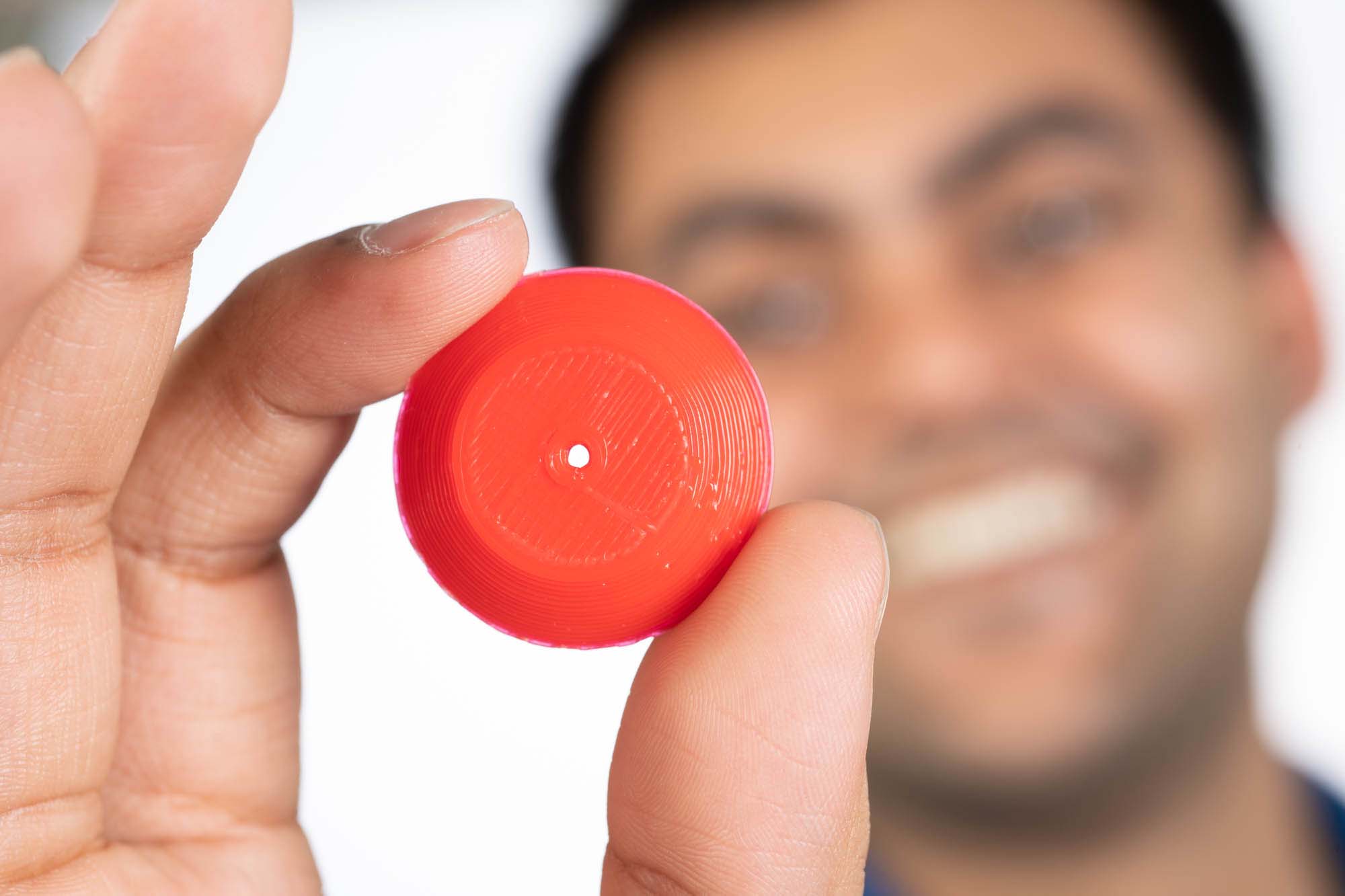 With the aid of IWU Associate Professor and Chair of Physics Thushara Perera, who agreed to serve as his adviser, Vora has developed, and continues to refine, a new system that will allow for testing of sleep disorders previously undiagnosable by standard studies.
And, in developing the device, he's discovered a multitude of additional uses extending far beyond the realm of sleep study. With further refinement, the device could be capable of performing other electrodiagnostic tests, such as an electrocardiogram, that rely on the transmission of data through electrodes.
And while the initial aim of the project was to improve study of sleep disorders like narcolepsy and sleepwalking, Vora's device could now diagnose maladies ranging from heart arrhythmia to neuromuscular diseases.
"I didn't set out intending for it to be like this, but it ended up being much more than what I had planned on," Vora said. "That's kind of the nice thing about researching new ideas and pursuing projects.
"Sometimes they surprise you and they're way, way more than what you thought they could ever be."
•••
The curiosity that helped spawn Vora's creation is one of the foremost qualities he displayed as an Illinois Wesleyan student.
"He was the guy who stayed after class and asked questions about things and tried to make connections," Perera said. "One of Niyant's biology professors said he would stay and ask a question or two after every class, and they were about things he had learned in German class or in his physics class. He was trying to make those connections."
Vora's thirst for knowledge extended far beyond his declared field of study. A biology major in IWU's pre-medicine program, he dabbled in other disciplines, picking and choosing courses he found most interesting.
Vora chose to attend IWU, in part, for the freedom students have to discover their interests, and for the type of learning that takes place on the campus of a liberal arts school.
"He goes from one thing to the other to the other, purely out of interest," Perera said. "He's a very high-level example of what can happen at a liberal arts college."
But Vora's curiosity in the world around him was born long before his arrival at Illinois Wesleyan.
He credits his parents for never limiting his persistent questions; rather, they encouraged his inquisitive nature. They provided him with educational toys, like an electronics kit. They took him to the library, where he filled his backpack with books on topics ranging from history to music to science fiction.
Born in India but raised mostly in Bloomington-Normal, Vora also credits his many teachers for helping shape him. A late talker who did not speak conversationally until he was two-and-a-half years old, Vora had only started to string together sentences by the time he entered preschool in India.
And his teachers soon realized most of those sentences ended in questions marks.
"Curiosity is something intrinsic to my very being," Vora said. "Learning how things work, or why something happens or doesn't happen, is what I think life is all about."
Vora remembers his second-grade teacher indulging his request to study optics shortly after he received his first pair of eyeglasses. More recently, he was inspired by IWU Assistant Professor of Biology Tyler Schwend, who assigned Vora and his classmates a research project with the directive to, "run with it and be as creative as possible," Vora paraphrased.
"One thing I've loved about IWU is that professors have always been open to answering my questions," Vora said. "They don't just dismiss some of my more out-there ideas, but instead, they help ground them in realistic ideas and ventures that can be pursued to help eventually answer a larger question."
•••
Vora's curiosity in medicine and health was sparked by personal experience.
Early in his life, he lost a young cousin whose cystic fibrosis went misdiagnosed. His paternal grandfather suffered an array of health issues, including narcolepsy, before an untimely death.
Vora couldn't help but wonder if and how they could have received better care.
"I learned that a lot of Niyant's altruistic motivations come from the death of his grandfather and the death of his cousin," Perera said. "That affected him a lot, and I think that has shaped some of his interests."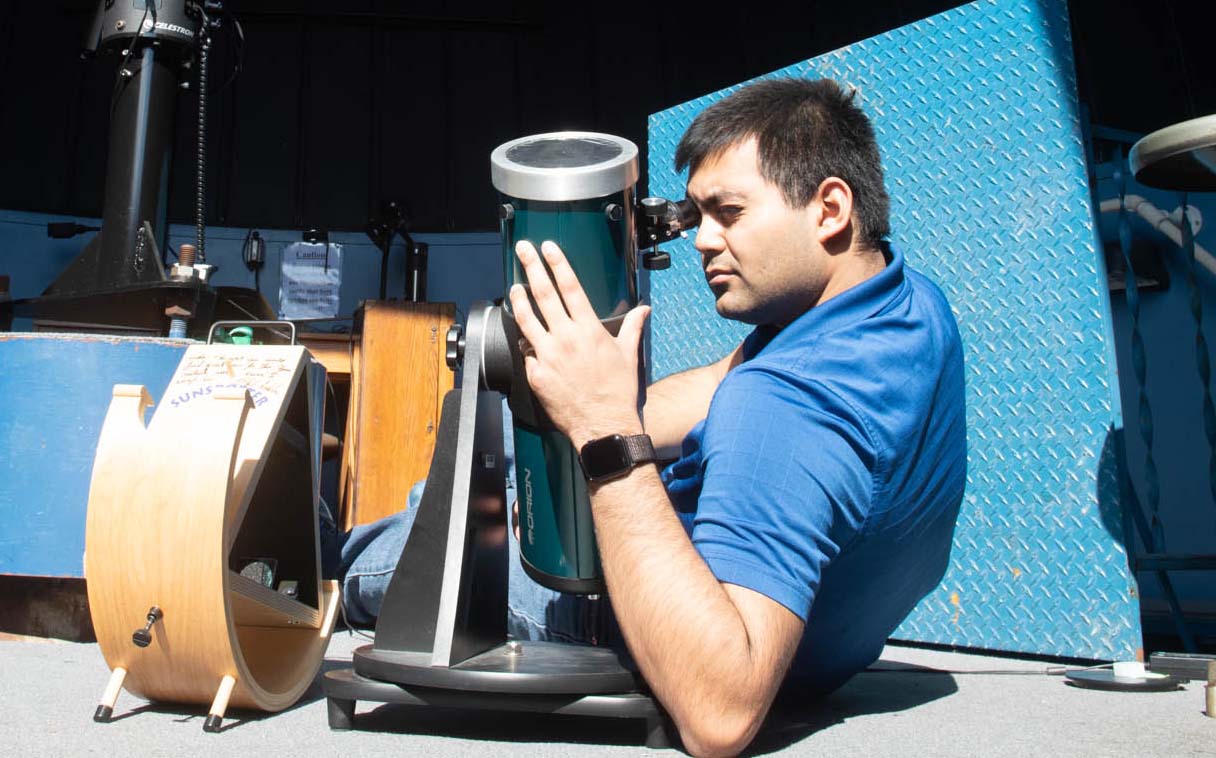 By the time Vora was ready to enroll at Illinois Wesleyan, he had decided to pursue a career in medicine, in large part to provide better care to patients in situations similar to those that took the lives of his beloved family members.
"It would have been helpful if we could have known what was actually going on (in those situations)," Vora said. "So I thought, 'Let me see if I can do something and maybe help someone else who might be struggling.'"
He called upon this motivation to initiate his design of an improved sleep study device, an innovation his late grandfather could have benefitted from.
Vora came to the realization that traditional sleep studies are fundamentally flawed in their inability to accurately measure a person's "normal" sleep pattern. Conducting studies in sleep centers (labs outfitted with beds and medical instrumentation to conduct studies) would provide skewed results, Vora hypothesized, due to the foreign environment in which the study was conducted. A clumsy system of wired electrodes only added to the challenge of replicating one's normal sleep environment, he reckoned.
Vora asked his classmates, his professors — anyone who would listen — and sought out professional opinions. They all agreed: sleep studies are flawed.
"That led me down this path that eventually led to me working with Dr. Perera, creating the electronics behind it, and then eventually crafting this device and beginning the patent process," Vora said.
His concept was simple enough: a device that would take readings from a patient and relay data to a receiver to collect and interpret results.
His idea would allow for an at-home sleep study with minimal interruption of one's normal sleep routine. And, in developing the device, he learned it could be used for much, much more. Vora's innovation would allow patients to perform complex medical procedures in the comfort of their own homes with relative ease.
But developing and advancing the device were anything but easy.
"I've been working to make this device a reality, and now — despite repeated failures — I have a working prototype," Vora wrote in his medical school application letter last spring. "Through my failures, I've learned that achieving my goals requires curiosity, resilience, and knowing when to get help from others."
•••
In his final semester at Illinois Wesleyan, Vora decided it was time to pitch his prototype.
He applied for Illinois Wesleyan's Entrepreneurial Fellowship, a $5,000 stipend awarded biannually to a student developing an entrepreneurial idea, funded by alumnus Mark Talluto '94.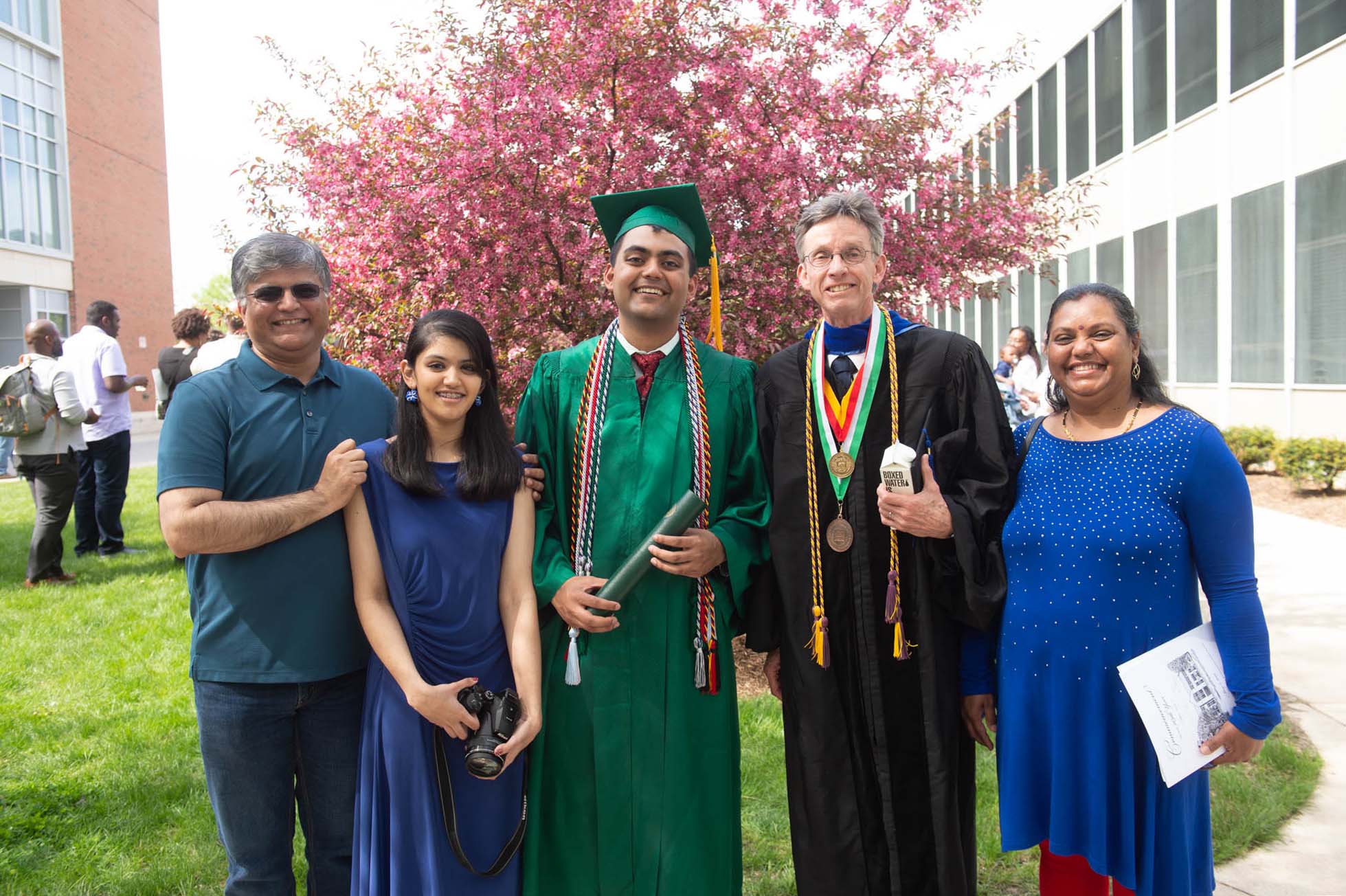 Vora's invention beat out a record number of entries to earn the prize money, which helped him retain a patent attorney who secured a provisional patent.
The good news kept coming. The next day, he was accepted into medical school. Vora will attend Southern Illinois University School of Medicine in the fall.
A celebration was in order. "I went to Olive Garden with my family," Vora said, cracking a smile. "Then I had spring break to relax."
But the break was a short, rare pause for Vora. Driven by curiosity, he has been immersed in wildly varying interests — both in the classroom and out.
And that's something that could benefit him in his medical career.
"They have started to value that more in doctors and in the field of medicine," Perera said. "It can be a cookie-cutter profession, and the medical field has found that some of the innovators in the field are people who come from varied backgrounds."
Vora's varying interests have made it hard to pin down a specific career path. For now, he is most interested in neurosurgery, having job shadowed local neurosurgeon Dr. Ann Stroink '76, who also took a path from Illinois Wesleyan to SIU School of Medicine.
Yet Vora remains interested in all aspects of medicine and healthcare. He earned research honors in German for his study of the evolving cultural and linguistic context of mental illnesses during the 20th century; he also presented at TEDxIWU on how language affects our understanding of mental illness. He additionally earned research honors in psychology for his study of synesthesia, a neurological condition in which stimulation of one sense (e.g. hearing) leads to an automatic, involuntary experience in another (e.g. sight).
While limiting his scope is a challenge, his motivation doesn't falter.
His approach to treating patients has been shaped largely from his experience volunteering at a local hospital — where his tasks were as varied as his interests — as well as those early life experiences, when advanced healthcare may have made a difference.
"My best self demands empathy toward others but also asks for something more," Vora wrote in the conclusion to his med school application letter. "It asks me to take what I have learned from academia, volunteering, shadowing, and tutoring, and apply it all to improving the lives of others, in the best way I can: as a doctor."