Bringing Back the Barn
Story by Matt Wing
Guided by a voice only he can hear whispering the promise, "If you build it, he will come," Ray Kinsella dutifully constructs a baseball diamond in the middle of his Iowa cornfield.
Abby Reel '04 can relate to Kevin Costner's Field of Dreams protagonist.
She's needed equivalent faith. Maybe more.
A self-described "mom-preneur," Reel has worked in various roles in higher education, operated a successful wedding planning business on the side and played an active role in her community — all while raising a family. She moves fast, talks faster, and just watching her can induce fatigue, though she seems impervious to it.
But Reel's latest endeavor is perhaps her most daunting challenge yet.
Only weeks after Mary Simon, the longtime owner and operator of The Barn II Dinner Theatre in Goodfield, Illinois, announced in 2017 her acting troupe would cease performing in the absence of a permanent home, Reel approached Simon with an idea. Reel proposed a revitalization of The Barn, which had sat empty for nearly two years after storm damage rendered it unsafe. Reel wanted to restore the building to its former glory, while also modernizing and upgrading amenities.
A revival of dinner theatre was the foundation of Reel's vision. But she saw The Barn and the adjoining property as much more. She envisioned The Barn playing host to weddings and proms and high school reunions. She saw an opportunity to utilize a smaller, adjacent barn as a fitness space. A pre-Civil War brick house where Abraham Lincoln once slumbered could be used as part bridal suite, part Airbnb.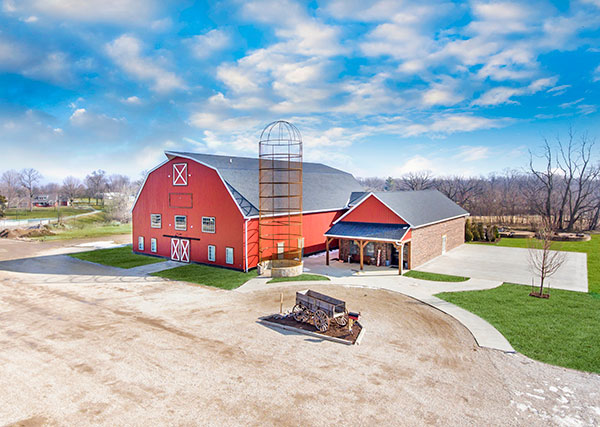 A year-and-a-half later, The Barn III Dinner Theatre and Events Center reopened its doors to a sold-out crowd for Death By Golf, the show Simon had been rehearsing with her Conklin Players when the August 2015 storm crippled the "old Barn."
"The goal of The Barn rebuild was simple: to create a space for community, events and entertainment," Reel explained. "I wanted a space where people gather, memories are made and change occurs."
The Barn III will host seven Conklin Players productions during its "Back to The Barn" 2019 season, including fan-favorite Christmas and New Year's Eve shows. Fitness classes began at The Studio @ The Shed in 2018. The Barn will host its first prom and high school reunion in April. The venue's first wedding is slated for the first Saturday of May.
"I cannot wait to host our first newlyweds and play a part in the beginning of their story," Reel said. "And we're eager to continue the legacy of local dinner theatre by keeping the performing arts alive in a central Illinois cornfield."
•••
Les and Carolyn Reel greeted the guests at their wedding reception, cut the cake and performed the obligatory dances before excusing themselves for the evening.
They had somewhere else to be.
The Reels would spend the final hours of 1979 at Conklin's Barn Dinner Theatre. Dedicated supporters of "The Barn," Les and Carolyn had no intention of missing the annual New Year's Eve performance.
The Reels were regulars at The Barn. They valued a place where locals could get away while never really leaving home. They first brought their daughter at the age of 5. When Les introduced Abby to co-owner and star of Barn productions Mary Simon, he did so by presenting her as "the next Mary Simon."
Like her parents, Abby Reel was a member of The Barn family.
Reel later joined the staff at the popular dinner theatre. She bused tables before a promotion to the wait staff. Then, after proving her hardy work ethic — as all Barn employees were required to do before stepping on stage — she earned a role in a production of Little Mary Sunshine during her senior year of high school.
"You had to prove that you were good with people, knew how to work hard, wait on tables and interact positively with customers," Reel said. "Only then would you be considered for a show."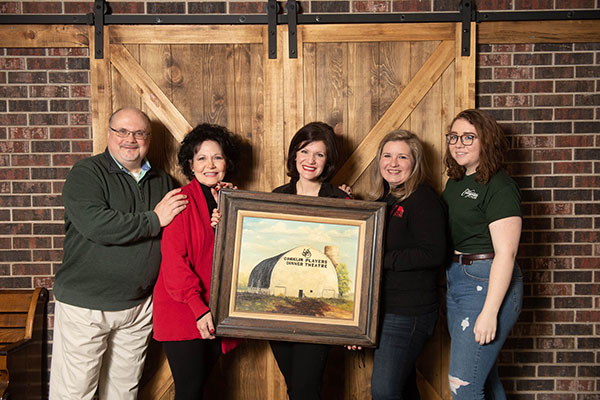 Reel stayed on staff through her college years. She remained a member of the dinner theatre family. So did her parents.
Les and Carolyn were all about family and community, and that was never more apparent than in their operation of the Reel Livestock Center, the livestock auction market they opened in a barn in 1995, just a five-minute drive from The Barn, a retreat to which Les and Carolyn often took their employees and customers.
The bulk of the Reels' business came from the sale of cattle and hogs. But there was a family-style restaurant on site, a "kiddie corral" above the sale ring, and a craft room for kids. There was something for everyone.
That desire to foster a community was important then to Les and Carolyn Reel.
And it's important now to their daughter.
"They owned and operated their business that way. Customers weren't customers — they were friends and they were family," Abby Reel said. "And that's a part of The Barn Dinner Theatre that so many have been attracted to. You feel like a cherished family member or dear friend every time you walk in the door.
"The feeling of community and family is a huge reason for me to get behind this, both personally and professionally."
•••
The Barn started as a family business. Chaunce Conklin '51 and Mary Simon opened the converted Angus cattle barn as a dinner theatre in 1975.
The staff became extended family. This was especially true of the Conklin Players, the theatre's full-time acting troupe, whose members had the rare opportunity to earn a living as working actors in a rural Illinois village of less than 1,000 residents.
Conklin's Illinois Wesleyan connections — he taught theatre and dance at IWU for 13 years — meant Titans often performed onstage. Many more became audience regulars. A community was born.
The Barn has served as the community's home ever since. The seats were usually full, even if the cash register wasn't. The only interruption in the theatre's 40-year run came in 1994, when Conklin and Simon moved shows to Missouri and Florida during bankruptcy and foreclosure proceedings. They were back within a year and performing in the same space, only with a new name: The Barn II Dinner Theatre (having declared bankruptcy, Conklin's name could no longer be on the building).
Their audience returned, too.
"We love our faithful patrons," said Pat Gaik '87, a member of the Conklin Players and The Barn's marketing director for the past 20 years. "We're friends on Facebook. We go to each other's weddings. We go to funerals."
So when a wet microburst and a mesocyclone converged on the southwest corner of The Barn and inflicted irreparable damage almost four years ago — Simon explains the phenomenon with a meteorologist's vocabulary — it was like losing the family home.
"It's been my life, my home," said April Bieschke '06, who has served in a variety of roles at The Barn over the past 13 years. "I'm here just as often as I'm at my real home, so it was like losing a very dear family member."
Simon tried to hold things together. She found a temporary home for her troupe at Five Points Washington, a community center in nearby Washington, Illinois, but found it unsustainable. An ongoing fight with her insurance company over storm damage claims had no end in sight.
She broke the news to the troupe they would cease performing at the end of 2017.
Claire Challacombe '20, an IWU student whose parents are longtime members of the Conklin Players, remembers hearing the devastating news. She had grown up at The Barn. Her father was performing on stage when her mother went into labor.
"When The Barn closed, it really took a toll on our family," she said. "Not only did we lose our financial stability, we lost a home."
•••
Hearing the news wasn't easy for those who had poured years of their lives into the company and depended on a paycheck.
The Conklin Players collectively looked to Mary Simon with sad eyes, wondering what was next.
"I told them something would happen," Simon recalls. "And then Abby showed up two weeks later."
Abby Reel met with Simon in June 2017 to explore what options she'd consider. It didn't take Simon long to see Reel's vision. "Abby is a force of nature" said Simon. "I've had my doubts along the way, but I'm all in now."
Reel says the opportunity presented itself at a time she was least expecting it. She acknowledges neighbor and fellow alum Mary (Wier) Stapel '04, and her husband Jonathon, for providing inspiration to begin the project.
"They saw the brick house for sale and thought it had potential as a wedding venue," Reel recalled. "They knew I had experience in the wedding industry and wanted to know my thoughts. When I realized the property was right next door to the old Barn, my mind exploded with ideas of reuniting the two parcels and cross-purposing The Barn for both dinner theatre and weddings.
"I will forever be grateful to Jon and Mary for looping me in."
But Simon would only sell to Reel. "I made it clear Abby was the only one I'd pursue this project with," Simon said. "If anyone could get it done and make a home for the Conklin Players, she could."
That was easier said than done.
Reel first brought in a contractor and architect to assess the property. It was determined a rebuild would be more affordable than a restoration, at which point Reel began fundraising and financing a project that came in at an estimated $1.5 million. Finding a lender who could see her vision was perhaps the most difficult part.
Other challenges were met head-on. A dry village for over 100 years, Goodfield's ban on alcohol sales had blocked a potential revenue stream for Conklin and Simon in The Barn's first 40 years of operation. They were thrice unsuccessful in attempts to repeal the ban and were resigned to operate their establishment with BYOB rules.
But that didn't stop Reel from trying again. By encouraging citizens of Goodfield to petition and advocate for the repeal — residing in neighboring Congerville, Illinois, she couldn't cast a vote or be directly involved in campaigning — a ballot measure passed in November 2018 by a nearly 2-to-1 margin, overturning the century-old ban and allowing permitted business, including The Barn III, to sell alcohol.
The change was symbolic of the many hurdles negotiated by Reel during the rebuilding and reopening of The Barn.
"It's only her fortitude and courage that got us this far," said Simon. "Abby has pushed through obstacle after obstacle, and it's only because she is determined to pull this off that we are still here."
•••
Early on, when the idea of purchasing and rebuilding The Barn was only an idea, Abby Reel sat in her son's nursery contemplating her ability to pull it off.
Her thoughts ping-ponged back and forth between confidence and doubt.
That's when she heard a voice.
This was her Field of Dreams moment.
"All of a sudden, it felt like my dad filled the room," Reel remembers. "His voice filled my mind and he said, Abby Reel — you know better! You can do this!"
That's when the decision was made. Reel approached Mary Simon shortly thereafter and set in motion an undertaking emphasizing community — something for which her late father would have been proud — and in doing so, she reunited the community at the start of it all.
Simon now has a new Barn home and comfort in the fact her beloved Conklin Players have a stage to perform on.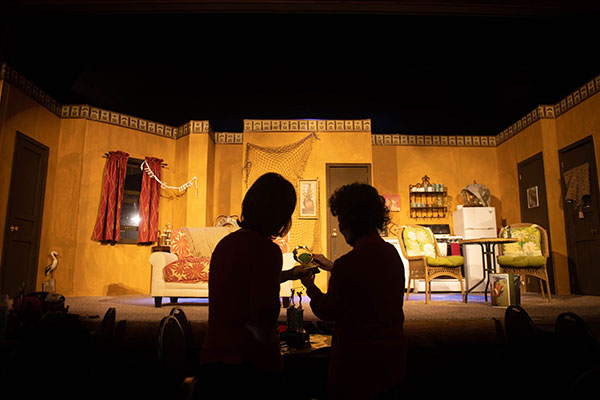 Pat Gaik is back home on stage, too, and his hands are full now marketing not only Barn III productions, but much more.
April Bieschke is back at her second home as Jill of all Trades. In addition to her roles as set designer and technical director, she's now the bar manager. She also performed in Death By Golf, the first show performed in the "new Barn."
Claire Challacombe and her family are also back home. Claire's parents, members of the Conklin Players, will soon be back on stage, and her mom is now an instructor at the Studio @ The Shed. Claire will bus and wait tables at The Barn as her Illinois Wesleyan schedule allows. Perhaps she'll find her way on stage before long. But, as per Barn rules, she'll have to prove herself first.
Abby Reel has a new home, too, with doors she can open to a loyal community of fans, friends and family. Maintaining a long-running tradition, she and Simon greet and show guests to their tables every night.
And there are many, many folks to greet.
The Barn III sold out on its opening night on Feb. 7, 2019. Over 6,000 tickets for the 2019 season had been sold before the doors even opened that night. Twenty weddings, four class reunions, three high school proms and countless other events had been booked.
"I feel like we've created a business plan here that will work," Reel said. "My goal is to see dinner theatre — and this culture of community — thrive..."
"... right here in the middle of a cornfield."