Leap of Faith
A breakthrough moment inspired Lisa Mishra '15 to put her career on hold and pursue a future in music
Story by Matt Wing
Lisa Mishra '15 went to bed on May 19 a data analyst with a budding part-time music career.
She woke up an internet sensation.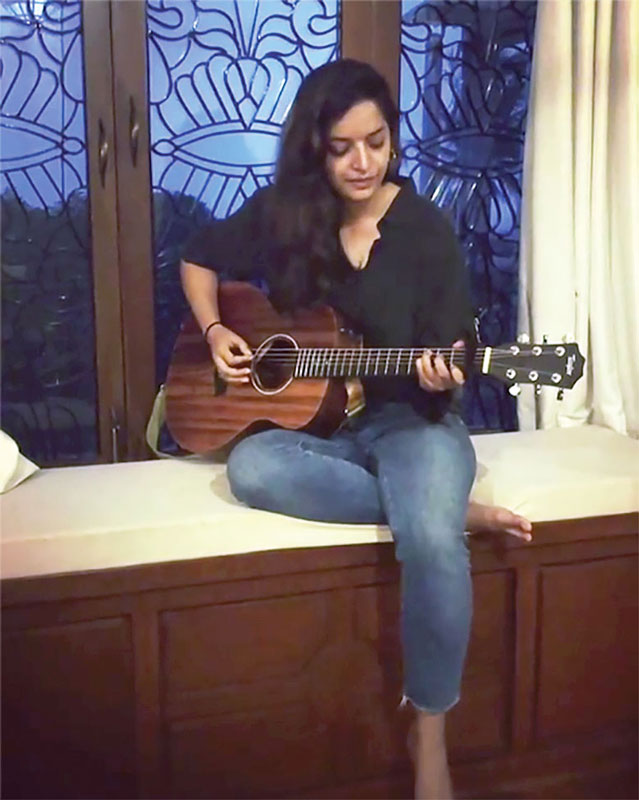 After posting a mashup of two popular songs to her Instagram account late that Saturday night, Mishra awoke to internet fame. Her post had been liked and shared by thousands while she slept. Fans helped spread the video to other social media platforms.
The mashup of "Tareefan," from the soundtrack of the Bollywood movie Veere Di Wedding (translates to Friend's Wedding), and "Let Me Love You," by DJ Snake, featuring Justin Bieber, caught the attention of many, including Sonam Kapoor, one of the stars of Veere Di Wedding . Kapoor shared Mishra's 55-second video with her nearly 15 million Instagram followers, introducing the Illinois Wesleyan alum to an audience equal to the population of the fifth-largest city in the world.
Born in India and raised in Chicago, Mishra's blending of a song from a hit Bollywood movie and a popular American dance track – featuring lyrics in both English and Hindi – was a fusion befitting a bicultural artist.
"Internet virality is such an interesting thing," Mishra says nearly four months later. "And I was not prepared for it."
But "the most bizarre week" of Mishra's life was just beginning.
She was soon inundated with a flood of comments and requests on social media. Foremost among them was a request from Rhea Kapoor, sister of Sonam Kapoor and the producer of Veere Di Wedding .
"How soon can you be in Mumbai?" she asked.
Two days later, Mishra was in a Mumbai recording studio alongside the stars of Veere Di Wedding, including Sonam and Rhea Kapoor, for the recording of the official music video of Mishra's mashup "Tareefan Reprise."
The two-day shoot produced a video that was viewed two million times in its first week – and nearly 10 million times to date – and quickly climbed the popular music charts in India, eventually making its way into the top five.
Within a week of her initial Instagram post, Mishra was back at her desk in Chicago when she was contacted by Rhea Kapoor, with whom she had recorded "Tareefan Reprise" just a few days before.
"I don't think you can work your desk job anymore," Kapoor told Mishra.
•••
Lisa Mishra made her way to Illinois Wesleyan not to major in music, but to pursue a double major in economics and religion.
Like many IWU students, she immersed herself in campus life. She was active in Student Senate and religious life. When Illinois Wesleyan Chaplain Elyse Nelson Winger, then in her second year at IWU, launched the Multifaith Ambassadors Program during the 2012-13 academic year, Mishra was one of the first to apply.
"I'm really grateful she walked through my door because she was the kind of leader that I needed to work with in order to build the program that I was dreaming could be built," Winger said. "There were a couple students like that, who were open to learning, who were energized by doing something new, and who were really ready to bring it."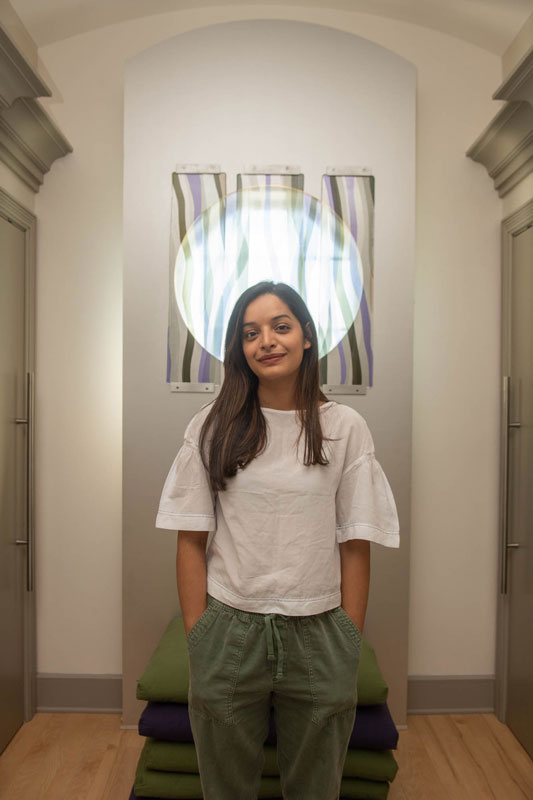 Mishra spent the next summer studying interfaith prayer spaces on college campuses, supported by a Mellon Foundation grant, and helped lead a remodel and relaunch of IWU's Multifaith Meditation Room. She was also selected for a coveted internship with Harvard University's Pluralism Project, providing ethnographic research about Bloomington-Normal's Hindu community.
"She was someone who was really excited to learn and be a part of interfaith engagement," Winger remembered. "And she was someone who was also deeply informed and committed to her own tradition, having grown up in a Hindu family, so she brought a lot of religious knowledge and literacy to our group."
Mishra also brought her musicality to the group. She shared her talents with the Multifaith Ambassador program at events like "Light the Night," an on-campus multicultural holiday celebration.
But her musical talent was most on display at Undercover, Illinois Wesleyan's biannual live music competition, sponsored by the Office of Student Activities and Leadership Programs.
"Before that, I had never done a show or anything like that by myself – it was always in a musical or in a choir ensemble," said Mishra, who competed in Undercover a total of five times, with one win and two runner-up finishes. "I had never performed solo until college, and that was because of Undercover."
Mishra gained some of her first fans from those performances.
"I've always been a fan," Winger said, smiling widely. "And I'm just excited to see what happens next for her."
Mishra said her Illinois Wesleyan experience helped prepare her for the journey she is on now.
"It's not a surprise to me that I was allowed to pursue so many different interests and still be able to connect all the dots," she said. "I think that's the purpose and the benefit of a liberal arts education, being able to make those linkages and have that global understanding."
•••
With the blessing of her parents, Lisa Mishra posted her first YouTube video in 2007, at the age of 13.
"I grew up singing," said Mishra, who performed an a capella version of Miley Cyrus' "See You Again" in that first YouTube post. "I never got training for it. It was just something I really liked doing, and my parents were really great about not interfering with that interest. They sort of just said, 'If you like it, then keep doing it.'"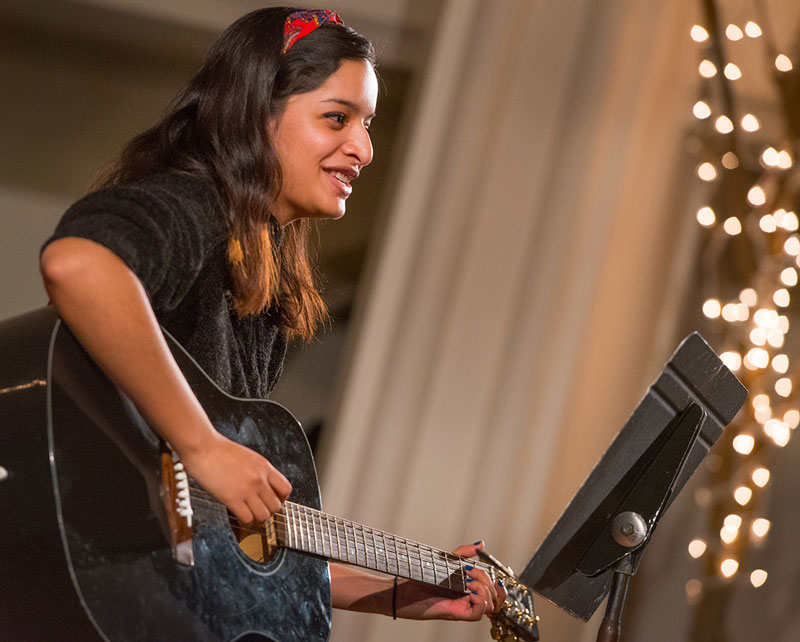 And while they encouraged their daughter to sing, they demanded she – and all of their children – maintain a connection to Indian culture. The only language spoken in the Mishra home was Odia (one of India's many official languages), even after the family's immigration to the United States when Mishra was 6 years old.
"The culture and tradition of being Indian is very alive and well in our home," she said. "And I think that has been super necessary for me to be able to do any of this."
Though she had built a modest following through posting videos of popular English covers, Mishra eventually tried her hand at a Hindi cover. Her 2014 rendition of "Kabira" from the Yeh Jawaani Hai Deewani soundtrack quickly became her most popular post to that point (it currently has over 1.3 million views).
"That's really the one that took off and launched this new career," Mishra said. "I recorded it in my dorm room and started posting these much more regularly because it just started gaining a lot of traction."
Though she's built a sizeable following in Bollywood, where the cinema and music industries are much more connected than they are in American culture, Mishra has had plenty of success domestically.
The first time she was in a real recording studio came when she contributed to Chance the Rapper's 2016 Grammy Award-winning album Coloring Book . Mishra has also worked with DJ Khaled and Big Sean, among others.
And as her fan base grows, Mishra's English-speaking fans are discovering her Hindi covers, while her Hindi-speaking fans happen upon her English covers. And both audiences are connecting to the mashups like "Tareefan Reprise," with lyrics in both English and Hindi.
"There's nothing greater than seeing two sides of the world combine," Mishra said. "Having an Indian audience engaged in American music and an American audience engaged in Indian music is an interesting flip that I didn't expect."
•••
Lisa Mishra took that advice from Rhea Kapoor.
Well, mostly.
Mishra won't say that she's fully quit her day job, but rather that she's "scaled back" to something more flexible to better suit her music schedule.
Taking that leap of faith wasn't easy.
"The packaging of the American Dream for a lot of immigrants is stability, and being an immigrant myself, and with music being such an unstable path, this just never seemed within my reach," Mishra said. "I've done it to capacities that I felt were allowable, but never went any further, but then this thing happened and it's kind of this moment where I don't really get to say no anymore."
She recently signed on for a slate of performances in India, beginning in October 2018, with three or four performances scheduled each month for the next several months.
Performing in front of live audiences will be a departure for an internet sensation whose fans are only accustomed to seeing her on a screen. In another development, she's focused on writing original music to supplement her vast and wide-ranging catalogue of covers.
"My next step is getting comfortable being on the stage," Mishra said. "I have a certain amount of comfort with public speaking or being a public-facing person, but not nearly to the extent that this career demands of me, so I really have to get familiar with performing for an audience without being nervous."
The trepidation Mishra feels in anticipation of a major career change is soothed, however, by a wide network of support, including family and friends, that has encouraged her throughout her musical journey.
"What's lost in all this is the amount of support the people directly involved in my life are giving me," Mishra said. "And I would not be anywhere without my parents telling me to never stop singing, to never stop making music."
Another source of confidence comes from her Illinois Wesleyan experience. Being a leader, performing alone on stage and taking creative risks were all things she learned to do during her time on campus.
"My music is interestingly pretty much a direct reflection of my time at Wesleyan," Mishra said. "I got to experience a bunch of things and I get to put that into the music I make now."