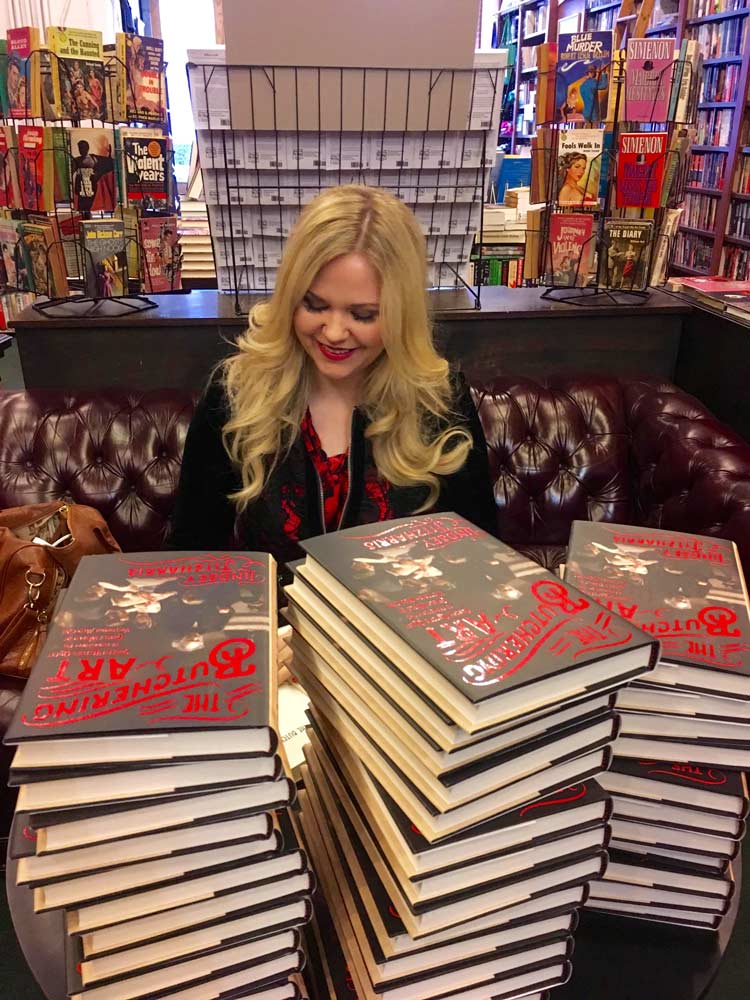 Resurrecting History
By Matt Wing
The most common biographical detail known about Joseph Lister, a majority of the general public will tell you, is that he is the inventor of a popular mouthwash that promises to "kill germs that cause bad breath."
But they would be wrong.
Though he inspired St. Louis-based doctor Joseph Lawrence to develop Listerine in 1879, the namesake of the product had nothing to do with its conception beyond providing the light-bulb moment for Lawrence.
Dr. Lindsey Fitzharris '04 has told Listerine's origin story more times than she can count. The preeminent Lister scholar and author of the critically acclaimed biography The Butchering Art: Joseph Lister's Quest to Transform the Grisly World of Victorian Medicine , Fitzharris addressed the misconception in her acceptance speech after winning the PEN America/E.O. Wilson Prize for Literary Science Writing for The Butchering Art in February.
"Most people only know Lister's name because of the product Listerine, which incidentally he didn't create. It was named for him, but not by him," Fitzharris explained to the audience at NYU's Skirball Center. "And it wasn't even used as a mouthwash in the 19th century. It was more commonly used as a treatment for gonorrhea ."
The surprising detail punctuating Fitzharris' explanation, which drew a chorus of laughter from the audience, was characteristic of her style. Whether the audience is readers of her book or her highly popular blog The Chirurgeon's Apprentice , viewers of her YouTube series Under the Knife , or her thousands of followers on social media, Fitzharris delivers historical accounts in graphic-but-not-too-graphic detail, driven by suspense and often lightened by humor.
"You hear the phrase 'It's a real page turner,' and her book is certainly that. She has a gripping narrative style," said Robert W. Harrington Professor of History Dr. Michael B. Young, who taught Fitzharris during her time as a student at Illinois Wesleyan and has stayed in touch with his former pupil since her graduation in 2004. "She creates suspense, and you keep reading to find out what is going to happen next."
While she's quickly earning status as a respected historian, Fitzharris considers herself first and foremost a storyteller. It's a career that her mentor Young is not surprised she has thrived in, when he considers the most prominent talent she exhibited as a student.
"What do I remember about her the best? She was one hell of a talker. A terrific talker. She could talk your ear off," Young said, smiling widely. "And she's made a career out of it. She's turned that talent into a profession."
---
How does one develop an interest in medical history that some might politely describe as unique, but others might classify as morbid?
Time spent with her grandmother as a child served as the beginning. Whether she was dragging her grandmother to the cemetery to "hunt ghosts" or poking around the dusty relics cluttering her grandmother's attic, Fitzharris developed an interest in people and things from the past.
"Some people think I was obsessed with death, but actually I was fascinated by the people who lived and died in the past," she said. "I think it's safe to say that I was on the path to becoming a historian from an early age."
That interest in history persisted throughout her schooling, and a quest for knowledge translated to high marks in the classroom for the young Fitzharris. The suburban Chicago native (she grew up in the northwest village of Mount Prospect) had been accepted to the University of
Illinois and was fully prepared to make the trip downstate to continue her education in Champaign-Urbana.
But a campus visit to Illinois Wesleyan late in her senior year of high school changed things. "I instantly fell in love with the campus and the small classrooms," Fitzharris remembers. "I knew IWU was the right place for me."
Fitzharris was intent on earning a degree in political science in preparation for law school – she graduated from IWU just one credit short of a political science major – but her academic interests changed, after inspiration came in the form of a study abroad experience and an inspirational professor.
Fitzharris spent her junior year studying at Oxford University in England as part of the Institute for Study Abroad-Butler program. Immersion in the academic culture at the oldest English-speaking university in the world aroused within Fitzharris that same interest in the past she harbored as a child.
And so did that professor.
As a first-year student at IWU, Fitzharris enrolled in Young's course on the Enlightenment, despite repeated warnings from her peers that it would be difficult and that Young was one of the toughest professors on campus.
"But it was the best decision I ever made," Fitzharris said. "Dr. Young introduced me to the history of science and ideas, and mentored me through my undergrad degree and beyond."
Fitzharris graduated at the top of her class with a history major and political science minor. Her honors thesis, Magic, Mysticism and Modern Medicine: The Influence of Alchemy on Seventeenth-Century England , served as what would now be called a Signature Experience, a comprehensive project representative of one's entire academic experience. Fitzharris' capstone project at IWU showcased her proficiency in research. Her thesis cited 14 primary and 25 secondary sources, and included 79 footnotes.
"What I remember most about that was what little work it required on my part," Young stated. "It's unusual to have an undergraduate student who goes to the sources and finds questions in them. That's one of the hardest things to teach a history student as an undergraduate, to notice what the good questions are, to think of what the interesting angles are to take, and she found the interesting questions and the interesting angles.
"And when she'd come in to talk to me about her research, I just sat back and listened."
Though he often needed only to lend an ear to the "terrific talker" Fitzharris, Young's guidance ultimately had a profound impact.
"By far, the biggest influence on my career was and is Dr. Michael B. Young," Fitzharris said.
---
Fitzharris returned to Oxford in 2004 after earning an undergraduate degree at Illinois Wesleyan. She earned master's and doctoral degrees from one of the world's most prestigious institutions of higher learning. She received funding from the Wellcome Trust to conduct postdoctoral research.
But during her postdoc at University College London, Fitzharris began to feel burned out.
"I wanted to fall back in love with history," she said. "I wanted to get back to the stuff that really excited me as a child."
Fitzharris' blog The Chirurgeon's Apprentice was born from that desire to fall in love again. An outlet to flex her creative muscles and share her interests as a hobby, the blog's readership soon surpassed what she thought possible.
"Before I knew it, I was dedicating most of my time to public engagement," Fitzharris said. "I realized then that an academic career was not for me."
Other mediums have been utilized to reach wider audiences more recently. Her YouTube series Under the Knife has over 27,000 subscribers, and its episodes have been viewed more than a half-million times.
Equal parts history and humor, Fitzharris tells the stories behind primitive medical practices and products from bygone eras: dentures made from the teeth of executed criminals, the unusual embalming and burial of Abraham Lincoln, and – in the most-viewed episode to date – Victorian anti-masturbation devices.
Fitzharris was also an early adopter of social media, where she reaches a global audience at the speed of a few keystrokes. Her website (www.drlindseyfitzharris.com) states she is a "purveyor of gruesome artefacts" on Instagram, Twitter, Facebook and YouTube. Her social media accounts are peppered with bizarre snapshots of medical history, updates on upcoming projects and cross promotion between her social media channels.
The versatile Fitzharris has additionally lent her talents to a number of wide-ranging publications ( The Guardian , The Lancet , New Scientist , Penthouse , Huffington Post and Medium ) and television networks (PBS, Channel 4, BBC and National Geographic).
"She's popular and well-liked and scholarly, all at the same time," Young said. "There are several celebrity historians in our profession – people who, whether they are academics or not, are read by more than just their colleagues. Sometimes they turn to not just writing popular books, but television or other media to draw attention to their work.
"And I think Lindsey is well on her way to becoming one of those celebrity historians."
---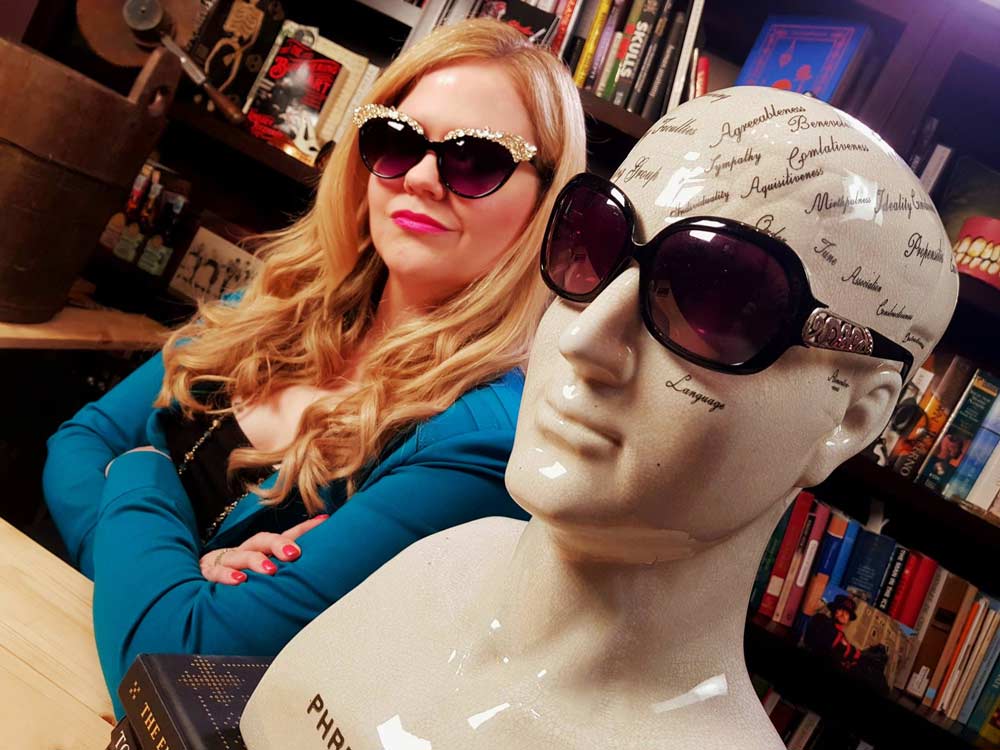 "Have there been failures?" Fitzharris asks, repeating a question. "Absolutely!"
For every success, every positive review, every like on social media, there are often a proportionate number of failures. The highs and lows associated with success and failure impact individuals in every profession, even historians. And problems in one's personal life can easily compound professional shortcomings.
Before her breakthrough moment came in the publishing of The Butchering Art , Fitzharris found herself at a low point.
"Several years ago, my ex-husband abruptly ended our 10-year relationship and disappeared," Fitzharris recalled. "As a result, I suddenly found myself facing deportation from a country I had called home for many years. My passport was confiscated, and I wasn't allowed to work while my immigration situation was being decided."
Fitzharris had called England home ever since she returned to pursue her master's at Oxford. The chances of her remaining in her adopted country seemed bleak and dependent on contentious legal proceedings.
"My ex-husband's lawyers painted a picture of me as a failed writer, which was easy to believe since I had no money, no job prospects, and no right to remain in my home," Fitzharris said. "During those eight excruciating months, I worked on a proposal."
Her proposal was a pitch to a publisher. A longtime admirer of the pioneering surgeon Joseph Lister, Fitzharris saw Lister as the hero in a story of a groundbreaking medical discovery that changed the way we live. Lister's ideas were considered radical, and he spent much of his life persuading people that it was germs that caused so many deaths following surgery.
The climate of skepticism and doubt he faced was overwhelming. But the visionary Lister persevered. He lived just long enough to see the concept of antiseptic surgery accepted by the medical community.
"My intention when I set out to write The Butchering Art was to ensure that Lister's name would become just as familiar to people as those of Sir Isaac Newton, Charles Darwin and Marie
Curie," Fitzharris said. "Lister revolutionized surgery and made safe procedures that had been perilous for centuries.
"I wanted to honor his legacy by writing this book."
---
Building a cult following can gain one a certain level of notoriety – fame even. But it seldom pays the bills.
The Butchering Art has paid some of those bills. And it's ushered Fitzharris into the mainstream.
The book sold out on Amazon's U.K. website within 24 hours of its initial release and has sold approximately 70,000 copies in the U.S. and U.K. in its first six months. That number is expected to jump when The Butchering Art is released in paperback on Oct. 2, 2018, and Fitzharris' publisher is expecting a bigger sales boost than usual for a nonfiction paperback. By the end of 2018, the book will have been released in Czech, German, Italian, Mandarin, Polish, Portuguese, Spanish and Russian language editions.
Fitzharris' story of a protagonist who overcomes odds and determinedly seeks to make the world a better place has resonated with the general public – even those who thought Lister was just a guy who invented mouthwash.
Fitzharris' ode to Lister has been hailed by critics. The Butchering Art was nominated for and won the PEN America/E.O. Wilson Prize for Literary Science Writing earlier this year, accompanied by a $10,000 award (IWU was well-represented at the awards ceremony, as fellow alum Dave Kindred '63 earned the PEN America/ESPN Lifetime Achievement Award for Literary Sports Writing). Fitzharris' debut book was also shortlisted for the Wellcome Book Prize and the Wolfson History Prize, recognizing outstanding works in the fields of medicine and history, respectively.
The Butchering Art has gained traction in general circles as well, outside the niche interests of science, medicine and history. Fitzharris dutifully promoted her work through her blog, web series and social media channels. She supported the book's October 2017 release with U.S. and U.K. book tours, during an appropriately macabre time of year; her promotional stop in Washington, D.C., near the end of her stateside tour, took place on Halloween.
Maintaining wide appeal, however, requires a delicate touch when the main action in your story is comprised of dissections, amputations, and even an instance of medical students mock dueling with severed arms and legs as their weapons of choice.
"By its nature, medical history can be gruesome. I don't feel that I'm doing the doctors and patients justice if I hold back from describing what it was really like in the past," Fitzharris said. "At the same time, I don't want to be insensitive, and it's always important to remember that these were real people."
Fitzharris also strikes a balance between academic and popular history writing. Her biography of Lister is scholarly in its examination of a historically relevant figure, yet it maintains a wide appeal because of Lister's underappreciated genius and his relatable struggle for acceptance.
"Some academics don't see a value in what I do, but the past doesn't belong to scholars alone. It belongs to everyone," Fitzharris said. "My hope is that I can bridge the gap between academia and popular history, and open up new and interesting subjects to a curious public. In order to do this, I have to find imaginative ways to engage non-specialists with medical history."
A Butchering Art has served as a breakthrough for Fitzharris. She says it's been "rewarding, but also very exhausting," as she's spent much of the past year traveling to promote her work.
Her professional and financial situations have improved as a result of the success but, ever the historian, Fitzharris is most proud of her work's achievement in "shining a light on Lister's legacy."
Fitzharris' personal life is better than ever, too. She never was deported and has continued to make her home in the English countryside. She recently married illustrator and cartoonist Adrian Teal in a ceremony at the Tower of London, a historically significant English landmark befitting the wedding of a historian. "It was magical," Fitzharris said.
And she and Teal are partners, both domestically and professionally. Before they were a couple, they collaborated on several projects, most notably The Hung & Drawn Quarterly, an illustrated comic strip drawn by Teal featuring gruesome stories told by Fitzharris and Chris Skaife (who possesses the very unique real-life title of The Ravenmaster at the Tower of London).
Teal also played a critical role in The Butchering Art , and Fitzharris expects him to continue contributing in much of her work moving forward.
"Before anything gets sent to my publisher, he is always the first to read and comment on my manuscript, and he's a fantastic editor," she said. "On a personal note, it's been wonderful being with someone who understands the pressures I face as a freelancer, since Adrian himself has been a freelance cartoonist for 21 years.
"He's incredibly talented, both as an artist and writer, and I hope we get to collaborate on more commercial projects in the future."
---
The Butchering Art has been on shelves for almost a year and Fitzharris is still on the publicity circuit. Another wave will come in October when it's released in paperback form.
More and more frequently, though, she's asked the burning question: What's next?
She's not entirely sure, but there are a few projects in the works. She recently traveled to Los Angeles to meet with interested parties to explore the possibility of adapting The Butchering Art into a feature film. "Hollywood is unpredictable, but I would be delighted to see this story come to life on the big screen," Fitzharris said.
She also recently announced the subject of her next book, which pays homage to another physician, like Lister, whose pioneering work addressed a widespread medical problem.
Harold Gillies, who united art and medicine to treat soldiers who had suffered horrific injuries in World War I, is known as the father of modern plastic surgery. Charged with treating soldiers injured during a time when technological advances in weaponry by far outpaced military tactics and medical capability, Gillies performed procedures that not only restored function, but also helped individuals reclaim their identities.
Gillies' work treating wounds from machine gun and mortar fire, and skin-piercing shrapnel, required first-of-their- kind surgeries in a field that has grown exponentially since its inception. The American Society of Plastic Surgeons estimates nearly 1.8 million cosmetic surgical procedures were performed last year domestically.
"Gillies was presented with the seemingly impossible task of reconstructing entire faces with no textbooks to guide him and no mentors to consult for advice," Fitzharris said. "Working closely with a team of artists, Gillies did not just strive to restore function to his patients, many of whom could not breathe, swallow, or eat efficiently because of the damage to their faces. He was determined to give them back their identities as well. His life-saving techniques are a testament to the true meaning and power of a field of medicine many view as superficial, or even frivolous.
"I've long been inspired by Gillies' work, and I hope my readers will find this story just as fascinating as I do."
---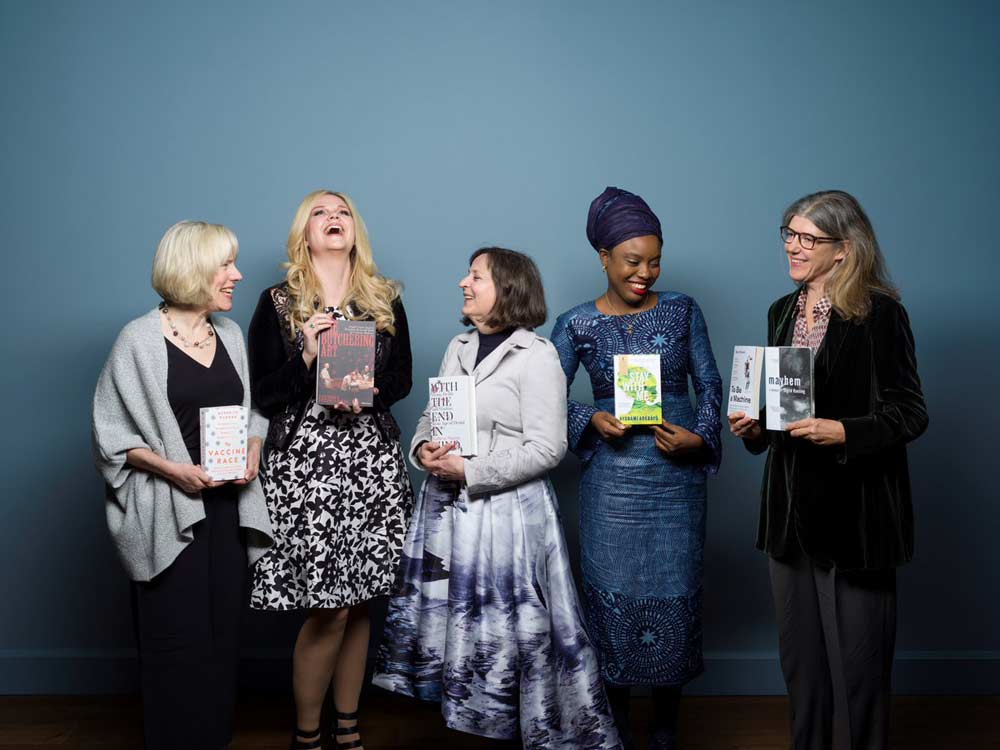 Even with a new book and a potential screen adaptation of her debut work being considered, new ideas continue to percolate within Fitzharris. As much as anyone else, Michael Young is curious what will come next from his former student.
The IWU professor, who will soon begin his 49th year of teaching, wishes he kept better tabs on his former students. He blames himself for not being as accessible as he could be; his aversion to Facebook has eliminated perhaps the easiest way for former students to reach out. He'll occasionally receive news from former students to prompt moments of nostalgia, but it doesn't happen as often as he'd like.
"It's gratifying to know how some of our students turned out, but I wish I knew more," he said.
Young remembers one particular student who had the very specific career aspiration of working for one of the premier auction houses.
"I've thought about her a lot lately," Young says. "Did she succeed? Is she at Sotheby's? Is she at Christie's? Did she make it to Leslie Hindman up in Chicago?"
Young isn't sure he'll ever know. He is sure, however, that he'll keep tabs on his former student Lindsey Fitzharris … and that it won't be too difficult to do so.
"I'll certainly be following her career, but I don't think it'll be much of a mystery. I think she'll pop up without me having to do much searching," Young said, smiling again. "I expect great things from her, and I hope this is just the beginning of a sterling career."