Posse Power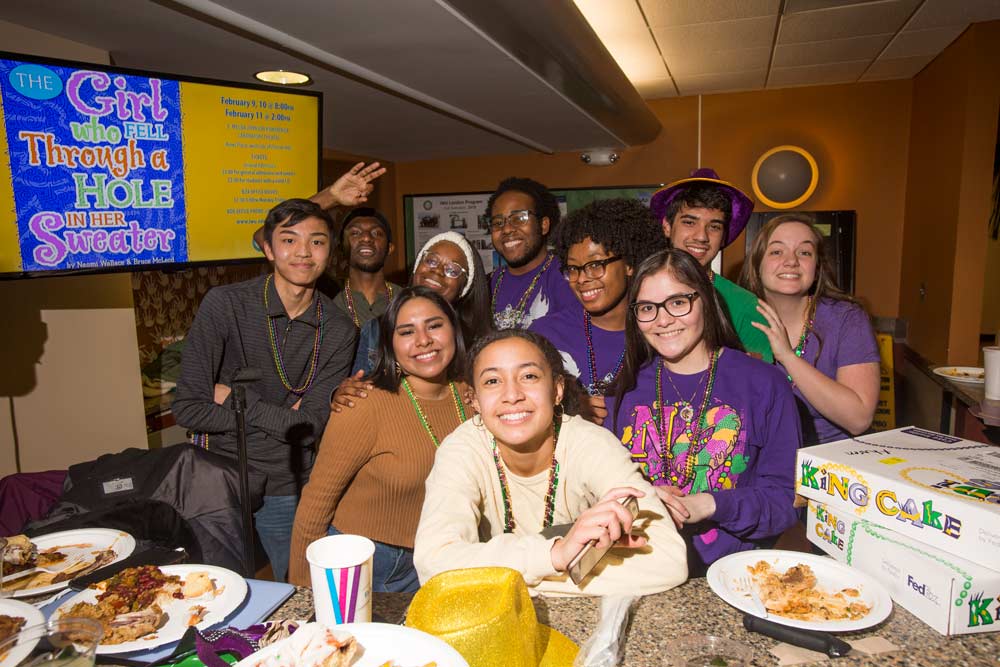 Story By Matt Wing
Illinois Wesleyan University's campus is 838 miles from Bourbon Street, but for some first-year college students from New Orleans, it might as well be the distance to the moon.
The culture. The climate. The food. It's all so different it can feel like another planet.
So when a student from the Big Easy seeks to blaze a trail toward a college education in an unfamiliar locale, it's helpful to have a friend or two – or 10 – sharing the experience.
That's the premise on which the Posse Foundation was established. The nonprofit organization identifies and recruits high school students with leadership potential from 10 U.S. metropolitan areas and matches groups of 10 students with its 56 partner colleges and universities.
Illinois Wesleyan became one of those schools when a partnership with the Posse Foundation was launched two years ago. Inspired by a student who said, "I never would have dropped out of college if I had my posse with me," the Posse Foundation found both its name and its purpose when it began in 1989.
The organization counts 8,480 scholars and alumni among its ranks. Each Posse Scholar earns a full-tuition scholarship to the institution with which he or she is paired. Partner colleges have awarded more than $1.2 billion in scholarships to date and, beyond the scholarship commitment, provide weekly faculty mentoring and other support.
Nationally, Posse Scholars graduate at a rate of 90 percent. Most are leaders on campus. Eighty percent of 2017 graduates were officers of a campus organization. One in five served as a student government president. Notable Posse alumni include the president of Ithaca College, the general manager of the NBA's Cleveland Cavaliers and the press secretary for Elizabeth Warren's 2018 reelection campaign.
Illinois Wesleyan announced in 2016 that it had signed on to partner with the Posse Foundation with initial funding provided by a five-year, $375,000 grant from the Tortora Sillcox Family Foundation. IWU was paired with Posse New Orleans, one of the newest Posse expansion sites, established in 2011 in the wake of Hurricane Katrina.
"Increasing access, diversity and our geographic reach are key goals that this new partnership with the Posse Foundation will help us accomplish," IWU President Eric Jensen said when announcing Illinois Wesleyan's affiliation with the Posse Foundation.
The partnership signaled a clear investment in recruiting students from a population unfamiliar with Illinois Wesleyan and providing access to traditionally underrepresented students.
"They represent the diversity that you would see in any group of people," IWU Vice President of Student Affairs and Dean of Students Karla Carney-Hall said of IWU's first class of Posse Scholars. "They are diverse in terms of race and ethnicity, in terms of personality, in terms of introverts and extroverts, in terms of majors and the things they're interested in, and in the ways they approach problem solving, with some landing on the creative side, and some more analytical, and then everyone in between.
"They represent that broad range."
The first cohort of Posse Scholars – known internally as Illinois Wesleyan Posse 1 – began their academic studies at IWU in the fall of 2017, but their path to Illinois Wesleyan started much earlier.
Thousands of nominated high school students compete for Posse Scholarships each year, and the Posse journey begins with the Dynamic Assessment Process, a three-part assessment that includes large-group and individual interviews, to identify future leaders who may have been missed by traditional admissions criteria but possess the qualities to thrive at a selective college or university.
Once selected as a Posse Scholar, students then undergo eight months of pre-collegiate training, beginning in January of their senior year of high school. Weekly workshops bring the Posse cohort together with staff trainers and focus in four areas: team-building, cross-cultural communication, leadership and academic excellence.
"It was to make sure we were aware of social things that happen on college campuses, to prepare us for college life in general and that shift from high school to college," said Que Jackson '21, a member of IWU's inaugural Posse cohort.
The bonds built between Posse members begin during the pre-collegiate training sessions. By the time the group arrived on IWU's campus in August, they were truly a "posse."
"Posse definitely knew what they were doing when they put us together," said Shaela Phillips '21. "I feel like all our personalities are all so different, but they mesh together in a beautiful way."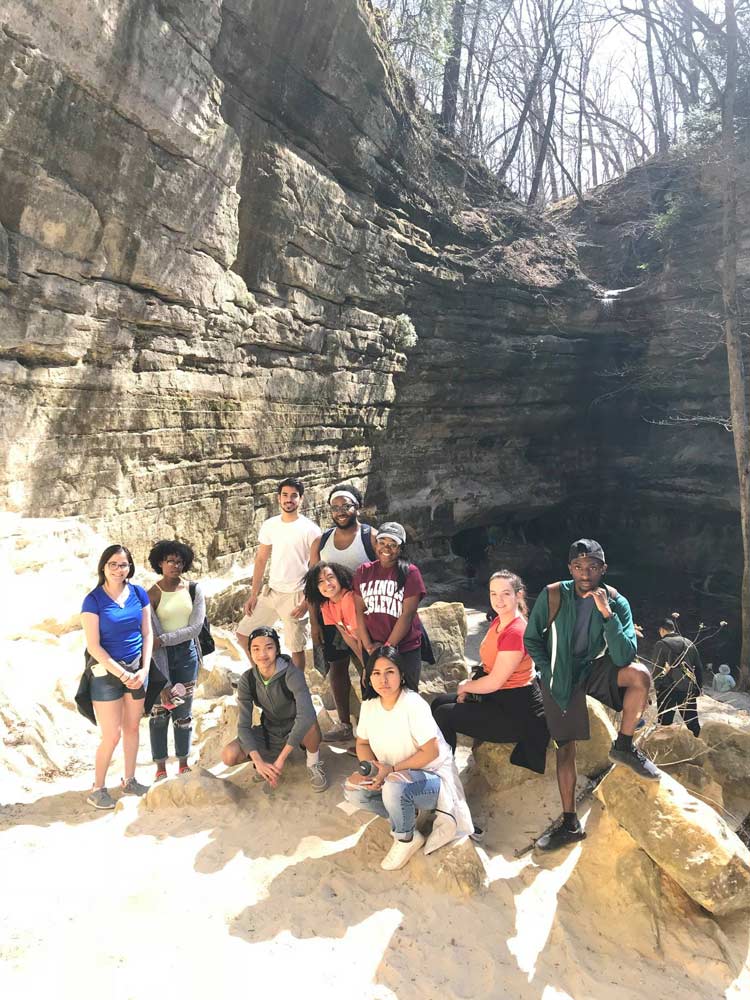 Beyond the preparation provided by Posse's national and local arms, Illinois Wesleyan faculty and staff members offer further support. Carney-Hall serves as the group's campus liaison, while IWU Associate Professor and Chair of Sociology and Anthropology Meghan Burke serves as the inaugural cohort's faculty mentor.
Carney-Hall is the point person relaying information between IWU and Posse staff, and coordinating campus visits. Burke leads weekly workshops with the Posse Scholars and meets with students individually every other week in her mentorship role.
"Karla and Meghan are tremendous resources for us on campus," Jackson said. "They have a direct ear to the heartbeat of the campus, so it's good to have that source of knowledge. If you have a problem or a question you can go to them and they'll be able to help you."
Acclimating to life as a first-year college student is difficult for everyone – even with eight months of pre-collegiate training. Some Posse Scholars fought homesickness. Others struggled academically. Some needed help branching out beyond the comfort zone of the group. Some needed help on all fronts.
For Phillips, an admitted introvert, Burke became a trusted advisor.
"She was a real support system for me," Phillips said. "She encouraged me and told me to use office hours, telling me not to be scared to go, because I really was scared to go at first.
"And she was just there for me. She's kind of been like a second mother."
More times than not, though, support came from within the posse itself. When one student struggled, others quickly came to the rescue.
"They're a very close-knit group," Burke said. "They have a lot of fun together, but they also really meaningfully support each other in a lot of ways beyond that, too."
Several events throughout the academic year helped strengthen bonds between Posse Scholars. The Posse Plus Retreat, a weekend of workshops designed to address campus and nationwide issues, brought together Posse Scholars with IWU faculty, staff, administrators, trustees and members of the larger student body.
This year's theme of "Hope, Hate and Race in the United States" spurred conversations on issues of diversity and social justice, and how they relate to our campus and community.
"I think people left feeling a sense of community, and mutual commitment to one another, and a deep commitment to moving the conversation forward," Carney-Hall said.
Other events and gatherings of Posse Scholars throughout the academic year reinforced connections, perhaps none more so than an on-campus Mardi Gras celebration.
Wanting to celebrate the essential New Orleans tradition despite being hundreds of miles from home, Posse Scholars stepped up in the organization of the event. Students met with the
Sodexo staff and sampled dishes to ensure things were just right.
Jackson, one of the lead organizers, attested to the importance of the test run.
"We got to do a tasting and really told them what was good and what wasn't," Jackson said. "We didn't want people to have a misrepresentation of what the food is like back home."
Turnout for the event exceeded what anyone would have predicted and, in addition to having a taste of home, the Mardi Gras event allowed Posse Scholars to share their culture with others.
"I was really, really proud of them for organizing that event," Burke said. "It came off great and it was a really fun night."
Burke was equally pleased with her end-of-the-year exit meetings with the Posse Scholars. All 10 students finished the 2017-18 academic year in good academic standing and all 10 will return to campus in 2018-19.
And the longer the group has been together, the more they've grown.
"It's been a really special thing to witness," Burke said. "I was doing end-of-year reflections with each of them before they left campus this spring, and they all said a line that echoes the Posse Foundation origin story, that they don't think they would have been successful without each other, that they really have each other's backs, and that they challenge each other."
A new Posse cohort – IWU Posse 2 – will report to campus in August 2018. During the Dynamic Assessment Process and selection last winter, IWU officials were so impressed by the candidates that an exception was made and 11 students were chosen for the group.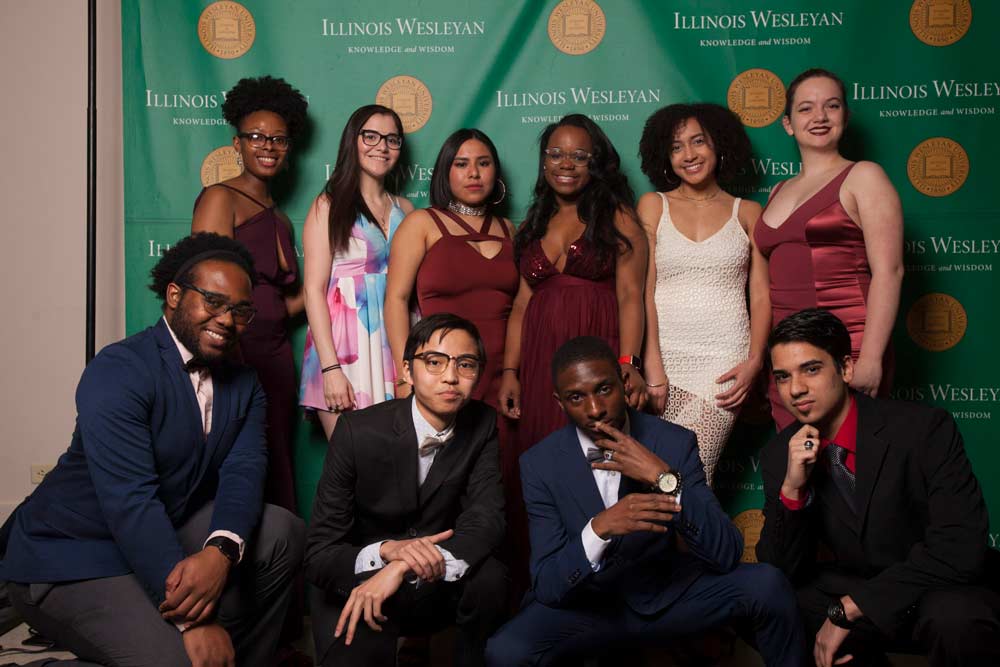 Members of IWU Posse 1 will be around if members of the new class have questions, but both Jackson and Phillips insisted that support should come primarily from within the group.
"I think that's what made our posse so strong, being here by ourselves and having no one but ourselves in the beginning," Phillips said. "That allowed us to become a strong group and a strong posse."
Even in the infancy of IWU's partnership with the Posse Foundation, the early returns have been extremely positive. Professors who have had Posse Scholars enrolled in a class, administrators who have met them on the quad, and fellow students who may have enjoyed a bowl of jambalaya at a Mardi Gras event have unanimously agreed – Illinois Wesleyan's campus is a better place with a Posse presence.
"They are going to leave their mark at Illinois Wesleyan, there's really no question for me about that," Carney-Hall said. "And not just through the formal, structured ways that Posse has them leaving their mark, but in really helping the campus be who they need to be.
"And we all get better because of that, and I think that's important."