Summer 2016 issue highlights
Cover story
IWU students, faculty and alumni make opera come alive for a new generation — and learn that kids can be among the toughest and most appreciative audiences. At right, music performance major Megan Callison '16 plays the lead role in There's a Martian in the Opera House, performed this spring at schools across the area. (Photo by Marc Featherly)
---
More issue highlights
Kelly Wittich '00 knew nothing about congenital heart defects until her daughter was born with one. She now wants to raise awareness regarding this most common and deadly of all birth defects.
As the child of Holocaust survivors, Harry Heuman '69 teaches children how simple intolerance and apathy can lead to unimaginable suffering.
To improve the lives of people in rural Honduras, Meaghan Mormann '16 served four IWU Global Brigades. She writes how her experiences changed how she sees the world.
To build new bridges between Titan alumni and students, Elly Jones '91 takes inspiration from her own college experience.
The life of a great sportswriter and IWU alumnus is revealed in new archives collection.
In his quarterly letter to our readers, IWU President Eric Jensen reflects on the start of a new academic year and new challenges on the horizon for the liberal arts.
---
Titan Celebrations, Summer 2016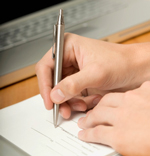 Choose from several forms to provide information and feedback to IWU Magazine.

---
Previous issues


---
IWU Magazine staff: Tim Obermiller, Editor; Gary Schwartz, Graphics Editor
Illinois Wesleyan University Magazine is published quarterly
by the Office of University Communications.
Content on this Web site copyright
of Illinois Wesleyan University.