Spring 2016 issue highlights
Cover story
With alumni as their guides, students had a variety of experiences on the inaugural Career Immersion Excursion in Chicago, led by IWU's Hart Career Center. (Cover photo by Lloyd DeGrane)
---
More issue highlights
A Signature Moment
In inaugurating Eric R. Jensen as its 19th president, the University embraces strong traditions and new opportunities to grow.
Essential Reading
A book by David Priess '93 sheds light on the world's most vital and tightly guarded publication: the President's Daily Brief.
Work That Matters
Four young alumni share the highs and lows of pursuing careers dedicated to helping others.
Shared Experience
At the IWU Council for Women's annual summit, alumnae offer their talents and resources to help current students succeed.
A Flight of Imagination
Finding poetic inspiration on the quantum plane, physics major Julia Savich '16 experiences the power of a liberal arts education.
---
Titan Celebrations, Spring 2016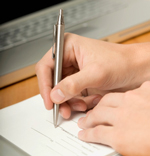 Choose from several forms to provide information and feedback to IWU Magazine.

---
Previous issues


---
IWU Magazine staff: Tim Obermiller, Editor; Gary Schwartz, Graphics Editor;
Sarah (Zeller) Julian '07, Contributing Alumni Update Editor.
Illinois Wesleyan University Magazine is published quarterly
by the Office of University Communications.
Content on this Web site copyright
of Illinois Wesleyan University.