Spring 2014 issue highlights
COVER STORY
Through technology and innovative use of classroom space, State Farm Hall inspires new ways to teach and learn. (Photo illustration by Gary Schwartz)
---
FEATURE STORIES
In East Africa, people with albinism face a bleak fate. But Doug DuBois '89 is leading efforts that offer real hope for a better life.
Illinois Wesleyan professors publish innovative scholarship and creative work.
A new center helps guide students as they grapple with complex issues of human rights and social justice.
Better Choices for the End of Life
Ethnographer Karla Erickson '95 shares lessons that workers who care for the dying can teach us.
---
MORE HIGHLIGHTS
The legacy of former provost and acting president Wendell Hess is remembered.
Accounting internships are a boon to both employers and students.
The Next Generation of Family Physicians
Medical student Mustafa Alavi '11 encourages students across the country to pursue careers in family medicine.
A Better Model for Emergency Care
Scott Zeller '82 is honored for creating new model in emergency psychiatric care.
---
Click above to view this issue's album.
Send Us Your News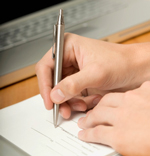 Choose from several forms to provide information and feedback to IWU Magazine. Click here for the forms.
---

To view past online issues of IWU Magazine, click on the above cover or here.
---
IWU Magazine staff: Tim Obermiller, Editor; Gary Schwartz, Graphics Editor;
Sarah (Zeller) Julian '07, Contributing Alumni Update Editor
Illinois Wesleyan University Magazine is published quarterly
by the Office of University Communications.
Content on this Web site copyright
of Illinois Wesleyan University.