Winter 2013-14 issue Highlights
COVER STORY
Retiring History Professor Paul Bushnell worked for change both at Illinois Wesleyan and in the Civil Rights Movement. (Photo by Marie-Susanne Langille)
---
FEATURE STORIES
Political Science Professor Tari Renner breaks down his two mayoral campaigns and what they reveal about the changing face of local election politics.
Alumnus Bob Page '79 helped turn around a troubled hospital by instilling a culture of caring.
Illinois Wesleyan's Hart Career Center connects students and alumni through internships.
This fall, Norm Eash '75 became the winningest coach in Titan football's 122-year history.
---
MORE HIGHLIGHTS
Mending the path of destruction
Students and alumni help an Illinois community decimated by tornado.
A book by Jim Dohren '66 lets readers walk in the shoes of Civil War soldiers.
Annual alumni awards highlighted an eventful Homecoming weekend.
---
Click above to view this issue's album.
Send Us Your News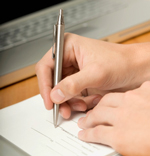 Choose from several forms to provide information and feedback to IWU Magazine. Click here for the forms.
---

To view past online issues of IWU Magazine, click on the above cover or here.
---
IWU Magazine staff: Tim Obermiller, Editor; Gary Schwartz, Graphics Editor;
Sarah (Zeller) Julian '07, Contributing Alumni Update Editor
Illinois Wesleyan University Magazine is published quarterly
by the Office of University Communications.
Content on this Web site copyright
of Illinois Wesleyan University.