Summer 2013 issue highlights
ON OUR COVER
Assistant Professor of Nursing Brenda Lessen instructs Alison Novakow '15 using Baby Hal, a high-fidelity newborn manikin and the newest patient in the Nursing Interventions Lab.
(Photo by Marc Featherly)
COVER STORY
IWU Magazine takes readers inside the University's famed School of Nursing.
---
OTHER FEATURE STORIES
Juan Salgado '91, who spoke at Commencement 2013, finds inspiration in his family and his education as he leads efforts to help Latino immigrants.
In examining what makes us feel revulsion, Daniel Kelly '97 also reveals surprising truths about what makes us human.
---
DEPARTMENT HIGHLIGHTS
Kathy Young '06 witnessed this spring's deadly Moore, Okla., tornado.
Anna Groves '11 continues her environmental studies with help from NSF fellowship.
Heather Olt '96 is 'hopeful' for web comedy hit.
---
Click above to view this issue's album.
Send Us Your News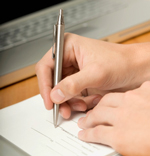 Choose from several forms to provide information and feedback to IWU Magazine. Click here for the forms.
---

To view past online issues of IWU Magazine, click on the above cover or here.
---
IWU Magazine staff: Tim Obermiller, Editor; Gary Schwartz, Graphics Editor;
Sarah (Zeller) Julian '07, Contributing Alumni Update Editor
Illinois Wesleyan University Magazine is published quarterly
by the Office of University Communications.
Content on this Web site copyright
of Illinois Wesleyan University.