Spring 2013 issue highlights
ON OUR COVER
A two-centimeter-long Pristimantis bromeliaceus was among the frogs Illinois Wesleyan Professor Edgar Lehr identified in his search for new amphibian species in Peru.
(Photo by Edgar Lehr)
COVER STORIES
A Precarious Path to Discovery
IWU biologist Edgar Lehr explores the world's most remote habitats in search of new species of frogs and lizards that may be on the verge of vanishing.
---
OTHER FEATURE STORIES
Half of IWU students study abroad. For many, the experience has inspired even deeper explorations of global opportunities.
Along the way to becoming one of the nation's top financial advisors, Carol Brandt '78 learned several valuable life lessons that she now shares with others.
In his teaching and research, Mathematics Professor Tian-Xiao He embraces the joy of exploring an oft-feared subject.
---
DEPARTMENT HIGHLIGHTS
Carolyn Hull '08 becomes part of history as staff member in the Gift Unit of the Obama White House.
Leading the Way to Better Health
Stephanie Whyte '91 is new chief health officer for Chicago schools.
A gala event honors School of Music alumna Marilyn Keiser's achievements as world-class organist.
A new study addresses the challenges of academic library use in the age of Google.
---
Click above to view this issue's album.
Send Us Your News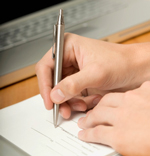 Choose from several forms to provide information and feedback to IWU Magazine. Click here for the forms.
---

To view past online issues of IWU Magazine, click on the above cover or here.
---
IWU Magazine staff: Tim Obermiller, Editor; Gary Schwartz, Graphics Editor;
Sarah (Zeller) Julian '07, Contributing Alumni Update Editor
Illinois Wesleyan University Magazine is published quarterly
by the Office of University Communications.
Content on this Web site copyright
of Illinois Wesleyan University.