Fall 2013 issue highlights
ON OUR COVER
In this issue, Deanna Jent '84 writes about the amazing journey of her critically acclaimed play Falling.

(Photo by Tuan Lee; color concept by Gary Schwartz)
COVER STORY
Audiences connect to the play Deanna Jent '84 wrote based on her experiences as the mother of a special-needs child.
---
FEATURE STORIES
Former art major Maria Gonzalez '08 draws attention with her graphics magic.
New Alumni Association President Sundeep Mullangi envisions exciting ways for alumni to connect.
Alumni, students and faculty create an indelible portrayal of America's working poor.
Retired Marine Corps jet pilot David Wilson '70
gives an inside look into aviation history.
---
MORE HIGHLIGHTS
Titan enthusiasm carries the day to meet a
historic challenge.
Illinois Wesleyan University shows strengths
in key college rankings.
Performing at her alma mater, Christine Kefferstan '73 combined talents with her daughter Mary.
---
Click above to view this issue's album.
Send Us Your News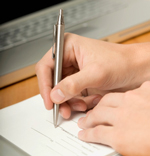 Choose from several forms to provide information and feedback to IWU Magazine. Click here for the forms.
---

To view past online issues of IWU Magazine, click on the above cover or here.
---
IWU Magazine staff: Tim Obermiller, Editor; Gary Schwartz, Graphics Editor;
Sarah (Zeller) Julian '07, Contributing Alumni Update Editor
Illinois Wesleyan University Magazine is published quarterly
by the Office of University Communications.
Content on this Web site copyright
of Illinois Wesleyan University.