150th KKG Celebration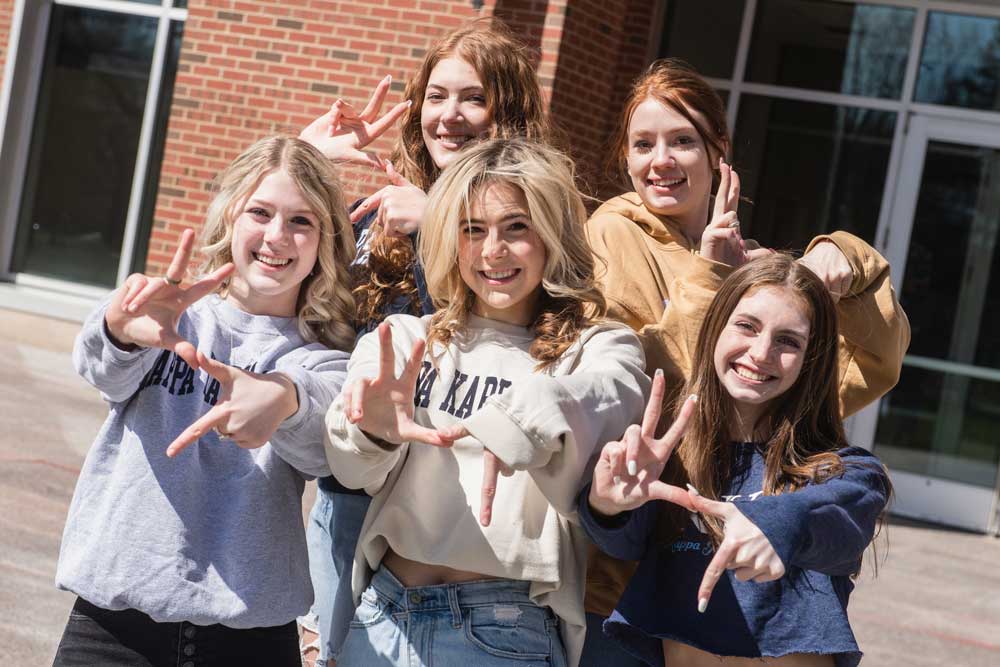 Schedule of Events
Friday, October 6: Kappa Pledge Class Gatherings
Make your own plans to get together with sisters from your pledge class and/or years at the chapter house.
Saturday, October 7: 9:00 am - 11:00 am - Kappa Alumnae and Actives Open House Coffee
Come to the Kappa house for a tour, take a look at the archives and celebrate with generations of Epsilon Chapter sisters. Guests are welcome to attend.
11:00 am - 1:00 pm - Kappa Alumnae Tailgate Lunch at Shirk Center Parking Lot
Let's gather and cheer 150 years of Kappa and IWU together. We will have lunch and then support the Titans at the Homecoming football game. Look for the blue and blue balloons. Guests are welcome to attend. Reservations required for lunch.
5:00 pm - 8:00 pm - 150th Celebration Banquet at Bloomington Country Club
Come celebrate 150 years of Epsilon Chapter with sisters near and far. Due to space limitations, this event is for Kappas only. Reservations required.
The 150th Celebration Committee will email invitations with additional information by July 10, 2023. Reservation deadline for the tailgate lunch and Celebration Banquet is Friday, September 1, 2023. For more information go to the Facebook page, KKG Epsilon 150th Celebration.
Questions: Contact Laura Rust Dirks at epsilonkkg150@gmail.com or text/call (309) 830-5373.
Plan Your Stay
All rooms reserved under Kappa Kappa Gamma 150th Celebration.
Best Western Plus

604 ½ IAA Drive
Bloomington, Illinois 61701
309.808.0628

*closest to the Chapter house

55 rooms (15- king, 40 queen/queen)

Closes at 11:59 pm on Monday, September 4, 2023


$119.00 plus taxes and fees

Country Inn and Suites by Radisson

2403 E. Empire Street
Bloomington, Illinois 61704
309.662.3100

*near the airport


30 rooms (queen/queen)

Closes at 11:59 pm on Friday, September 15, 2023


$126.00 plus taxes and fees

Fairfield Inn (West Bloomington)

1014 Wylie Drive
Bloomington, Illinois 61705
309.827.8000

35 room reserved (10- queen/queen, 10- king, 7- king with sofa bed)

Closes at 11:59 pm on
Thursday, September 21, 2023
$139.00 plus taxes and fees

Hampton Inn Bloomington West (West Bloomington)

906 Maple Hill Road Bloomington, Illinois 61705

309.829.3700

20 rooms (queen/queen) until 11:59 pm on Thursday, September 14, 2023

$160.00 plus taxes and fees

Holiday Inn Airport 3202 E. Empire Street Bloomington, Illinois 61704 309.662.4700 *near the airport

40 rooms (queen/queen) until 11:59 pm on Tuesday, September 5, 2023

$199.00 plus taxes and fees

Holiday Inn- Bloomington Normal (North Normal)

8 Traders Circle
Normal, Illinois 61761
309.862.0101
40 room (queen/queen) until 11:59 pm Monday, September 4, 2023
$149.00 plus taxes and fees

Parke Regency Hotel and Conference Center

1413 Leslie Drive
Bloomington, Illinois 61704
309.662.4300

*farthest from the Chapter house

30 rooms reserved (queen/queen, king) until 11:59 pm on Monday, September 4, 2023

$149.00 plus taxes