We Offer Appointments Online and in Ames 105B!
Tips for Getting the Most Out of Your Appointment:
Schedule early!


(there are "busy seasons" and walk-ins may not be available)

Bring your assignment sheet.

It will help a tutor to see the assignment description and requirements.

Bring a draft at any stage.

Don't worry if you haven't written much! We can help at ANY stage of the process.

Come with a goal in mind.

Having one or two specific questions will really help us help you, and help you synthesize your learning.

Be ready to discuss.

We will ask you questions about your assignment, your goals, your purpose with your work.

Don't expect to leave with a "finished" project or assignment.

Tutors are tutors - not editors.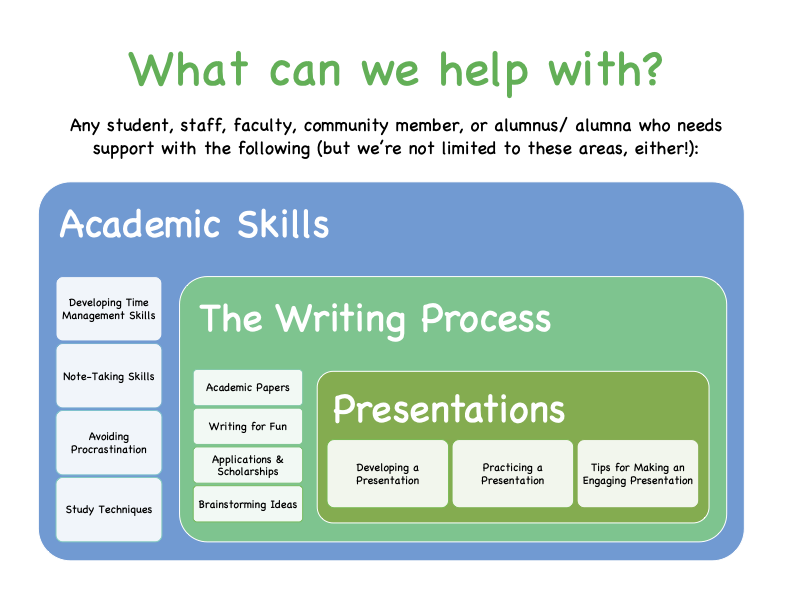 What to Expect During an Appointment:
Generally, all papers, presentations, notes, and speeches are read out loud (either by the student or the peer tutor) so as to accommodate students of all abilities and to listen as well as look for patterns of error. (However, if this process makes you uncomfortable, we can make other arrangements.)


We will ask the student what he, she, or they think about their work in addition to sharing our ideas. Our tutoring is suggestion-based, which means students do not have to make a change if they don't want to. On the other hand, in the writing center, we will not write the writer's paper or edit it for them. We instead expect to have a discussion about writing with the writer as well as the tutor providing feedback.


We will e-mail a student's advisor and/or professor -- if she, he, or they so choose -- to confirm they had an appointment with us. We just ask that the students remind us they want their professor to know they visited us.