We Offer Appointments Online and in Ames 105B!
Online Appointments via Your Webcam
To sign up for an online, webcam appointment with a writing center tutor, a student success tutor, or a course-embedded tutor/ TA (CET), you can go to WCOnline. If you need help navigating this interface, we have directions! To find them, visit the Student and Faculty Resources section of our website. There you will discover complete directions under "Online Tutoring Information." We also have a YouTube video here with step-by-step examples and directions. For online appointments, you MUST have a working camera.
ELL/ESL Tutoring Appointments
We offer support for our English Language Learners (ELL) through our Writing Center |Tutoring Services in Ames Library 105b. Tutors who are trained to provide one-on-one support for ELL students are Steven Lee, Josh Mabazza, and Anna Scanlon.
We also have tutors who host our peer to peer conversation partners program: Practice Conversational English. These students will talk with any ELL students who would like to practice their English for any purpose (conversation, class, an interview, and so forth). These tutors include Megan Boggs, Abigail M., Emile Ottinger, Isabel S., and Anna Scanlon.
Tips for Getting the Most Out of Your Appointment:
If you're looking for grammar, punctuation, and citation assistance, we strongly recommend you visit the

student resources

section of our website before your appointment so as to spend more of your appointment time focused on content-based concerns.

Our tutors are trained to consider higher-order concerns (thesis statements, uses of resources, analysis, and structure of the paper or project, for example) before looking at grammar and citations. Writing centers as a rule are not proofreading services but rather a place to talk about your writing process and products more holistically.

If you want to meet with a speech tutor, we have a "filter" option on WCOnline. From the drop-down menu, pick "oral presentations" to see which tutors have speech lab experience. They will be more than happy to meet with you in the writing center and then find a quiet practice space for you to go over your speech. Alternatively, you can practice your speeches via our online tutoring software. Additionally, our

Student Success tutors

offer support and guidance for preparing and practicing presentations.


If you're working on a senior seminar paper, we recommend you establish a relationship with a tutor early in the semester so you can stay on track and have regular check-ins to keep your writing process going. Additionally, having one tutor keep working with you allows them to become familiar with your work, your writing style, and your goals.


In general, establish a relationship with a tutor whose style works for you. Our tutors are well-versed in work across the disciplines and have experience with various professors. Their bios articulate their tutoring philosophies, citation knowledge, and, often, professors with whom they have worked. Try a few tutors out at the beginning of the semester to find the one whose style and knowledge-base work best for you!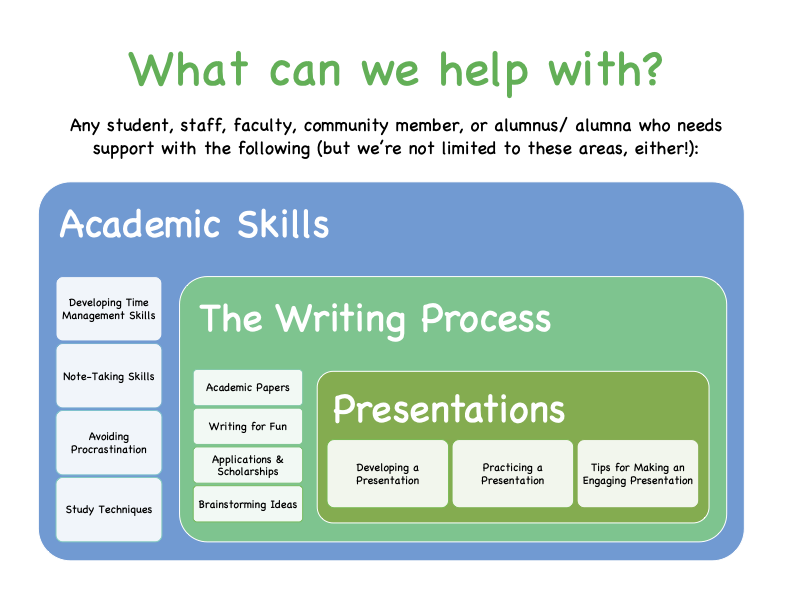 What to Expect During an Appointment:
Generally, all papers, presentations, notes, and speeches are read out loud (either by the student or the peer tutor) so as to accommodate students of all abilities and to listen as well as look for patterns of error. (However, if this process makes you uncomfortable, we can make other arrangements.)


We will ask the student what he, she, or they think about their work in addition to sharing our ideas. Our tutoring is suggestion-based, which means students do not have to make a change if they don't want to. On the other hand, in the writing center, we will not write the writer's paper or edit it for them. We instead expect to have a discussion about writing with the writer as well as the tutor providing feedback.


We will e-mail a student's advisor and/or professor -- if she, he, or they so choose -- to confirm they had an appointment with us. We just ask that the students remind us they want their professor to know they visited us.