A Welcome from President Richard F. Wilson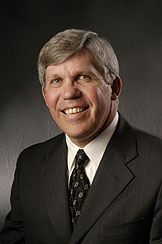 Welcome to Illinois Wesleyan's presence on the World Wide Web. I hope that you will visit us often — both here on the Internet and on our campus in Bloomington.
Although I have been a member of the Illinois Wesleyan community for a short time, I can attest that our visitors receive the warmest of welcomes. Everyone affiliated with the University — students, faculty, staff, trustees, alumni, and friends — is exceedingly proud of Illinois Wesleyan, and they have every right to be proud. I believe that the University is positioned to move forward and to solidify its reputation as a national leader in undergraduate education.
As you visit our Web site, you will get a sense of the vibrancy that exists when you step foot on the campus. Illinois Wesleyan's students are wonderfully talented individuals who become involved in the life of the University as active participants and not as spectators. The numerous student organizations, many of which have their own Web sites to explore, are testimony to these varied interests. In addition, our faculty are committed to teaching, creative, and scholarly excellence. You will find, as you browse these Web pages, examples of their many accomplishments.
I look forward to greeting you personally when you are next on our campus. In the meantime, please feel free to drop a note in The President's Mailbox.