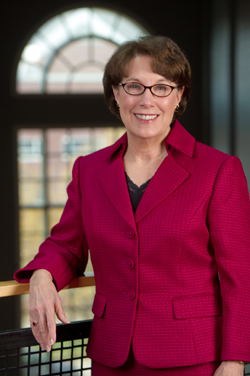 Patricia Wilson, Ed.D.
The daughter of a college president, Dr. Patricia Wilson has unique insights into the role of a university president's wife. In addition to hosting more than 40 events each year for the campus community, alumni and parents, and traveling with President Wilson to alumni gatherings across the country, she is also actively engaged with community and campus organizations.
Pat serves on the boards of the Bloomington Library, the not-for-profit Westminster Village retirement community, and the Pratt Music Foundation. She also serves on the program committee for The Baby Fold, a regional multi-service child and family welfare agency; the University's Child Care Committee; is a Summer Reading Program facilitator; and was a driving force behind the Council for IWU Women, an Alumni Association program that seeks to build bridges of support between current female students and successful Illinois Wesleyan alumnae.
The former executive director of the University of Illinois Council on Teacher Education, Pat stepped in to serve as acting chair of Illinois Wesleyan's Educational Studies Department during the 2009-10 academic year.
She received her undergraduate degree from Bucknell University and went on to earn an Ed.D. in educational administration from the University of Illinois. A public school teacher and principal, Pat coordinated the Champaign school district's Early Childhood Programs, a position she held for 10 years prior to her teacher education role at the U of I. Under her leadership, the district's program doubled in size, ultimately serving 360 children. She capped her tenure with the opening of a new, $3.2-million early childhood center in the heart of downtown Champaign.
Pat Wilson was featured in the Illinois Wesleyan University Magazine in Fall 2004, as she and President Wilson were welcomed to campus, and again in Spring 2010, marking their fifth anniversary at IWU.